Colorful vegetables and fresh herbs cooked together to create a savory mix that is light and healthy but incredibly satisfying.  Served with a side of crusty bread and a dollop of goat cheese, this may be my all-time favorite dish.
The recipe below represents my favorite combination of vegetables but there are so many varieties – I've made ratatouille with potatoes, artichokes, cauliflower, chiles and more seasoned with anything from chile oil to simple salt and pepper.  This is my go-to version, however.  The flavors scream summer but it's homey comfort food any time of year.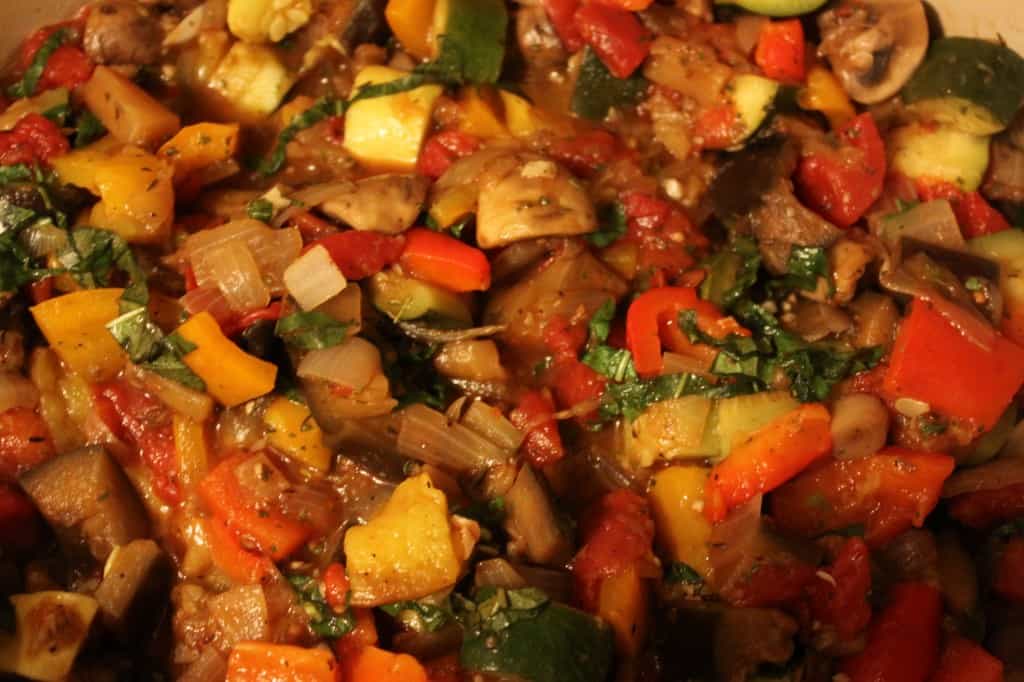 This dish gets even better as it sits so is a great make-ahead meal.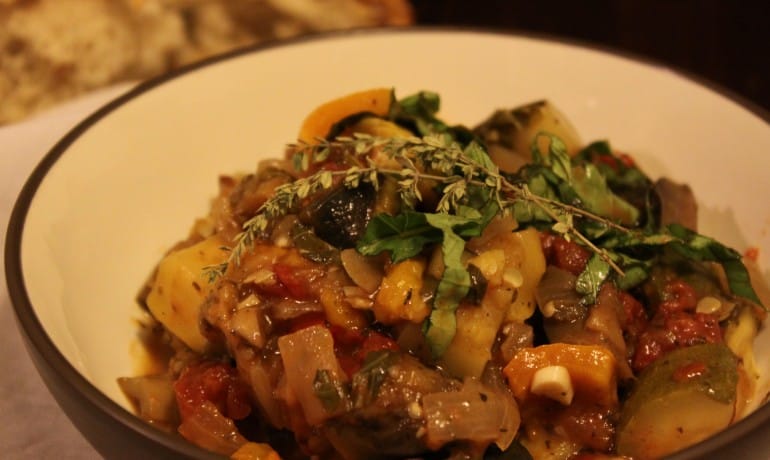 Ingredients
olive oil - 2 tbs
onion - 1 large, diced
red pepper flakes - 1 tsp, optional
eggplant - 2.5 lbs
bell peppers - 3, assorted colors
zucchini - 1 lb
yellow squash - 6 oz
mushrooms - 8 oz
garlic - 1 tbs
tomato paste - 1 tbs
canned diced no-salt added tomatoes - 2 cans
fresh thyme - 2 tbs
fresh basil - 1/4 c
fresh parsley - 1/4 c
balsamic vinegar - 1/2 tbs
salt and pepper - to taste
Instructions
Toss the cubed eggplant with 1 tbs salt and set aside in a strainer while you prep the rest of the ingredients. This will draw out any bitter juices.
Roast peppers in a broiler or over a gas burner until skin is charred. Put in a plastic bag and let sit 10 minutes before removing skin and seeds. Dice.
Meanwhile, heat 2 tbs olive oil in a Dutch oven over medium heat. Add onion and red pepper and cook until just translucent, about 5 minutes. Thoroughly rinse the eggplant to remove salt and add it to the pot. Continue to cook, stirring regularly, until eggplant is partially cooked, about 5 minutes.
Add zucchini, squash, and mushrooms. Season with salt and pepper to taste and cook until mushrooms release their juices, about 10 minutes.
Add tomato paste and garlic, cook for another 1-2 minutes until fragrant. Add tomatoes, stir in roasted peppers, and simmer 5 more minutes.
Stir in fresh herbs, reserving some for garnish, and adjust seasoning. Brighten with a splash of vinegar and serve either warm or at room temperature.
Nutritional Information
Calories: 175 ; Fat: 5.5 g; Saturated Fat: 0.8 g; Trans Fat: 0.0 g; Sodium: 71 mg; Total Carbohydrate: 27.3 g; Dietary Fiber: 7.8 g; Sugars: 16.1 g; Protein: 6.7 g; Points: 3; Points Plus: 4;
http://www.homesweetjones.com/2013/11/vegetable-ratatouille/