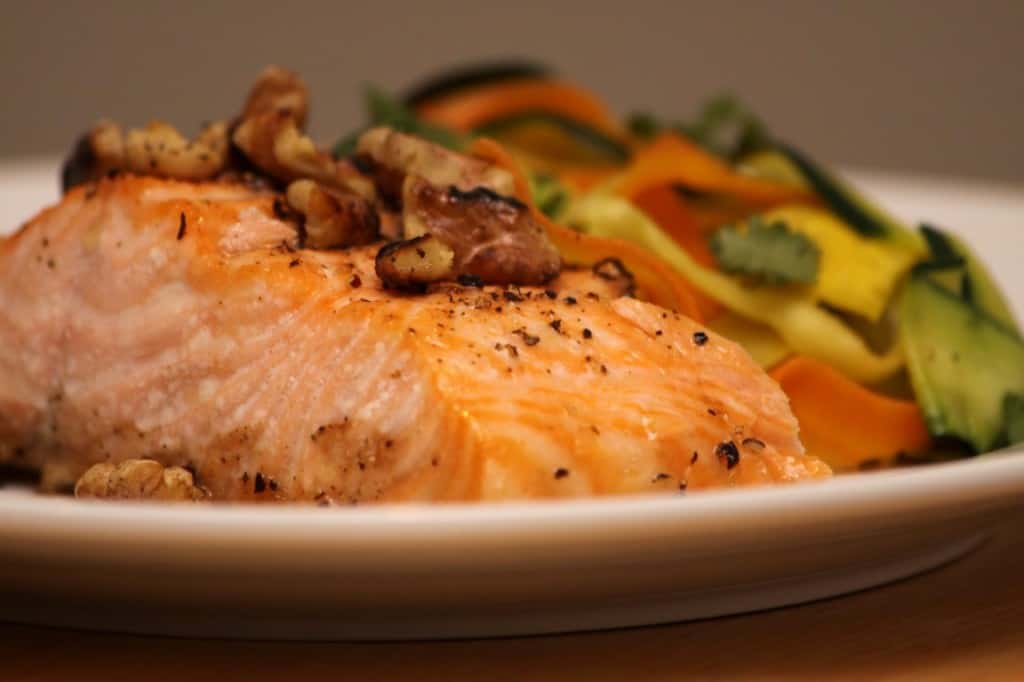 I love salmon with a little hint of sweetness.  This recipe brings that perfect, delicate touch of sweet along with a big, fat, groin-punch of Omega-3s.  While the health benefits of this dish are awesome, I love it especially because I can cook it in the toaster oven in under 15 minutes flat and be left with very little clean up.  Win-win-win.
I know you're wondering if something this easy and healthy can really be so delicious but trust me, it is.  Try it out and let me know what you think!
Related
Maple Walnut Salmon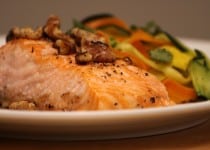 Adapted from Men's Health, this salmon is perfect served with a side of steamed spinach, sauteed vegetables, or herb-roasted potatoes.
Use real, pure maple syrup.  Not the maple-flavored corn syrup used sold for pancakes.
Prep Time: 5 minutes
Cook time: 10 minutes
Yield:

4 servings
Nutrition facts:
Calories: 224
;
Fat: 11.6 g
;
Saturated Fat: 1.3 g
;
Trans Fat: 0.0 g
;
Cholesterol: 50 mg
;
Sodium: 51 mg
;
Total Carbohydrate: 7.5 g
;
Dietary Fiber: 0.5 g
;
Sugars: 6.0 g
;
Protein: 23.9 g
;
Points: 5
;
Points Plus: 6
;
Ingredients:
Instructions:
Preheat oven to 450F.
Season salmon with salt and pepper and place on a foil-lined baking sheet. Drizzle with maple syrup and cook until salmon is only slightly pink inside, approximately 10 minutes.
Meanwhile, heat a skillet over medium heat and add walnuts.  Toast about 1 minute until fragrant and beginning to brown.
Top salmon with walnuts and serve.