Warm, winter-spiced apples with sweet-tart cranberries and a crisp, buttery crust is the perfect cold weather treat.  The smell of this baking alone is reason enough to make it – never mind that it only takes only 5 minutes to prep.
Brad got me these adorable La Creuset Cocottes as an early Christmas present and I couldn't wait to use them!  Some kind of baked apple seemed like the best inaugural recipe and, since we had some oats on hand, I splurged a little on the crumble topping.  Still, these aren't too bad as treats go and clock in under 350 calories.
Brad admitted while we were eating that he hadn't believed they could possibly taste as good as they looked or smelled but they were even better.
This recipe makes two small cocottes but can easily be multiplied for more.  If you don't have cocottes or individual ramekins, just use whatever bakeware you have on hand that will fit.
Granny smiths are great for this but I like to throw in one sweet, crisp apple like a gala.  Feel free to leave out the cranberries if you don't have them.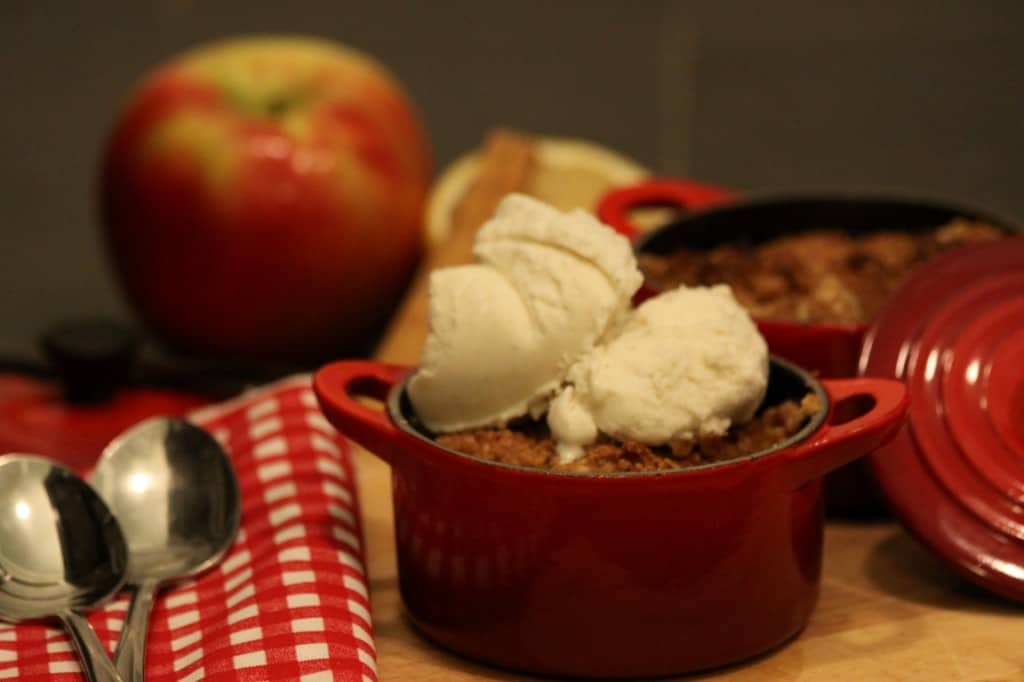 Ingredients
Apples

apples - 2 large, peeled and diced
dried cranberries - 3 tbs
sugar - 1 tbs
cinnamon - 1/4 tsp
nutmeg - a pinch
ground clove - a whisper
lemon juice - 1 tbs
lemon zest - from 1/2 lemon
vanilla - 1/4 tsp

Topping

quick cooking oatmeal - 1/4 c
butter - 2 tbs
brown sugar - 1 1/2 tbs
flour - 1 tbs
salt - a pinch
Instructions
Preheat oven to 350 degrees.
In a small bowl, combine apples, cranberries, sugar, lemon juice, zest, vanilla, and spices. Divide between cocottes.
In another small bowl, mix oatmeal, brown sugar, flour, and salt. Use a fork or your fingers to combine butter.
Top apples with crumble mixture and cook, uncovered, 20-25 minutes until apples bubble and crumble is golden brown.
Serve as is, topped with ice cream or with whip cream depending on how you like it.
Nutritional Information
Calories: 330 ; Fat: 12.3 g; Saturated Fat: 7.5 g; Trans Fat: 0.0 g; Cholesterol: 31 mg; Sodium: 88 mg; Total Carbohydrate: 55.2 g; Dietary Fiber: 7.1 g; Sugars: 36.7 g; Protein: 2.0 g; Points: 7 ; Points Plus: 9 ;
https://www.homesweetjones.com/2013/11/apple-crisp-cocotte/