It's hard to believe that this creamy risotto is light and low in fat.  Fresh herbs and vegetables add a burst of Fall flavor so you don't even miss the butter.  Make this meal vegan by leaving out the Parmesan  or serve as is for Meatless Monday. We love this as a one-pot meal on weeknights but it would also be great accompanied by a light salad or as a side dish.
This time, I splurged a little by frying some sage leaves in butter for a crunchy, decadent topping.  Just heat one to two teaspoons of butter in a small skillet over medium heat until the solids separate, add a fistful of sage leaves in a single layer, and saute until crispy and barely beginning to brown.  Yum!
Near constant stirring is important to release starches from the rice and make a creamy risotto.  Add water if more liquid is needed.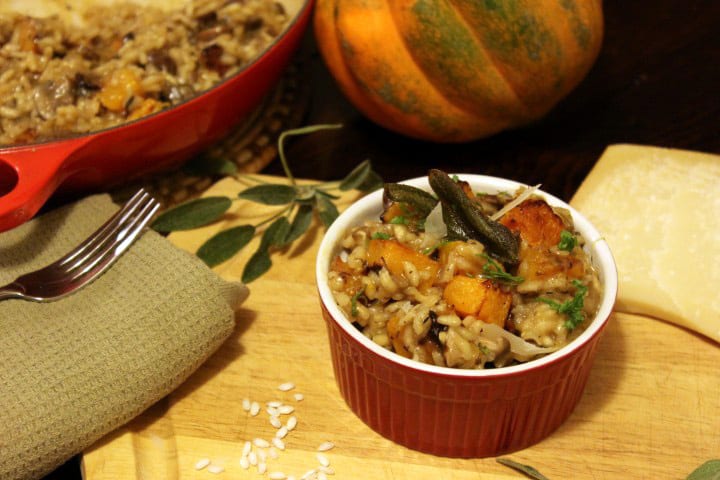 Ingredients
butternut squash - 1 lb, cut into 1 inch cubes
olive oil - 2 tsp, divided
onion - 1/2 c, diced
mushrooms - 12 oz, assorted types
garlic - 3 cloves
arborio rice - 1 c
fresh thyme - 1/2 tbs
white wine - 1/2 c
vegetable or chicken broth - 4 c
fresh sage - 1 tbs, finely chopped plus full leaves for garnish
Parmesan cheese - 1/4 c
salt and pepper - to taste
Instructions
Preheat oven to 375 degrees.
Mix diced squash with 1 tsp olive oil, season, and spread on a cookie sheet. Roast for 30-35 minutes, stirring halfway through.
Meanwhile, bring broth to a simmer over medium low heat.
Heat remaining teaspoon of olive oil in a large skillet over medium heat. Saute diced onions for 3 minutes, stirring. Add mushrooms and saute, stirring, until mushrooms release their juices and onions are translucent, about 5 minutes. Add garlic and saute another minute, until fragrant. Add rice and herbs. Cook, stirring, 3-4 minutes, until rice is opaque.
Add white wine and stir risotto until wine is fully absorbed. Stir in 1/4 of butternut squash.
Start adding broth, one small ladle-full at a time and stir until broth is fully absorbed and rice is beginning to stick before adding the next ladle.
When rice is al dente, stir in in Parmesan and squash. Season to taste and serve topped with arugula, fried sage, or a sprinkling of fresh herbs.
Nutritional Information
Calories: 315 ; Fat: 4.3 g; Saturated Fat: 1.4 g; Trans Fat: 0.0 g; Cholesterol: 5 mg; Sodium: 614 mg; Total Carbohydrate: 55.3 g; Dietary Fiber: 4.1 g; Sugars: 4.3 g; Protein: 8.8 g; Points: 6 ; Points Plus: 8 ;
https://www.homesweetjones.com/2013/11/butternut-squash-mushroom-risotto/