Caprese must be one of the best flavor combinations.  Whether served in salad, skewer, tower, sandwich, or pizza form, I love the freshness of tomato and basil combined with the creamy mildness or mozzarella.
While debating between what to serve with my creamy basil tomato soup (traditional grilled cheese? herbed ricotta spread on crostini? Parmesan croutons?) I realized I couldn't turn down the chance to try something new.
I'm so glad I did because these turned out beautifully.  So delicious and cute.  Their size makes them perfect for snacking and dunking.  Three per person is probably enough but they were so good we each ate four.
Serve on the side of freshly made tomato soup, with a light salad, or on their own as a snack.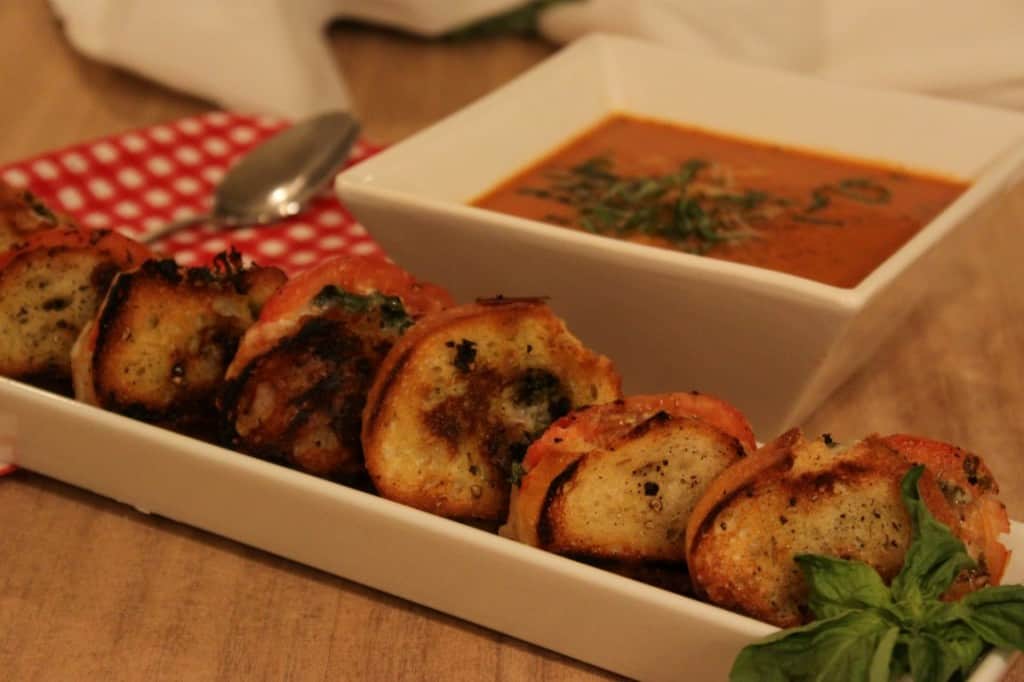 Ingredients
french baguette - 16 1/2 inch slices
olive oil - 2 tsp
light mozzarella - 2 oz
tomatoes - 1 small sliced into 8 thin slices
salt and black pepper - to taste
basil - 8 leaves, thinly sliced
Instructions
Brush one side of 8 baguette slices with olive oil and place oil side down on a skillet over medium heat. Divide mozzarella between slices, top with tomato, a twist of black pepper, basil and reserved baguette slices.
Top with the remaining 8 slices. Brush the top of the sandwiches with olive oil and turn when the bottom is golden.
Continue cooking until both sides are golden and cheese is oozy delicious. Serve immediately.
Nutritional Information
Calories: 65 ; Fat: 2.2 g; Saturated Fat: 0.0 g; Trans Fat: 0.0 g; Cholesterol: 3 mg; Sodium: 141 mg; Total Carbohydrate: 8.6 g; Dietary Fiber: 0.5 g; Sugars: 0.7 g; Protein: 3.1 g; Points: 1 ; Points Plus: 2 ;
https://www.homesweetjones.com/2013/11/caprese-grilled-cheese-sliders/