This is one of my all-time favorite go-to meals for a simple, crazy easy weeknight dinner.  It's light, super flavorful, takes less than 30 minutes to throw together, and the ingredients are all staples at our house. Vary the recipe by adding artichokes, fresh tomatoes, roasted red bell peppers or anything that's in danger of going bad.  You can also use red wine instead of white – whatever's in your hand while you're cooking. Or leave it out!
We serve this with a heaping serving of Sautéed Zucchini for a super filling, 350 calorie meal. You could also add a side of couscous, rice, or pasta if you need to bulk it up a bit.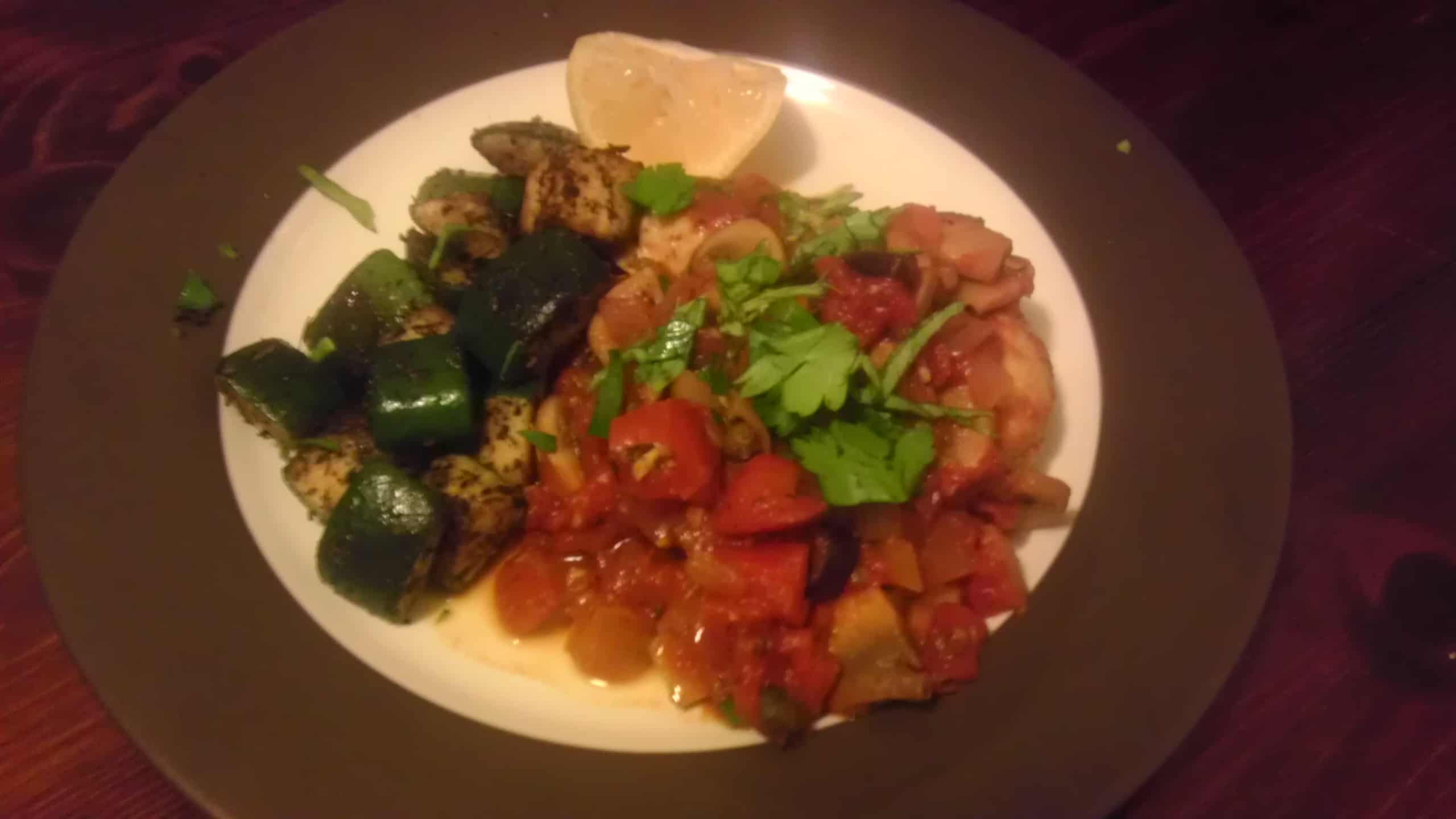 Ingredients
2 10-oz breasts boneless, skinless chicken breast
olive oil spray
salt and pepper
1 small onion, diced
3 cloves garlic, minced
6 oz mushrooms
1/2 tsp anchovy paste, optional
1/2 tspred pepper flakes, more or less to taste
1/2 c white wine
2 14.5oz cans no-salt added diced tomatoes with liquid
1 tbs capers, chopped
1/2 c kalamata olives, roughly chopped
1/4 c parsley, chopped
1/4 c basil, chopped
lemon juice, to taste
Instructions
Slice chicken breasts in half length-wise to make two thin filets approximately 4 ounces each. This is extra easy to do when the chicken is slightly frozen. You can also slice it into strips. Season chicken breast halves with lots of fresh cracked pepper.
Heat a large pan over medium heat and spray with olive oil. Brown chicken, 3-5 minutes per side, and set aside on a plate.
Spray pan with more oil and add onion and mushroom. Sauté, until onions are translucent and golden and mushrooms have released their juices, stirring regularly and scraping up brown bits from the bottom of the pan. If things seem in danger of burning, you can deglaze with a splash of wine.
Add minced garlic, red pepper flakes and anchovy paste and sauté for another 30 seconds.
Deglaze pan with white wine and add tomatoes. Bring to a boil and reduce heat to simmer. Add capers and olives. Return chicken and any juices from plate to the pan. Simmer uncovered for about 10 minutes until chicken is cooked through and sauce is slightly reduced.
Stir in parsley, lemon juice, and season to taste.
Nutritional Information
Saturated Fat: 0.0 g; Trans Fat: 0.0 g; Cholesterol: 72 mg; Sodium: 760 mg; Total Carbohydrate: 23.6 g; Dietary Fiber: 3.4 g; Sugars: 15.8 g; Protein: 33.4 g;
https://www.homesweetjones.com/2013/11/chicken-puttanesca/