Many moons ago I found myself with a half jar of unsweetened cranberry juice and a half bag of whole cranberries that needed to be used up. I searched around and found a delicious-looking recipe for Cornish Game Hens with Double Cranberry sauce.  Unfortunately, it didn't use either of the ingredients I needed to use but the inspiration was there and with a little tweaking I came up with Triple Cranberry Sauce (take that Epicurious with your lame "Double" cranberry sauce).
I admit I never made the original because I loved my version so much.  This has become a familiar dish around the holidays. It's a perfect romantic meal for two but can easily be doubled or tripled to feed more. I've made it for my in-laws for Thanksgiving and it was a super quick and easy alternative to turkey. I've made it for my husband and I when we had a quiet Christmas dinner in a rented apartment in New York where I didn't know what kind of kitchen equipment to expect.  I've made it with only a hot plate and our tiny toaster oven when our kitchen was being remodeled.
Recently, I've been brining the bird before cooking and do notice a difference. I use a few cups of water with several tablespoons each of kosher salt and sugar. If you don't have time it's not necessary but it does make for a more juicy bird.
It's so hard to find fresh or frozen cranberries in the market any time other than Thanksgiving so I've gotten in the habit of buying a few bags in November to store in the freezer.  If I don't think I can use a whole jar of cranberry juice, I'll freeze it in ice cube trays so it doesn't go bad.
Use a small chicken if you can't find Cornish game hen. Either way this makes an easy, impressive and delicious meal.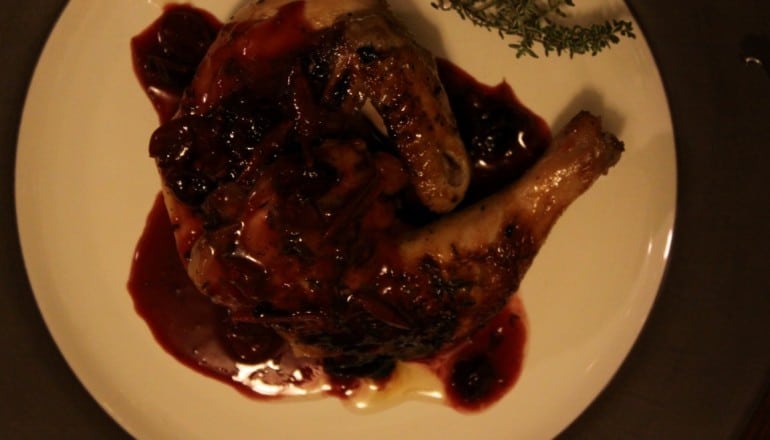 Ingredients
Cornish game hen - 1, 1-1/2 - 2 lbs, brined
butter - 2 tbs, softened
brown sugar - 1 heaping tablespoon
fresh thyme - 2 tbs

Triple Cranberry Sauce

unsweetened cranberry juice - 3/4 c
flour - 1 tbs
fresh cranberries - 1/4 c
low-sodium, fat-free chicken broth - 3/4 c
white wine - 1/2 c
sugar - 3 tbs
fresh thyme - 1 tbs
dried cranberries - 1/4 c
Instructions
Preheat oven to 450.
Rinse the hens and dry thoroughly. Halve lengthwise, remove the backbone, and trim any excess fat. Season with salt an pepper.
Combine butter, sugar and 2 tbs fresh thyme in a small bowl. Rub butter mixture over hens and slip some under the skin.
Heat a large pan over medium high heat and add the hens, skin side down. Cook until skin is golden brown, about 4 minutes and turn. Cook the other side an additional 1-2 minutes.
Remove from pan and place chicken halves on a rimmed baking sheet, skin side up. Reserve the pan juices. Cook hens in the oven for 15-20 minutes until the juices run clear.
Meanwhile, prepare the sauce. In a medium saucepan over high heat, combine cranberry juice and fresh cranberries. Cook until reduced to about 1/4 c, about 5 minutes. Add sugar.
While cranberry juice is reducing, pour off excess pan juices leaving about 1 tbs in the bottom of the pan. Stir in flour and cook over medium heat about 2 minutes, stirring. Slowly add chicken broth and wine, stirring constantly.
Let simmer. Add reduced cranberry juice to saucepan. Stir in thyme and dried cranberries. Boil until sauce has thickened and coats the back of a spoon.
Serve and enjoy.
https://www.homesweetjones.com/2013/11/cornish-game-hens-triple-cranberry-thyme-sauce/