This soup is just as perfect for a warm summer evening when you don't want to turn on the oven as it is for a cool, cozy winter's night when you just want some simple comfort food.
I love the ease of opening a can but hate all the sodium of prepared soups. By using no salt added canned tomatoes you can control the salt levels and enjoy this soup all year round.  You can absolutely substitute vegetable broth to make this vegetarian.  Try it with mini grilled Caprese sandwiches for a light lunch or dinner.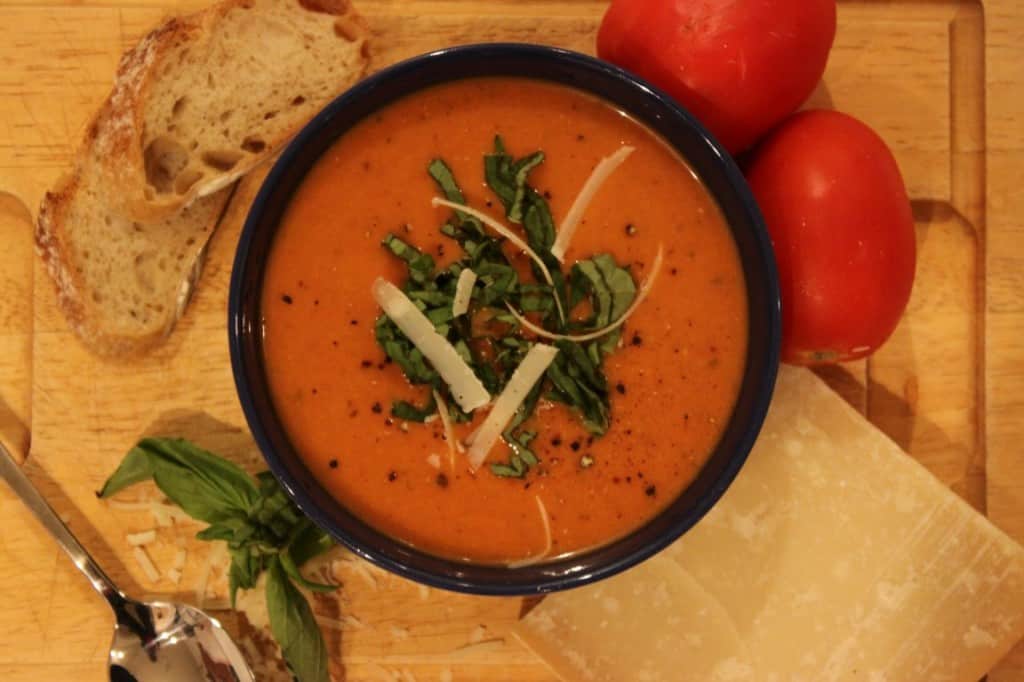 Ingredients
olive oil - 1 tsp
butter - 1 tbs
onion - 1 c, diced
garlic - 3 cloves, minced
red pepper flakes - 1/4 tsp
flour - 2 tbs
low-sodium, fat-free chicken broth - 2 c (substitute vegetable broth for vegetarian)
fat free milk - 1 c
no-salt added diced tomatoes - 3 14.5-oz cans, liquid drained
fresh basil - 1/2 c, thinly sliced
fresh thyme - 1/2 tsp
parmesan - 1/4 c, shredded
salt and black pepper - to taste
Instructions
Heat oil and butter in a large saucepan over medium heat. Add onion and saute until translucent, about 5 minutes. Add garlic and red pepper, if using, and saute another 2 minutes.
Add flour and cook, stirring constantly, about 2 minutes. Add chicken broth, tomatoes, and 1/4 c basil, thyme, and Parmesan.
Puree with an immersion blender as chunky or smooth as you like it. Season to taste, reduce heat to medium low, and simmer for 10 minutes.
Season again and serve, topped with remaining basil and a sprinkle of Parmesan.
Nutritional Information
Calories: 185 ; Fat: 6.7 g; Saturated Fat: 3.6 g; Trans Fat: 0.0 g; Cholesterol: 16 mg; Sodium: 698 mg; Total Carbohydrate: 23.8 g; Dietary Fiber: 5.9 g; Sugars: 15 g; Protein: 9.6 g; Points: 3 ; Points Plus: 5 ;
https://www.homesweetjones.com/2013/11/creamy-light-basil-tomato-soup/