An incredibly simple, refreshing salad makes a great side dish to fish or barbecue.  Replace part of the dill with sesame seed for a healthy Asian-themed side.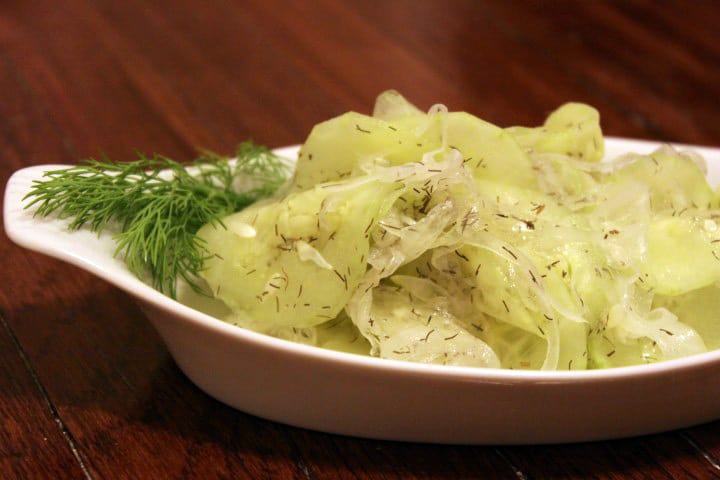 Ingredients
cucumber - 2, thinly sliced
sweet onion - 1/2, thinly sliced (Vidalia, Maui, Walla Walla or substitute white onion)
white vinegar - 1/2 c
water - 1/4 c
sugar - 1/4 c
fresh dill - 1 tbs
Instructions
Combine cucumbers and onion in a large bowl.
Heat vinegar, water and sugar in a saucepan over medium-high heat. Bring to a boil, and pour over the cucumber and onions. Stir in dill and refrigerate for 30 minute to an hour. Drain any excess liquid and serve.
Nutritional Information
Calories: 85; Fat: 0.2 g; Saturated Fat: 0.0 g; Trans Fat: 0.0 g; Sodium: 5 mg; Total Carbohydrate: 19.6 g; Dietary Fiber: 1.1 g; Sugars: 13.2 g; Protein: 1.2 g; Points: 1; Points Plus: 2;
https://www.homesweetjones.com/2013/11/cucumber-salad/