Shrimp and spices combine with colorful vegetables and a light but satisfying sauce that makes it to the table in 20 minutes.
I love it when an experiment turns out the first time.  Coming home late from a long day of work the last thing I wanted to do was spend an  hour slaving over the stove. I had a few leftover peppers from Monday's ratatouille and some ginger from last night's spicy peanut shirataki noodles so I defrosted some shrimp, threw it all together and got lucky.  I'll definitely make it again. Brad suggested adding pineapple and I can't wait to try that.
Serve this over brown rice for a complete meal. Substitute liquid aminos or gluten free soy sauce to make gluten free.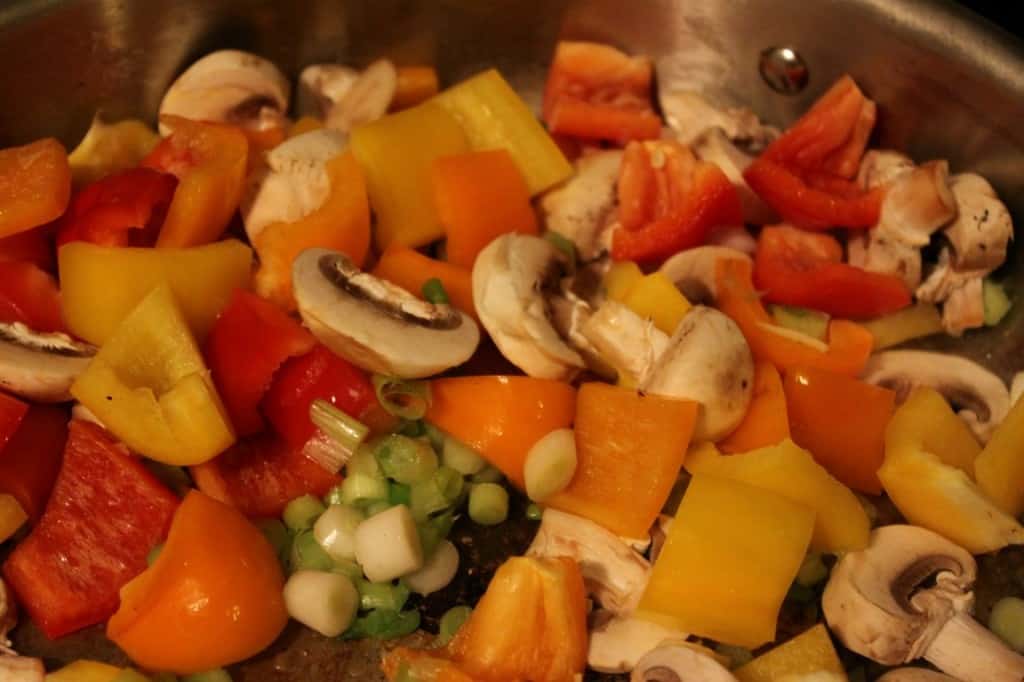 Ingredients
low-sodium, fat-free chicken broth - 3/4 c
low sodium soy sauce - 2 tbs
corn starch - 1 tbs
rice vinegar - 2 tsp
honey - 2 tsp
shrimp - 1 lb, peeled and deveined
salt and pepper -
vegetable oil spray -
green onions - 1 bunch, sliced, green and whites divided
ginger - 1 tbs, minced
garlic - 1 tbs, minced
red pepper - to taste (optional)
bell peppers - 3, assorted colors, cut to 1
snow peas - 1 c
mushrooms - 8 oz, quartered
cilantro - 1/2 c
sesame oil - 1 tsp
Instructions
Prep vegetables and whisk together chicken broth, soy sauce, corn starch, vinegar, and honey. Set aside.
Season the shrimp with lots and lots of black pepper and maybe a little salt if you're into that sort of thing.
Heat a skillet or wok over medium high heat. Spray with vegetable oil and saute shrimp until just cooked through, stirring constantly, about 4 minutes. Set shrimp aside.
Add the white part of the green onion, bell peppers, and mushrooms to the skillet. Stir fry about 4 minutes and add snow peas, green parts of the onion, garlic, ginger, and red pepper (if using). Cook about 1 more minutes until vegetables are crisp tender.
Add liquid to skillet and cook 1 minute. Stir in sesame oil, shrimp, and cilantro. Garnish with sesame seeds, if desired.
Nutritional Information
Calories: 250 ; Fat: 3.7 g; Saturated Fat: 0.8 g; Trans Fat: 0.0 g; Cholesterol: 239 mg; Sodium: 690 mg; Total Carbohydrate: 21.4 g; Dietary Fiber: 4.5 g; Sugars: 10.2 g; Protein: 31.5 g; Points: 5; Points Plus: 6;
https://www.homesweetjones.com/2013/11/ginger-sesame-shrimp-stir-fry/