Peas and Rice is a traditional Jamaican dish of coconut rice and beans.  Pigeon peas are the traditional legume but are often substituted with black-eyed peas or kidney beans.  I like black beans but feel free to use whatever bean you like.  I was motivated more by deliciousness than authenticity with this dish so purists may wince.
Though it may not be completely authentic, I keep all the traditional flavors of coconut, chili, and thyme while kicking up the aromatics with onion, garlic, and ginger and healthifying it with less fat and whole grains.  Though scotch bonnet is traditional, I use jalapeno because the seeds and ribs are enough to flavor the rice but not so spicy we can't eat them afterwards.  I use vegetable broth to make this vegan but chicken broth would also be wonderful.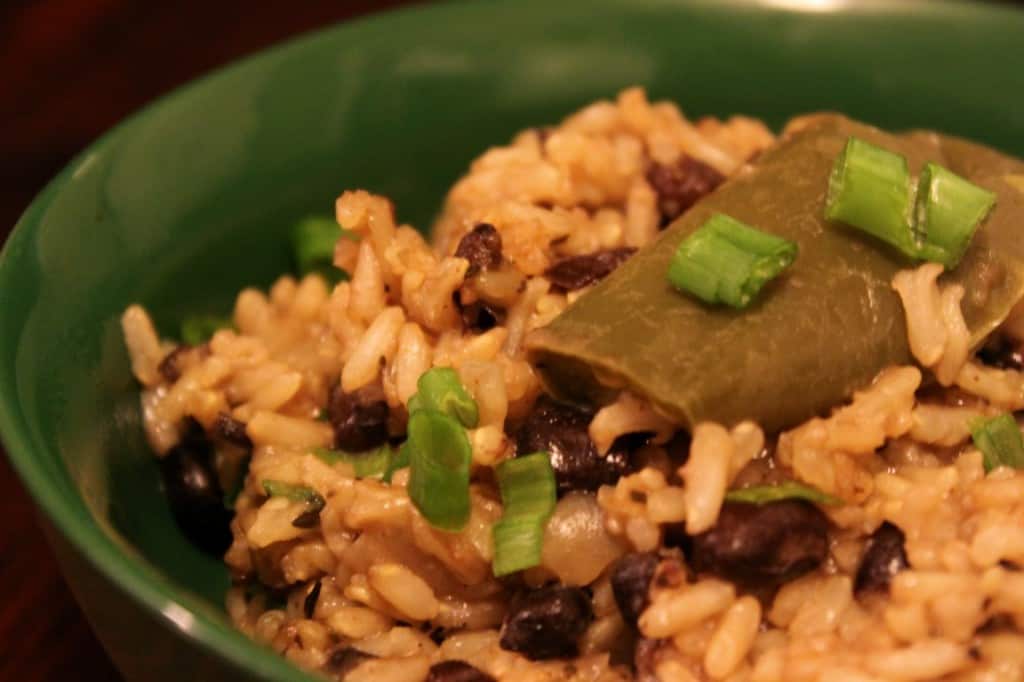 Ingredients
vegetable oil - 1 tsp
yellow onion - 1 c, chopped
brown rice - 1 c
fresh ginger - 1 tbp, minced
garlic - 1 tbs, minced
low-sodium vegetable broth - 1-1/2 c
light coconut milk - 1 c
black beans - 1 c canned, drained
dried thyme - 1 tsp
jalapeno chile - 1, halved lengthwise (remove ribs and seeds if you like it milder)
green onion - 1/4 c
Instructions
Heat the oil in a medium pot over medium-high heat. Add the onions and sauté until translucent and beginning to brown, about 4-5 minutes.
Add the garlic and rice. Cook, stirring, until rice is opaque and beginning to brown and garlic is fragrant, about 2-3 minutes.
Add the ginger, broth, coconut milk, beans, thyme and chile. Bring to a simmer, then turn the heat to low and cover.
Cook, covered, 35-40 minutes until rice is tender and liquid has been absorbed. Stir in beans and green onion before serving.
Nutritional Information
Calories: 295 ; Fat: 5.5 g; Saturated Fat: 2.7 g; Trans Fat: 0.0 g; Sodium: 270 mg; Total Carbohydrate: 51.9 g; Dietary Fiber: 6.6 g; Sugars: 3.3 g; Protein: 8.7 g; Points: 6; Points Plus: 7;
https://www.homesweetjones.com/2013/11/jamaican-peas-rice/