I absolutely love mushrooms so I immediately knew this dish would be a winner at our house. What makes it extra fantastic is its simplicity – less than 5 minutes to throw together and I can cook it in our little toaster that takes no time to preheat.   The only thing that keeps this from being on our table several times a week is the fat calories.  I cut down the butter from the original recipe so it's not terrible but it's still only an occasional splurge for us.
I start thinking of this when the weather turns colder and three years in a row it's been on our holiday table.  These mushrooms are wonderful served on the side of a roast chicken or with a simple risotto and green salad.  Just make sure you have some bread on hand to mop up all the delicious, garlicky, buttery juices.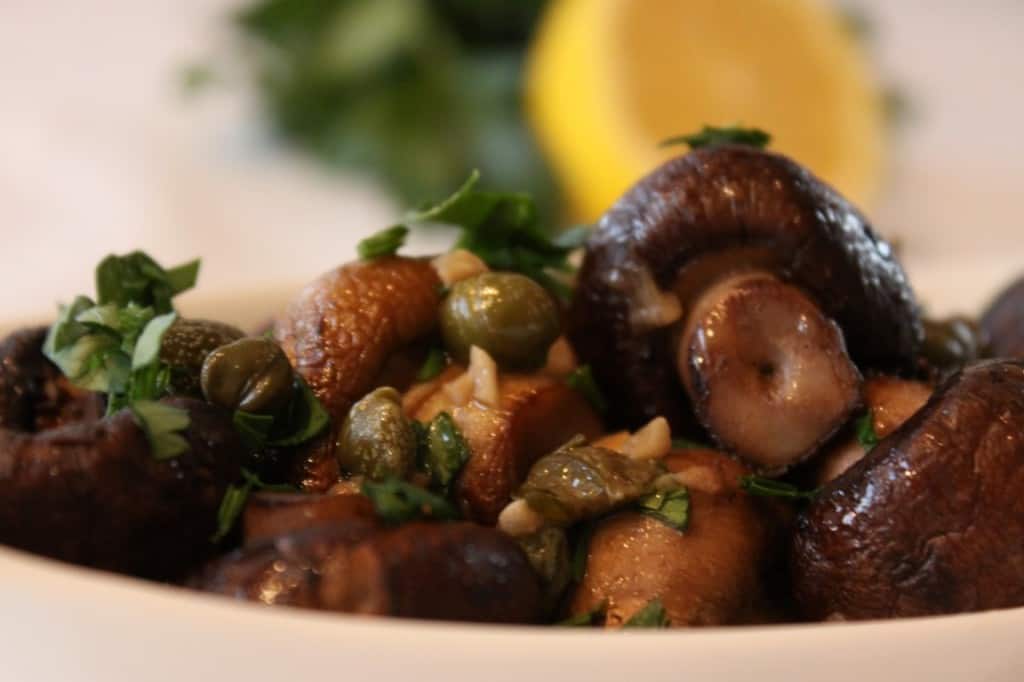 Ingredients
mushrooms - 1 lb, cremini and/or white, halved if large
salt and pepper - to taste
capers - 2 tbs
garlic cloves - 3-5, minced
olive oil - 2 tbs
butter - 2 tbs, cut into pieces
flat-leaf parsley - 1/4 c, chopped
lemon - 1/2, juiced
Instructions
Preheat oven to 450°.
Combine mushrooms, capers, garlic, oil, salt, and pepper to taste in a shallow baking dish and top with butter.
Cook, stirring halfway through, until mushrooms are golden, about 15-20 minutes. Stir in lemon juice and parsley and serve with crusty bread for soaking up the yummy juices.
Nutritional Information
Calories: 145 ; Fat: 13.2 g; Saturated Fat: 4.2 g; Trans Fat: 0.0 g; Cholesterol: 15 mg; Sodium: 178 mg; Total Carbohydrate: 5.2 g; Dietary Fiber: 1.5 g; Sugars: 2.1 g; Protein: 4.0 g; Points: 4; Points Plus: 4;
https://www.homesweetjones.com/2013/11/roasted-mushrooms/