This isn't your traditional Jambalaya but, to me, it's so much better.  It's loaded with flavorful vegetables so small amounts of meat and rice are plenty to round it out.  Brown rice makes this even healthier and a mix of Cajun spices makes it irresistible.
I usually have a chicken breast and bag of shrimp in the freezer so, as long as I pick up a little sausage at the market this is a breeze to throw together after a long day of work.  As tasty as it is, the leftovers might be even better.  I remember once I had to leave for a work trip the day after making this and was so jealous that Brad would get all the leftovers.  Petty, yes, but this is a darn good recipe.
I found a great lean turkey spicy Italian raw sausage at the market but low-fat chicken sausage will do.  I've even made this with sweet sausage and it's still great – just kick up the spices as needed to compensate.
Adjust the seasoning to taste.  This recipe is about as spicy as I can handle it but my husband always adds hot sauce.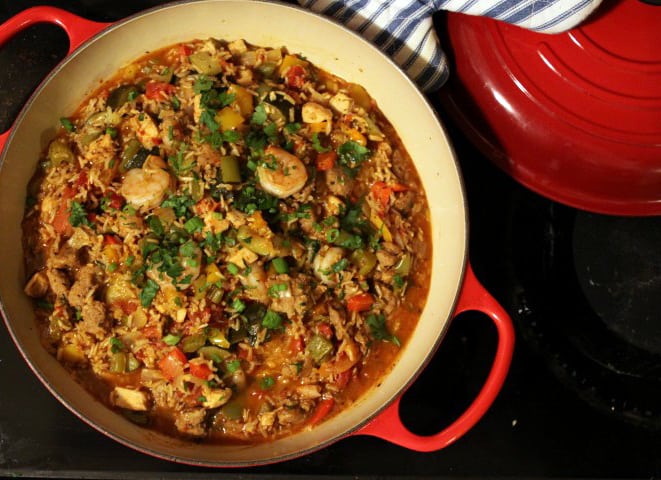 Ingredients
1 tsp olive oil
Cajun seasoning, to taste
8 oz boneless, skinless chicken breasts, cut into 1 in. cubes
8 oz lean turkey sausage, cut into 1 in. cubes
1 c onion, diced
2 ribs celery, diced
1 green bell pepper, diced
1 yellow bell pepper, diced
1 medium zucchini, diced
4-5 clovesgarlic
3/4 c brown rice
1 15-oz can no salt added tomatoes
1 c low-sodium, fat-free chicken broth
2 tsp Worcestershire sauce
1 tsp cumin
1 tsp thyme
1/2 tsp cayenne pepper
1 tsp black pepper
8 oz shrimp, peeled and deveined
2 tbs parsley, optional
2 tbs green onions, optional
Instructions
Heat oil in a large skillet over medium high heat.
Toss chicken cubes with Cajun seasoning and saute, stirring occasionally, until brown, about 5-6 minutes. Remove to a plate.
Saute sausage until brown, about 6-8 minutes and remove to a plate.
Reduce heat to medium and add onion, peppers, and celery to the pan. Saute for about 5 minutes and add zucchini. Continue cooking, stirring, until onion is translucent.
Add garlic and rice. Saute until rice is opaque and begins to brown.
Add tomatoes, broth, Worcestershire sauce, and spices. Bring to a boil, reduce to simmer, cover and cook until rice is tender, about 30-40 minutes depending on the type of rice.
Uncover and add chicken, sausage, and shrimp. Cook until shrimp are opaque, chicken and sausage are warmed through, and any excess liquid has boiled out.
Stir in parsley and green onions. Serve.
Nutritional Information
Calories: 370 ; Fat: 8.6 g; Saturated Fat: 1.5 g; Trans Fat: 0.0 g; Cholesterol: 138 mg; Sodium: 490 mg; Total Carbohydrate: 37.1 g; Dietary Fiber: 4.1 g; Sugars: 9.9 g; Protein: 34.7 g; Points: 7 ; Points Plus: 9 ;
https://www.homesweetjones.com/2013/11/skinny-jambalaya/