For the times you don't have a pizza stone and 1200 degree coal-fired oven this is the next best thing. I'm not going to lie and say it's as good as a 1200 degree coal-fired oven but, if you get fancy with your dough recipe, it can get you surprisingly close.
For weeknight meals I don't have time to get fancy with the dough and will buy the pre-made dough from Trader Joe's. Letting it sit, forgotten, in the fridge a few extra days will even help your crust get a better char.
Otherwise, all you need are your favorite toppings (tomato sauce, mozzarella, fresh basil, heirloom tomatoes today), a large skillet, and an oven with a broiler.
You need to move fast using this technique so it's a good idea to have your mise en place en place, as it were. Slice your tomatoes, chop your basil, and set everything next to the stove for easy access. The cooking process literalyl takes 5 minutes but you'll need an extra 20 minutes to let the oven heat pre-heat and dough come down to room temperature if you've been storing it in the fridge.
By cooking the pizza in a hot oven under the broiler, you set yourself up for a charred top, crispy crust, and airy cornicione.

My undying gratitude goes to Kenji at Serious Eats for this technique.  See his post for a more authentic Neapolitan pie.
This recipe makes two small pizzas – each one perfect for sharing. We usually split one for dinner and take half the other for lunch the next day.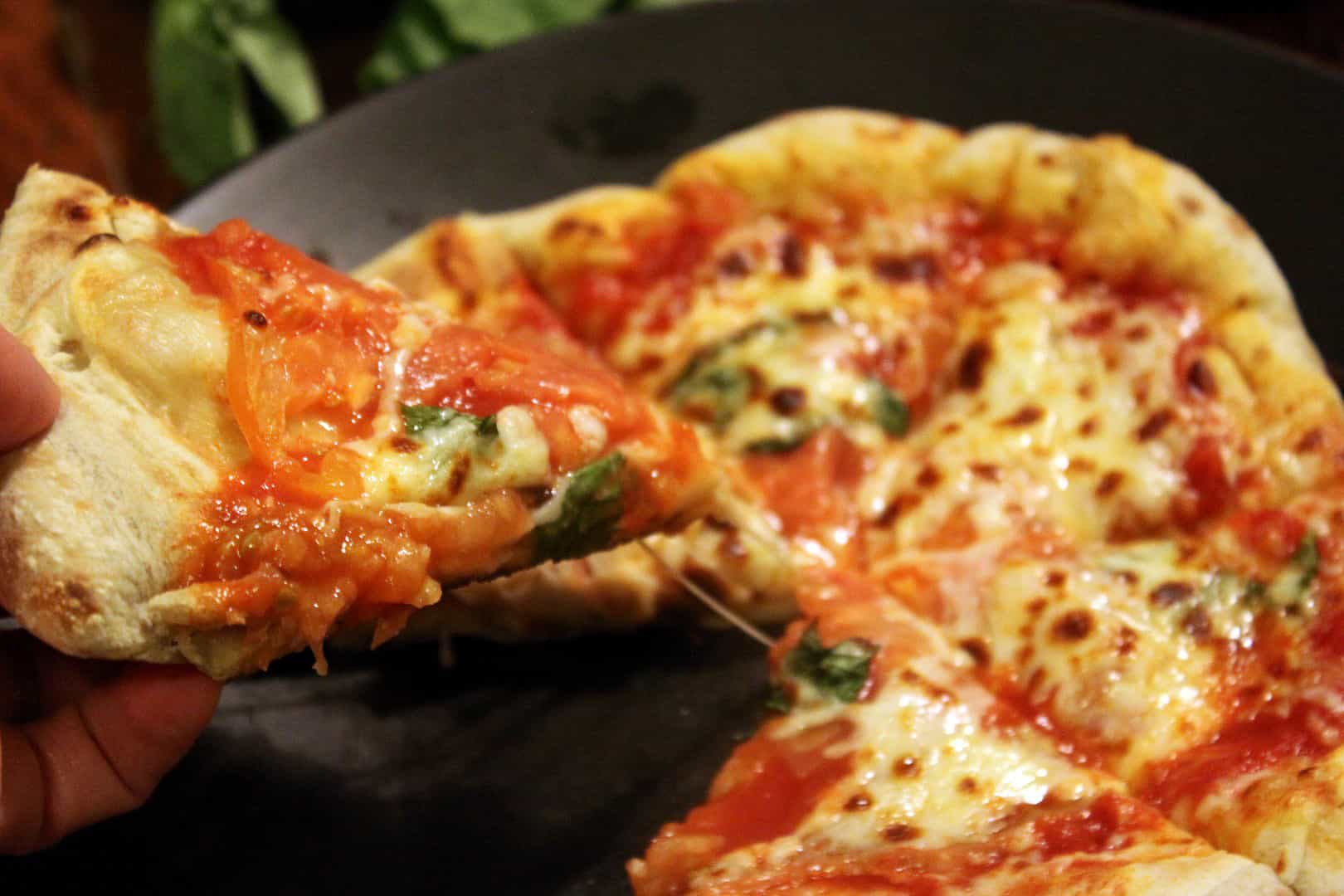 Ingredients
pizza dough - 1.1 lbs, divided (I use Trader Joe's)
flour - for dusting
olive oil - 2 tsp, divided
tomato sauce - 6 tbs, divided (I use Trader Joe's)
tomato - 6-10 paper-thin slices, divided
fresh basil - 4-8 leaves, chopped, divided
light mozzarella - 4 oz (again with the TJs)
Instructions
Preheat oven to 550F or it's maximum temperature. Place an oven rack on the top position.
On a lightly floured surface, divide pizza dough in half and set aside at least 20 minutes if it's been stored in the fridge.
Prepare your oil and toppings and have the standing by on the stove.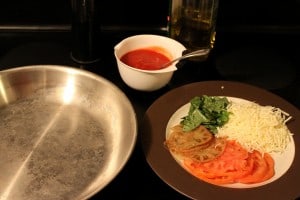 Once the oven is preheated, heat a large skillet over high heat.
Gently stretch one half the pizza dough to about 10" diameter. Add 1 tsp olive oil to the skillet and immediately transfer stretched dough.
Working quickly, spoon 3 tbs of tomato sauce over the dough, leaving the edges exposed. Add half the tomato slices and basil leaves. Sprinkle with half the cheese and quickly transfer to the top rack of the hot oven. Immediately turn on the broiler and set a timer for 2 minutes. It should take about two minutes and a half minutes (150 seconds) for the crust to rise, the cheese to begin to brown and, if you have good dough and moved fast, the top of the crust to brown.
Keep a close eye on things and, as soon as the top is done, use an oven mit and transfer the skillet back to the burner, still on high heat. Check the bottom of the pizza. If it needs more browning, let it cook another minute or even two, checking constantly, until done. Immediately transfer to another plate.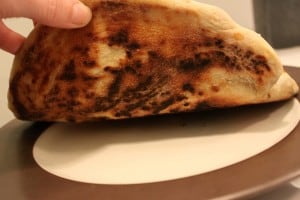 Repeat with the second pizza, slice, and enjoy!
Nutritional Information
Calories: 365; Fat: 8.7 g; Saturated Fat: 1.4 g; Trans Fat: 0.0 g; Cholesterol: 10 mg; Sodium: 1273 mg; Total Carbohydrate: 55.6 g; Dietary Fiber: 2.9 g; Sugars: 1.2 g; Protein: 11.9 g; Points: 7; Points Plus: 9;
https://www.homesweetjones.com/2013/12/5-minute-oven-neapolitan-style-pizza-seriously/