Goat cheese, thyme, mushroom and onion are some of my all time favorite flavors so I knew as soon as I found this recipe that I'd love it.   I reduced the fat and calories a bit by replacing almost half the goat cheese with non-fat cottage cheese.  All the yummy goat cheese flavor still comes through but we can feel good about having it for dinner on more than just special occasions.
If you're comfortable multi-tasking in the kitchen and are pretty quick with a knife, this can be made in under 40 minutes.  Personally, I like to assemble everything the day before and just put it under the broiler for a few minutes before serving for a quick weeknight meal.  We always serve this for dinner with a light salad but it would also be an awesome holiday party hors d'oeurve.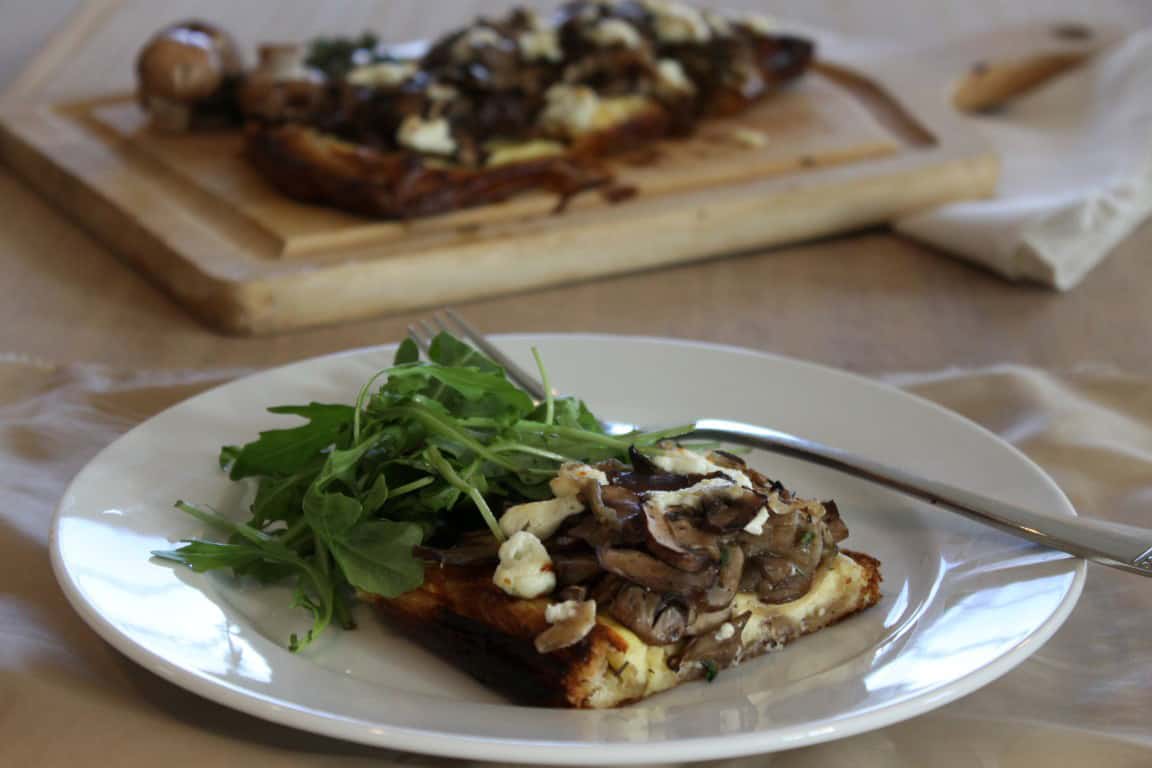 Ingredients
sweet onion - 1 large, thinly sliced
mushrooms - 1 lb
olive oil - 2 tsp
puff pastry - 1 4-ounce package, frozen
egg beaters - 3/4 c
goat cheese - 5 oz
fat free cottage cheese - 4 oz
fresh thyme - 2 tsp, chopped, plus more for garnish
black pepper - fresh ground, to taste
Instructions
Preheat oven to 400 degrees F.
Slice the onion into paper thin slices using a mandolin if you have one - a sharp knife and a little extra time will work if you don't.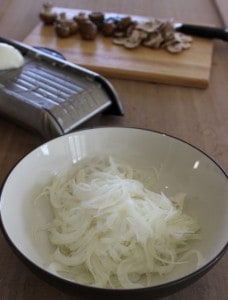 Heat 1 teaspoon oil in a skillet over medium heat; add onion and saute until caramelized. Set aside.
Heat the remaining teaspoon of oil and add the mushrooms. Saute until they release all their juices and most evaprates, about 5 minutes. Return the onions to the pan, add thyme, and season to taste.
Unfold puff pastry onto a floured surface and cut in half lengthwise to make 2 long rectangles. Roll out each rectangle to about 5 by 14 inches and place on cookie sheet. Fold the edges up to form a ridge. Brush with 1/4 c egg beaters (or 1 egg) and prick the interior of pastry all over with a fork.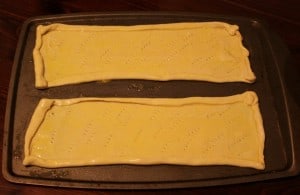 Bake until golden, about 10 minutes. Press down the center if it puffs up.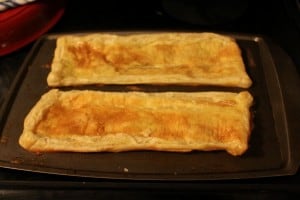 Meanwhile, combine the remaining 1/2 c egg beaters (or 2 eggs), 3 ounces goat cheese, and the cottage cheese and blend with a hand blender or mini food processor until smooth.
Spread the mixture onto the pastry. Return to oven and bake just until set, about 10 minutes. Remove from the oven and spread with the onion and mushroom mixture. Crumble 1 oz of cheese atop each pastry. The tarts can be stored, covered in the refrigerator, up to one day.
Just before serving, broil tarts on low heat for 3-5 minutes, until the top browns and the cheese melts. Slice each tart into 4 slices.
Nutritional Information
Calories: 192 ; Fat: 11.5 g; Saturated Fat: 6.6 g; Trans Fat: 0.0 g; Cholesterol: 19 mg; Sodium: 226 mg; Total Carbohydrate: 9.9 g; Dietary Fiber: 1.2 g; Sugars: 3.3 g; Protein: 13.0 g; Points: 5 ; Points Plus: 5 ;
https://www.homesweetjones.com/2013/12/caramalized-onion-mushroom-goat-cheese-tart/