'Tis the season of colds and flus and Brad's been fighting a fever the last few days. I hate feeling helpless when he's sick so I fight back by cooking up large batches of soup.  I have a super elaborate chicken soup recipe I often use but this week I wasn't in the mood to spend an hour cooking and wanted to come up with something fast.  I was surprised when this quick and easy solution turned out just as delicious.   The secret was a batch of awesome (if I do say so myself) homemade chicken stock I'd recently made. You should make your own but, if you don't have anything homemade sitting around, just buy a box of quality stuff.  I think fresh tarragon is also important but the dried stuff may do in a pinch.  I used a store-bought rotisserie chicken to make this extra speedy.  Finally, I like to use Tony's Cajun seasoned salt instead of regular salt to give it a little extra kick.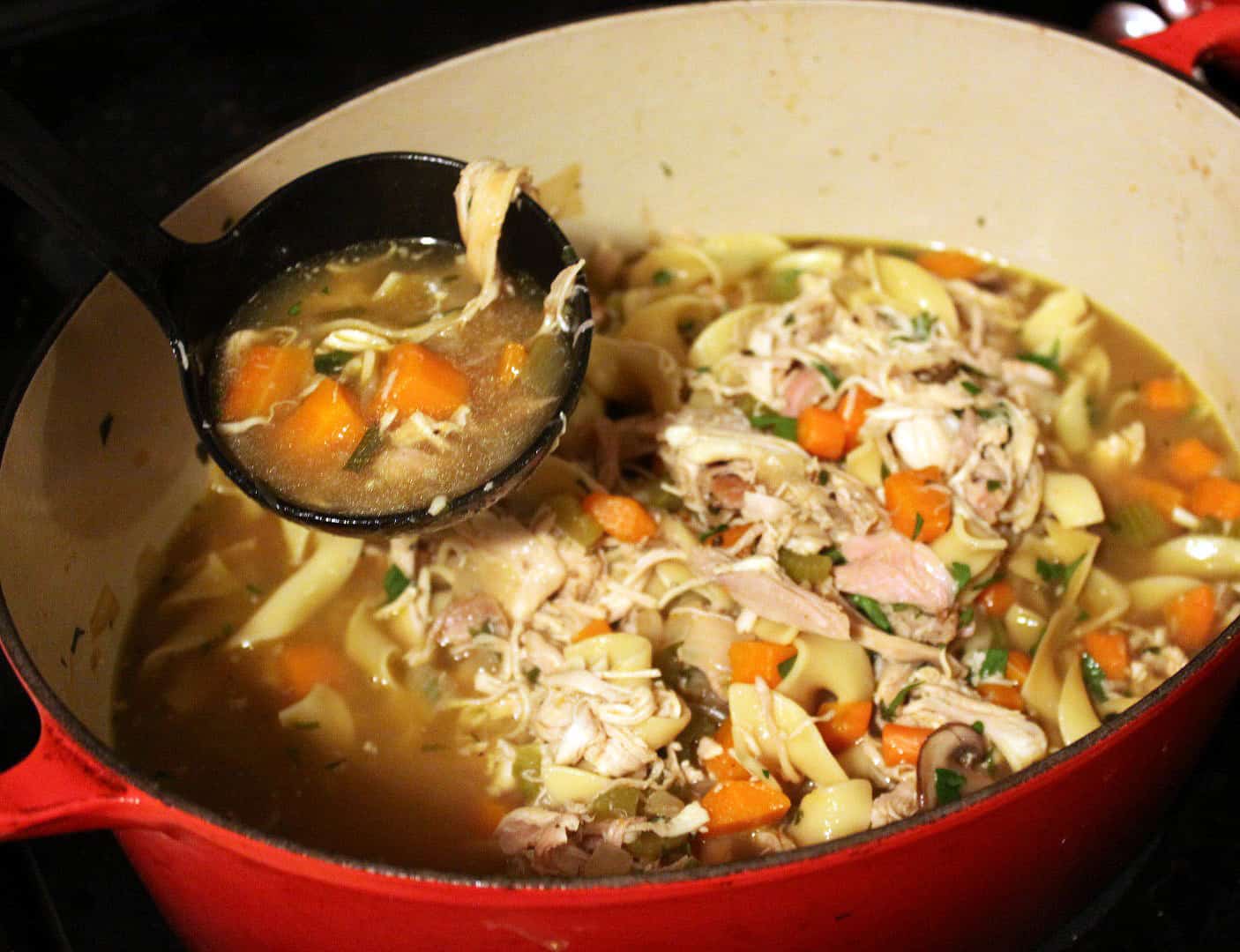 Ingredients
olive oil - 2 tsp
carrots - 3, diced
celery - 3 ribs, diced
onion - 1 medium, diced
mushrooms - 4 oz
garlic - 4 cloves
chicken stock - 6 c
bay leaves - 3
thyme sprigs - 3
cooked chicken meat - 1 lb, shredded
fresh tarragon - 1/4 c, chopped
flat-leaf parsley - 1 tbs, chopped
black pepper - 1 tsp, plus more to taste
salt - to taste
Instructions
Heat oil over medium high heat in a large pot or dutch oven. Dice carrots, celery and onion in that order and add to the pot as you go. Saute 5 minutes. Slice mushrooms and add to the pot, then mince garlic and add. Cook one more minute.
Add chicken stock, bay leaves and thyme. Season to taste. Bring to a simmer while shredding chicken. Add chicken meat, tarragon, parsley and cook a few minutes more until chicken is warmed through. Remove bay leaves and thyme stems. Season again and serve.
If you like to add noodles, dumplings or matza, do so once the stock starts boiling. Add the chicken and herbs in the last few minutes of cooking.
Nutritional Information
Calories: 239 ; Fat: 9.6 g; Saturated Fat: 2.3 g; Trans Fat: 0.0 g; Cholesterol: 81 mg; Sodium: 849 mg; Total Carbohydrate: 9.2 g; Dietary Fiber: 2.1 g; Sugars: 4.1 g; Protein: 28.9 g; Points: 5 ; Points Plus: 6 ;
https://www.homesweetjones.com/2013/12/fast-easy-chicken-soup/