Considering the fancy French name, Fish en Papillote is surprising easy to prepare. If you have parchment paper on hand, it's as simple and fast as poaching, sauteing, or baking a fish.  Not only are the little individual packets adorable, they make clean up a breeze.
This particular dish has fantastic spicy, tangy flavor with barely a whisper of fat.  The heap of colorful vegetables is so filling it's hard to believe this dish clocks in at only 155 calories.  We served it with a side of blistered shishito peppers and a bit of rice to soak up the complex flavor of the sauce.
Don't stress over the sealing of the packets.  I've heard folks recommend cutting the parchment into heart shapes but for me, as long as I have enough paper to work with it's easier to work with a big rectangle.  Even if it's not perfect and some liquid escapes, your fish will still be moist and tasty.
Serve over rice, noodles, or as is in it's cute little package.
Substitute 2 tbs of liquid aminos for the soy sauce to make this gluten free.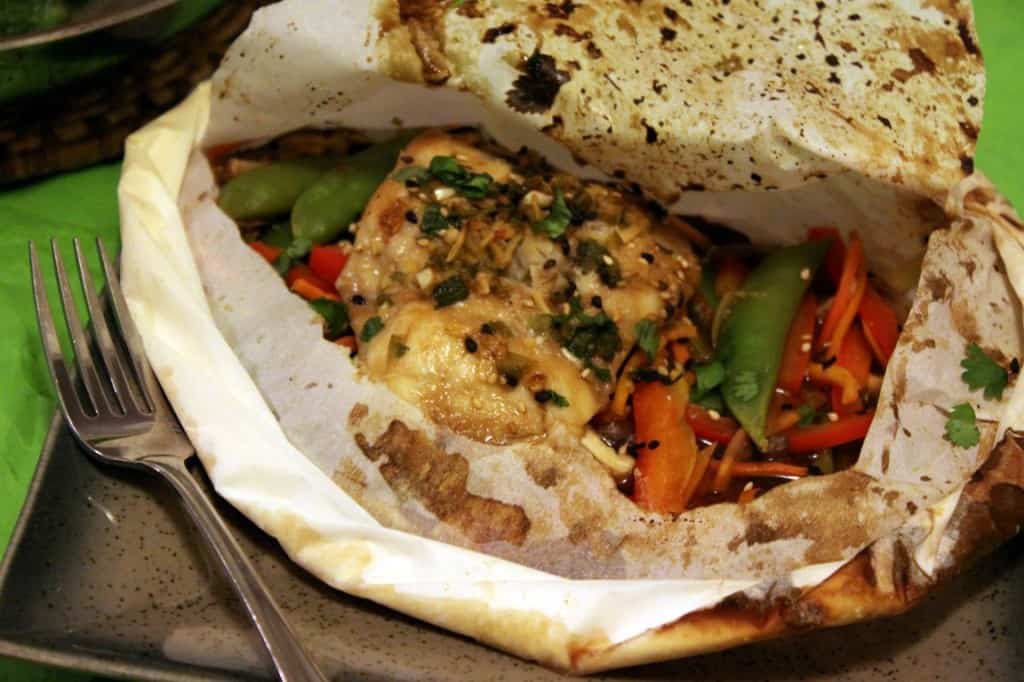 Ingredients
low-sodium soy sauce - 3 tbs
rice vinegar - 2 tbs
lime juice - 1-1/2 tbs (juice of 1 lime)
sesame oil - 1/2 tsp
honey - 1/2 tsp
fresh ginger - 1 tbs, minced
garlic - 1 tbs, minced
jalapeño - 1 tbs, minced
cod, halibut or other white fish - 4 (4-oz) fillets
carrots - 3/4 c, julienned
red bell pepper - 1 medium, julienned
yellow bell pepper - 1 medium, julienned
shitake mushrooms - 4 oz, thinly sliced
sugar snap peas - 1 c, trimmed
celery - 1 stalk, julienned
green onion - 2 tbs, diagonally sliced
red onion - 2 tbs, thinly sliced
fresh cilantro - 2 tbs, chopped
sesame seeds - 1 tsp
Instructions
Preheat oven to 425F.
Whisk together soy sauce, vinegar, lime juice, sesame oil, honey, ginger, garlic, and jalapeño in a medium sized bowl.
Combine carrots, onions, peas, mushrooms, peppers, and celery in a large bowl.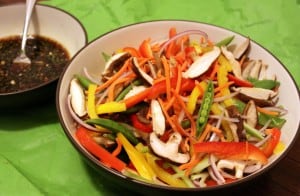 Cut a large square of parchment paper and lay flat. Stack one quarter of the vegetables near the middle of the parchment. Coat a fillet of fish with the sauce and lay on top of the vegetables. Pour 3 tbs of sauce over the stack and top with a sprinkle of cilantro and sesame seeds.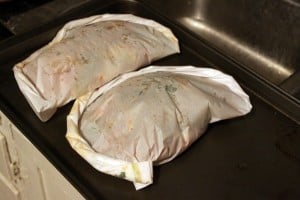 Fold the parchment over the top of the stack and seal the edges with small folds making it as watertight as possible. Set aside on a cookie sheet and repeat three more times.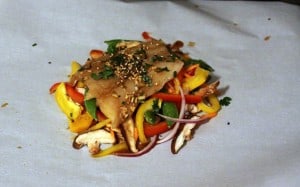 Bake for 12 minutes. Remove from the oven and cut open the packets, being careful to avoid the hot steam.
Nutritional Information
Calories: 155 ; Fat: 1.6 g; Saturated Fat: 0.0 g; Trans Fat: 0.0 g; Cholesterol: 73 mg; Sodium: 1022 mg; Total Carbohydrate: 15.1 g; Dietary Fiber: 3.2 g; Sugars: 6.3 g; Protein: 20.1 g; Points: 3 ; Points Plus: 4 ;
https://www.homesweetjones.com/2013/12/fish-en-papillote-asiatique/