This is a wonderfully quick, healthy weeknight meal full of bright colors and zesty flavors.
I love Greek salad but often find it's not substantial enough when I'm craving a hearty dinner. This version is bulked up with unique vegetables and whole wheat couscous. Regular couscous will do in a pinch – or leave it out for a paleo-friendly, gluten free meal.
The chicken in this recipe is especially fun.  The heavy use of oregano, garlic, lemon and honey give it so much flavor you forget the meat is so lean.  Best of all, it's simple enough to make in in the toaster oven in under 25 minutes.
Experiment with different vegetable and herb combinations.  Leave out the couscous to make this paleo-friendly and gluten-free.  It's just as good!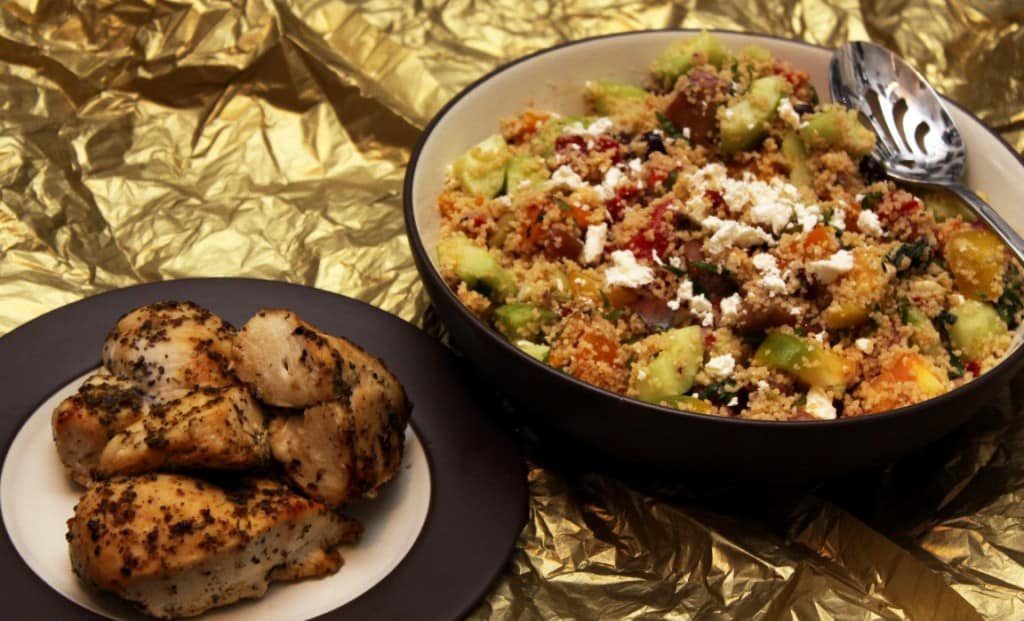 Ingredients
Chicken

boneless, skinless chicken breast - 2 8-oz breast pieces
olive oil - 2 tsp
lemon juice - 3 tbs, divided
dried oregano - 1 tbs
garlic powder - 1 tbs
salt and pepper - to taste
honey - 1 tbs

Salad

low-sodium chicken broth - 3/4 c
whole wheat cous cous - 3/4 c
cucumber - 1 medium, seeded and chopped into 1
tomatoes - 2 medium, seeded and diced
sun dried tomatoes in oil - 1 tbs, minced
roasted bell pepper - 1/2 c, diced, multi color if you can
kalamata olives - 1/4 c, chopped
red onion - 2 tbs, minced
artichoke hearts canned in brine - 3/4 c drained, halved
light feta cheese - 1 oz, crumbled
fresh herbs (cilantro, parsley, basil, oregano) - 1/4 c, chopped
olive oil - 1 tsp
Instructions
Preheat oven to 450F.
Cut the chicken breasts in half to create 4 4-oz portions of chicken. In a small bowl, combine olive oil, 2 tbs lemon juice, garlic powder and dried oregano. Season chicken with salt and pepper and brush with lemon juice mixture. Place on a foil lined baking sheet and bake until internal temperature reaches 160F; about 20 minutes.
Combine remaining tablespoon of lemon juice and honey. Brush over chicken breasts and return to oven until internal temperature reaches 165F, another 5 minutes or so.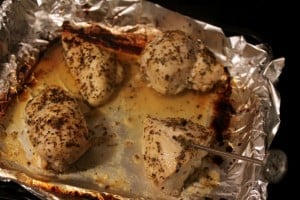 Meanwhile, in a small pot over high heat, bring vegetable broth to a boil. Remove from heat and stir in couscous. Set aside for 10-15 minutes while preparing vegetables.
Combine diced cucumber, fresh tomatoes, sun-dried tomatoes, bell pepper, olives, and onions in a large bowl. Fluff couscous and stir into salad. Stir in feta, olive oil, fresh herbs. Season with salt, pepper, and lemon juice to taste.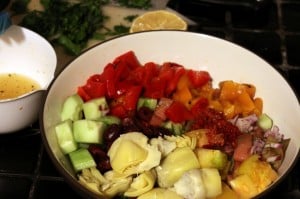 Serve salad with chicken on the side or chop chicken into 1" cubes and stir into salad.
https://www.homesweetjones.com/2013/12/greek-chicken-cous-cous-salad/