Holy cow these grilled artichokes are amazing! We've been working on the recipe for years now and finally found perfection last night.
We spent Thanksgiving weekend roadtripping through Northern and Central California.  On the way home we picked up some farm fresh artichokes at a roadside stand as a perfect excuse to make these for dinner the night we returned.
These are so filling we serve them as an entree with a light salad on the side but they're also fantastic appetizers or as a side dish for a richer meal.   In the past, I've screwed these up by undercooking when boiling so don't be in a rush to take them out of the water.  I also used to waste time tinkering with fancy dipping sauces. These are so juicy and flavorful they don't really need a sauce but, if you're sauce crazy like me, stirring a bit of Dijon into the remaining marinade makes the tastiest possible accompaniment.
Special thanks to Brad for handling the grill work and discovering the trick of finishing cut side up and drizzling with marinade.  Yum!
As an entree, we eat 2-3 quarters each but the nutritional information is for a full artichoke (half the recipe).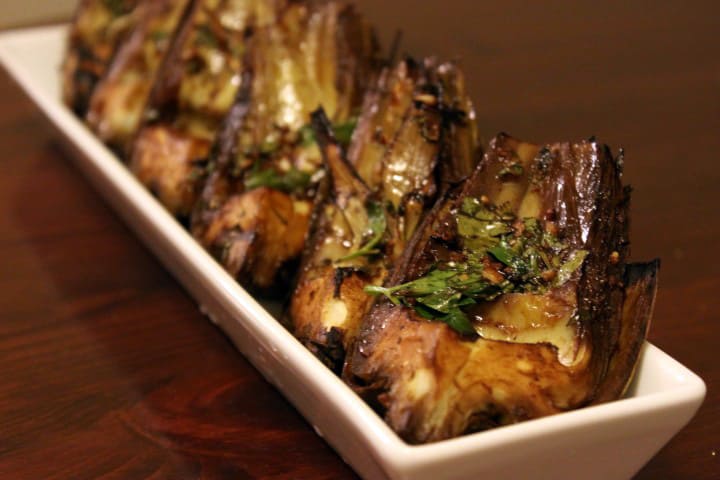 Ingredients
artichokes - 2 large
balsamic vinegar - 1/4 c
olive oil - 1/4 c
garlic - 1 tbs, minced
parsley - 2 tbs, chopped
salt and pepper - to taste
Dijon mustard - 1 tsp, optional
Instructions
Trim the artichokes by cutting off the bottom stem and the pointy tips of each leaf. Rub the cut ends with lemon to prevent them from browning.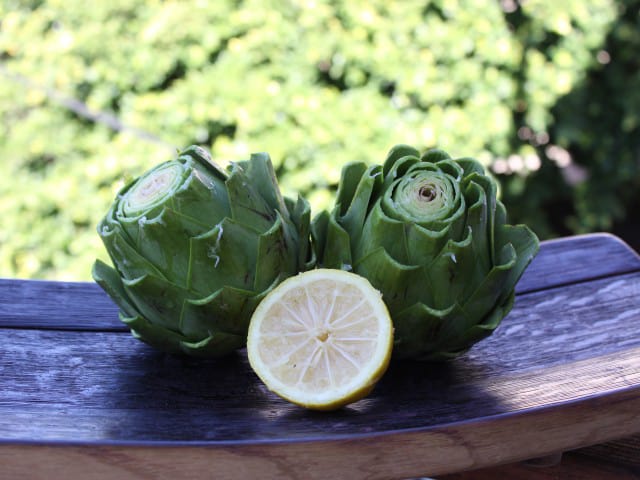 Bring a large pot of salted water to a vigerous boil and add the trimmed artichokes. If needed, weight them with a small plate so they stay underwater. Boil until the bottoms are tender when poked with a fork, about 20 minutes. Err on the side of overcooked rather than undercooked. Drain in a colander and let the artichokes sit until they're cool enough to handle.
Meanwhile whisk together the vinegar, oil, garlic, parsley, and season to taste wtih light salt and heavy pepper.
Cut into quarters. It's easiest if you start from the base and cut down towards the tips of the leaves. Use a spoon to remove the fur and inner leaves.
Marinate the artichoke in vinaigrette for 2-6 hours - closer to 6 is better.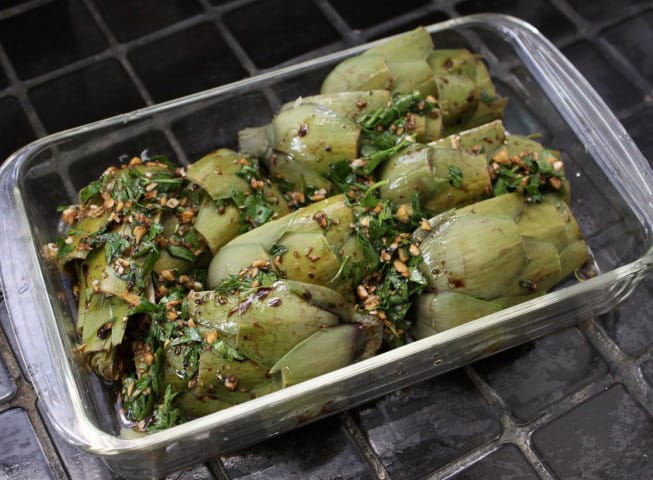 Fire up the grill to around 325*. Cook the artichokes, cut side down, for about 2 minutes or until brown. Turn the artichokes and cook for another 3 minutes while drizzling with marinade.
Whisk a spoonful of mustard into the remaining marinade to make a delicious dipping sauce.
Nutritional Information
Calories: 314 ; Fat: 26.0 g; Saturated Fat: 3.7 g; Trans Fat: 0.0 g; Sodium: 157 mg; Total Carbohydrate: 19.5 g; Dietary Fiber: 9.2 g; Sugars: 1.9 g; Protein: 6.1 g; Points: 6 ; Points Plus: 9 ;
https://www.homesweetjones.com/2013/12/grilled-artichokes/