Crispy golden outside, warm oozy inside and a layer of fragrant, flavorful herbs in-between… these make my mouth water just thinking about them.
These herb-crusted goat cheese rounds are so easy to make – less than 20 minutes from picking the herbs to serving them up – but are fancy enough to impress company. They can be prepared several hours in advance and baked at the last minute. One of my favorite aspects is that they can be baked in a small toaster oven – a real help if you have other dishes in the main oven.
Serve atop lightly dressed greens for an impressive first course, side salad, or light lunch.
I use a combination of fresh basil, parsley, thyme, young rosemary and sage from the garden but feel free to use any herb combo that strikes your fancy. Play around and see what works for you!
Once the rounds are assembled, they can be stored in the refrigerator for several hours before baking.  After baking, you can reheat these easily by putting them under the broiler for a few minutes.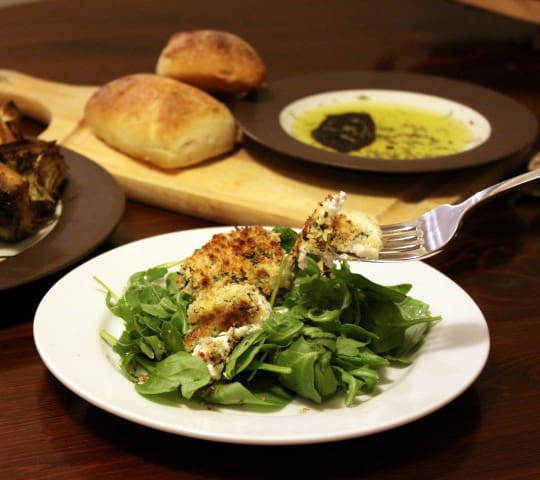 Ingredients
goat cheese - 6 oz
fresh herbs - 6 tbs, chopped (basil, thyme, parsley, sage and rosemary are my favorites)
egg beaters - 1/4 c or 1 egg white
panko bread crumbs - 1/4 c
black pepper - to taste
non-stick spray
Instructions
Slice the cheese into 6 1-ounce rounds. Place in the freezer for 5 minutes all the cheese doesn't melt on your hot little hands during the next steps.
Meanwhile, chop the herbs and scatter on a small plate.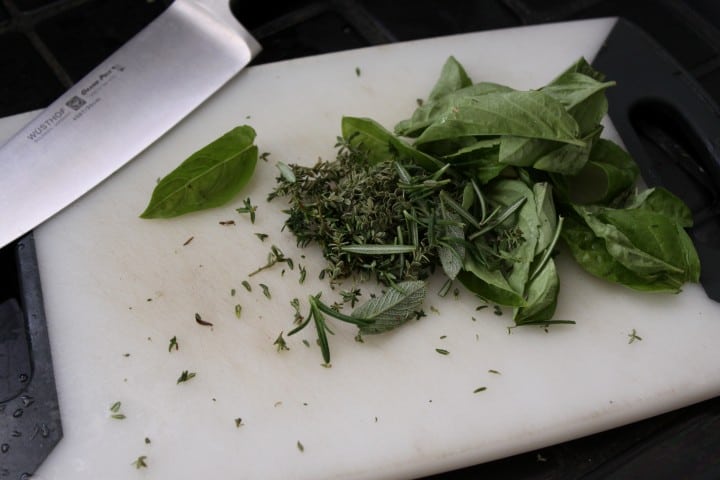 Put egg in a bowl. Spread the panko crumbs on a small plate and season with pepper.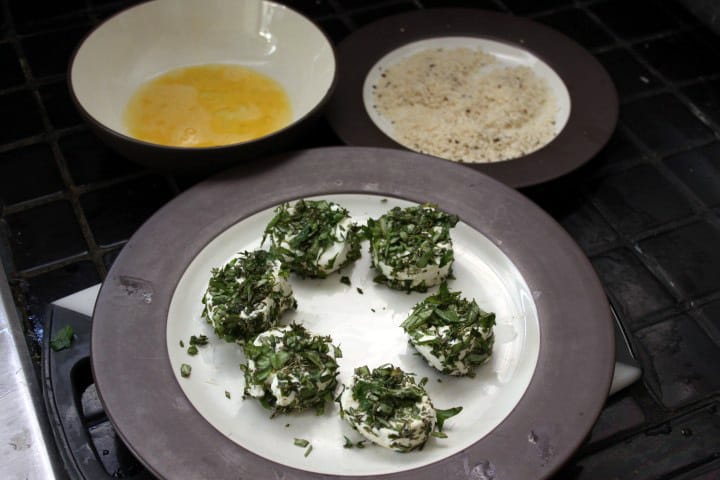 Remove cheese from the freezer and, working with one round at a time, press herbs into round, dip into cheese, then coat with panko crumbs and set aside on a foil-lined baking sheet sprayed with non-stick spray.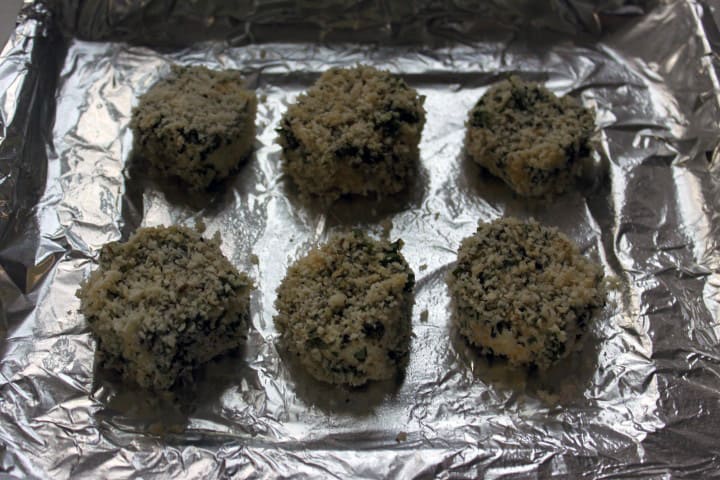 Preheat the oven to 400F. Cook 8-12 minutes until the crust is golden and cheese is oozy delicious.
Nutritional Information
Calories: 154 ; Fat: 10.4 g; Saturated Fat: 7.0 g; Trans Fat: 0.0 g; Cholesterol: 30 mg; Sodium: 151 mg; Total Carbohydrate: 4.7 g; Dietary Fiber: 0.7 g; Sugars: 1.0 g; Protein: 10.7 g; Points: 4; Points Plus: 4;
https://www.homesweetjones.com/2013/12/herb-crusted-goat-cheese-rounds/