To me, homemade is always better than anything that comes in a package but with our busy schedule, it's not always practical to make all the components of a meal from scratch.  One ingredient we always make ourselves, however, is chicken stock.  It's so easy to make, tastes far better and is less expensive than store bought broth, and, most of all, you can  control exactly what goes in – no worries about sodium levels, gluten, pesticides, chicken origin or anything else that might concern you.
I keep a gallon zipper bag in the freezer at all times to store bones – carcasses of roast chicken, the necks that come with the gizzards when I buy a whole chicken, leftover raw bones if I buy bone-in breasts to butcher at home – raw or cooked, it doesn't matter.  You can absolutely combine other animal bones, too – just be sure there aren't any sauces or heavy seasoning on the parts. If I have vegetables that are on the brink of going bad and I can't use them any other way, I'll throw those in the bag as well.
Every month or two when I run low on stock , I just empty the bag into the stock pot, add an onion, 3-4 carrots, several stalks of celery, peppercorns, garlic, bay leaves, water, and let it simmer for the day.

At the end of the day, I'll strain it and transfer the stock to small 1-2 cup containers and freeze.  Just thaw one container at a time as needed.
This is so great to have on hand – especially during cold and flu season.  A warm mug of this hearty stock is as good as Chicken Noodle soup for me.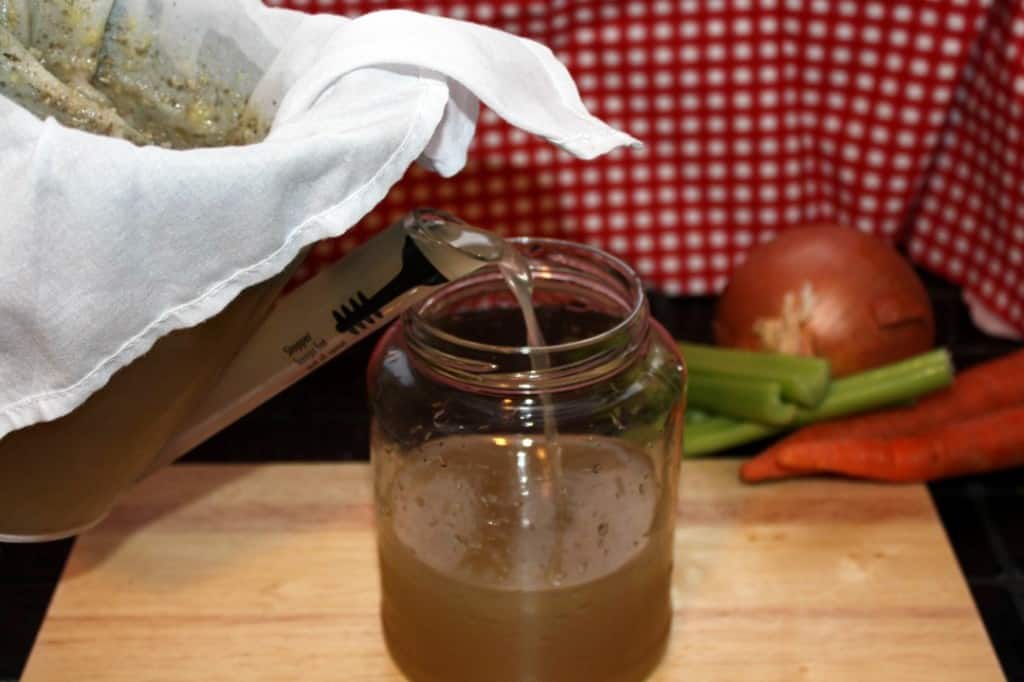 Ingredients
chicken bones - 3-4 lbs
onion - 1 large, chopped
carrots - 3-4, chopped
celery - 4-6 ribs, chopped
bay leaves - 2-3
black peppercorns - 1/2 tbs
garlic - 4 cloves, whole
salt - to taste
Instructions
Combine ingredients in a large stock pot, fill the pot with water ensuring bones and vegetables are covered. Bring to a boil over high heat and immediately reduce to medium low heat to maintain a gentle simmer. Simmer 4-8 hours. The longer you can cook it, the richer the stock will become. Just be sure to keep it at a low simmer -if the water boils too vigorously, the stock will be cloudy
Strain through a colander into another large pot or heat-proof bowl to remove the bones and vegetables; discard. strain back into the stock pot through cheesecloth, a clean cloth napkin, or a fine mesh strainer to remove smaller particles.
Use a fat strainer to remove all fat or, if you don't have a fat strainer, just put the stock pot in the refrigerator overnight and skim off the congealed fat the next day.
Transfer to individual containers and store in the refrigerator up to 3 days or in the freezer up to 3 months.
https://www.homesweetjones.com/2013/12/make-chicken-stock/