This pasta is so quick and delicious. Bulking it up with fresh tomatoes helps reduce the calories while adding a burst of flavor that perfectly complements the tangy sun-dried tomatoes and feta.

I fell in love with this beautiful pasta we found at the Embarcadero Farmers' Market in San Francisco and decided this would be the perfect recipe to complement it's unique coloring. Of course, this is just as tasty with your standard rotini, farfalle, or penne.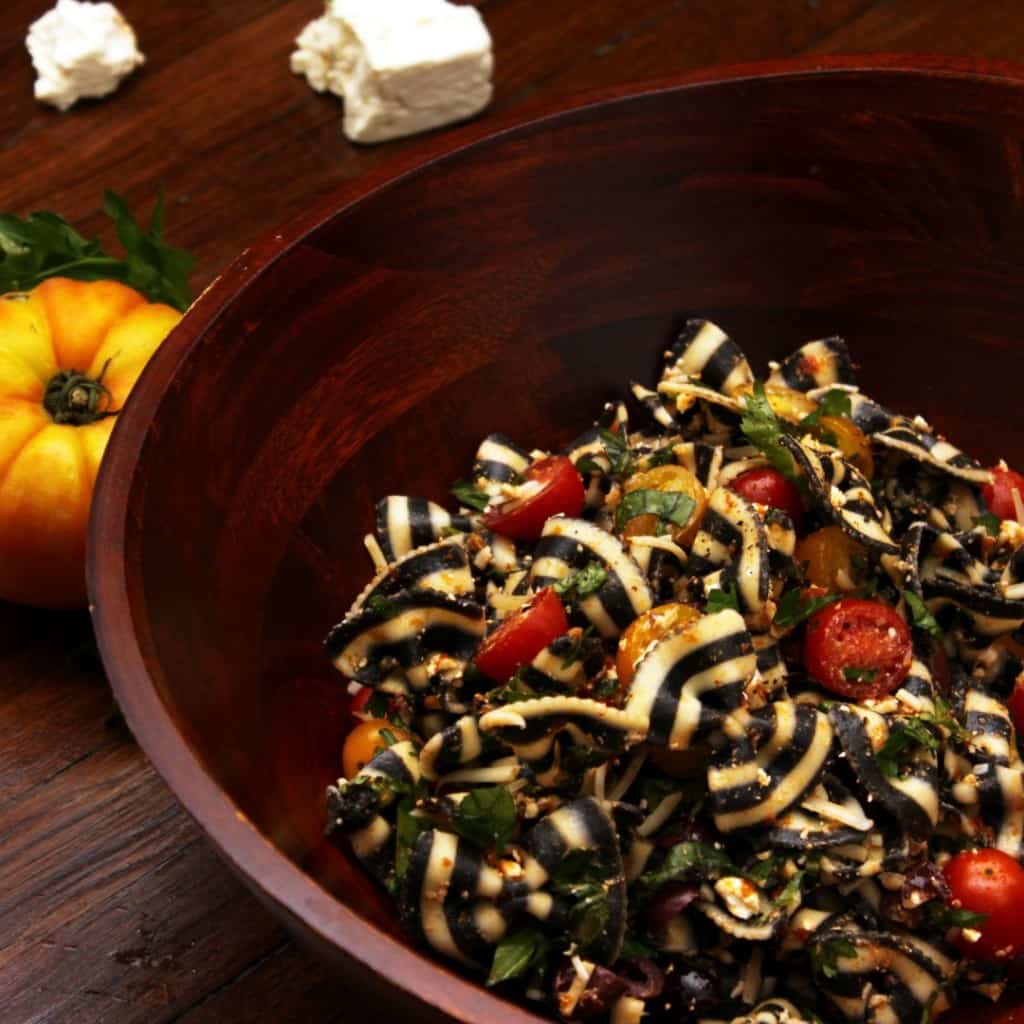 Ingredients
sun-dried tomoates - 1/3 c, not in oil, reconstituted in hot water
grape tomatoes - 2 c, halved
pasta - 8 oz
kalamata olives - 1 oz (about 10), coursly chopped
light feta - 3 oz (I use Trader Joe's)
Parmesan cheese - 1 oz
fresh parsley - 1/4 c
fresh basil - 1/4 c

Sauce

sun-dried tomatoes, julienned in olive oil - 1/4 c
olive oil - 3 tbs
red wine vinegar - 1/2 tbs
garlic - 1 clove
capers - 1 tsp
black pepper - 1 tsp
Instructions
Place sun-dried tomatoes in a cup of hot water and set aside.
Bring a large pot of salted water to a boil over high heat. Add pasta and cook according to package instructions.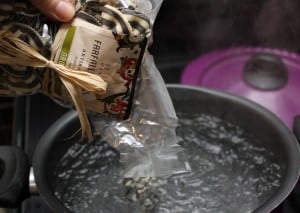 Meanwhile, combine sauce ingredients in a mini food processor or blender. Blend to a chunky paste.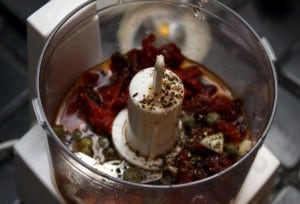 Drain pasta and return to pot over medium low heat. Add sauce, fresh tomatoes, olives, and feta. Cook 1-2 minutes until warmed through.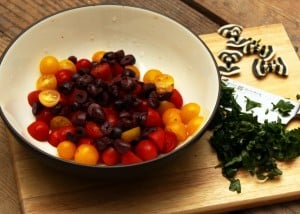 Drain sun-dried tomatoes and stir into pasta along with crumbled feta, Parmesan, basil and parsley. Season to taste and serve.
Nutritional Information
Calories: 255 ; Fat: 11.8 g; Saturated Fat: 2.5 g; Trans Fat: 0.0 g; Cholesterol: 33 mg; Sodium: 313 mg; Total Carbohydrate: 28.2 g; Dietary Fiber: 1.6 g; Sugars: 3.5 g; Protein: 9.6 g; Points: 6; Points Plus: 7;
https://www.homesweetjones.com/2013/12/sun-dried-tomato-feta-pasta/