This is my new favorite way to prepare Brussels sprouts and I can't wait to make them again and again.  Tender crisp on the inside with a sweet, spicy crust these are perfect for snacking.  Although this recipe says 6 servings they're so addictive you may need to make more.  We ate about half of them before they were even done cooking.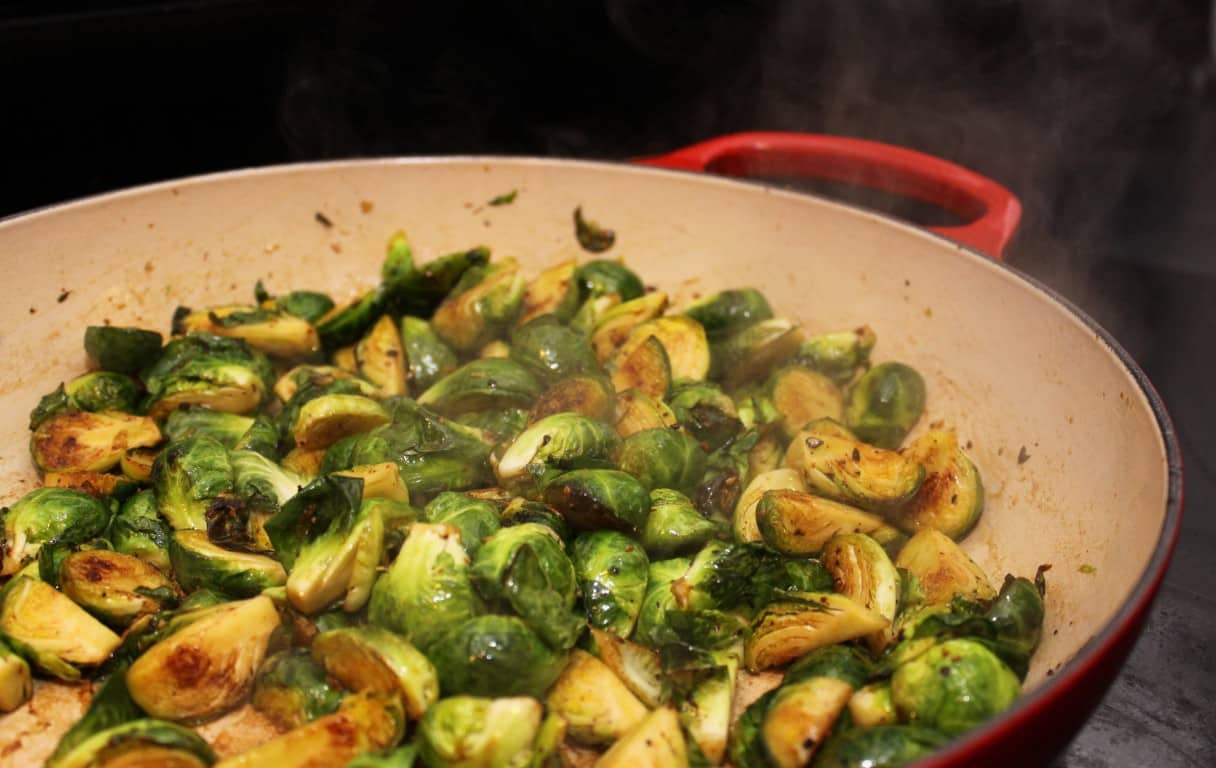 Ingredients
Brussels sprouts - 1-1/2 lbs
butter - 2 tbs
olive oil - 2 tbs
cayenne pepper - 1/4 tsp or more to taste
black pepper - 1/2 tsp or more to taste
salt - to taste
brown sugar - 1-1/2 tbs
Instructions
Trim sprouts and cut into quarters through the root. Halve sprouts that are especially tiny.
Heat butter and oil over medium-high heat. Add Brussels sprouts and cook, stirring regularly, for 10 minutes until cut surfaces begin to brown.
Add black and cayenne pepper and season with salt to taste. Add brown sugar and reduce heat to medium. Continue cooking, stirring, until outsides begin to caramelize and inside is tender-crisp. Adjust seasoning if needed and serve hot.
Nutritional Information
Calories: 132 ; Fat: 8.9 g; Saturated Fat: 3.2 g; Trans Fat: 0.0 g; Cholesterol: 10 mg; Sodium: 56 mg; Total Carbohydrate: 12.5 g; Dietary Fiber: 4.4 g; Sugars: 4.7 g; Protein: 3.9 g; Points: 3 ; Points Plus: 4 ;
https://www.homesweetjones.com/2013/12/sweet-spicy-brussels-sprouts/