This Autumny salad came about by accident as I slowly, compulsively bought and hoarded fun-looking ingredients: quick-cook farro at Trader Joe's, a pretty acorn squash at the farmer's market, Brussels sprouts and a pomegranate from a roadside stand on the drive home from wine country. Eventually I realized that I needed to eat my precious before they went bad. I warned Brad not to expect much when he got home and started cooking everything without much plan – I certainly didn't plan to post more than the squash on the blog. However, when we were done, Brad and I were so happy with the results that I prettied up the leftovers and snapped a few pictures while Brad cleared the table. Some of my favorite meals come from an embarrassingly urgent need to clean the fridge.
This was great for Meatless Monday – leave out the goat cheese to make it vegan.  Go nuts on the seasoning for the acorn squash and Brussels sprouts as the cheese and farro will help calm the spice.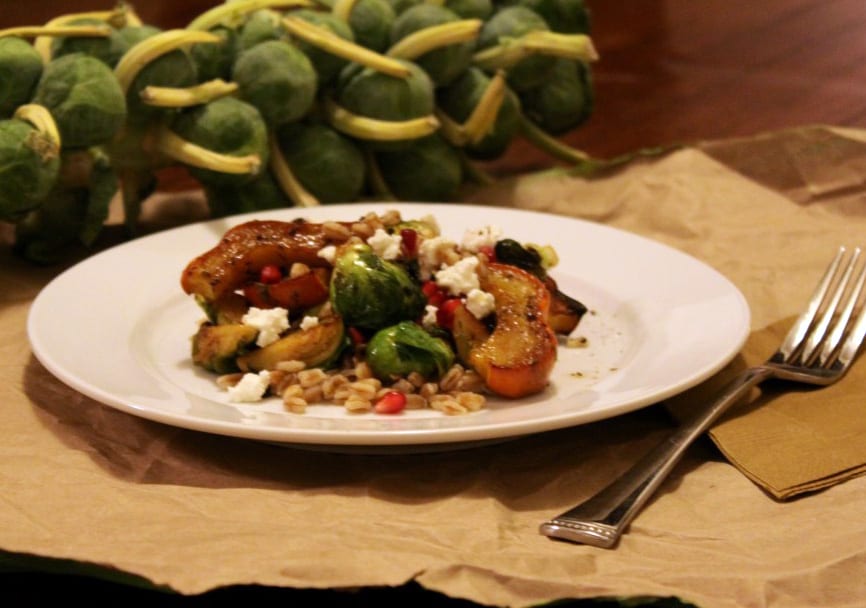 Ingredients
farro - 1/2 c, uncooked
acorn squash - 1, about 1 lb
Brussels sprouts - 1 lb
olive oil - 2 tbs, divided
butter - 1/2 tbs butter
brown sugar - 2 -1/2 tbs brown sugar, divided
maple syrup - 1 tbs
cayenne pepper - 1/2 tsp, or to taste
salt and pepper - to taste
pomegranate seeds - 1/4 c
goat cheese - 2 oz
pecans - 1 tbs
Instructions
Cook the farro according to the package instructions.
Meanwhile, roast the squash.
Preheat the oven to 375F.
Cut the squash into quarters, vertically, and the quarters into 1" slices, horizontally.
Arrange slices on a foil-lined baking sheet and brush with 1/2 tbs olive oil. Season with salt and pepper, turn, and brush the other side with another 1 tbs olive oil. Sprinkle with 1 tbs brown sugar and cayenne pepper to taste.
Roast in the oven, shaking every 10 minutes to avoid sticking, until the bottom is brown and the top is beginning to brown, about 30-35 minutes. Using tongs, turn the squash slices. Brush the tops with maple syrup and sprinkle with another 1/2 tbs brown sugar. Return to the oven for 10 minutes until the squash is brown on the outside and tender on the inside.
While squash is cooking, saute the Brussels sprouts.
Trim the sprouts, remove the outer leaves, and quarter through the stem (halve any small sprouts).
Heat 1 tbs olive oil and butter in a large pan over medium high heat. Add the Brussels sprouts and season with salt, pepper, and cayenne to taste. Saute, stirring frequently, until sprouts begin to brown, about 5-10 minutes. Reduce heat to medium and sprinkle with 1 tbs brown sugar. Adjust seasoning as needed. Cook for another 3-5 minutes until caramelized. Set aside.
Assemble the salad. Combine squash, sprouts, farro, and Brussels sprouts in a bowl. Top with pomegranate seeds, goat cheese, and pecans.
https://www.homesweetjones.com/2013/12/sweet-spicy-squash-brussel-sprout-farro-salad/