This week I've been working on some healthy football snacks in preparation for the Super Bowl. While kale chips and popcorn might satisfy some, I know some folks who can't imagine the game without Buffalo wings.  After a bit of research, I was so excited to come across several interpretations of this awesome PETA recipe for Spicy Buffalo Cauliflower 'Wings.'
I experimented with many different combinations of cornmeal, traditional breadcrumbs, panko breadcrumbs, and Parmesan cheese in the breading. Panko was my favorite balance of texture improvement for the calories.
Use more or less sauce depending on your heat tolerance. For me, the full 2/3 cups of Frank's was just the right balance – I worked up a glisten of sweat but it didn't stop me from eating almost half a head in a sitting. Yum!
I debated making my own Buffalo sauce – just butter, Louisiana hot sauce, Worcestershire, and spices – and decided against to save calories. However, I'd recommend it to anyone who would prefer to avoid the packaged, processed wing sauce.
I took the leftovers with me for lunch and they were still delicious the next day.  So tasty I didn't even bother to heat them up!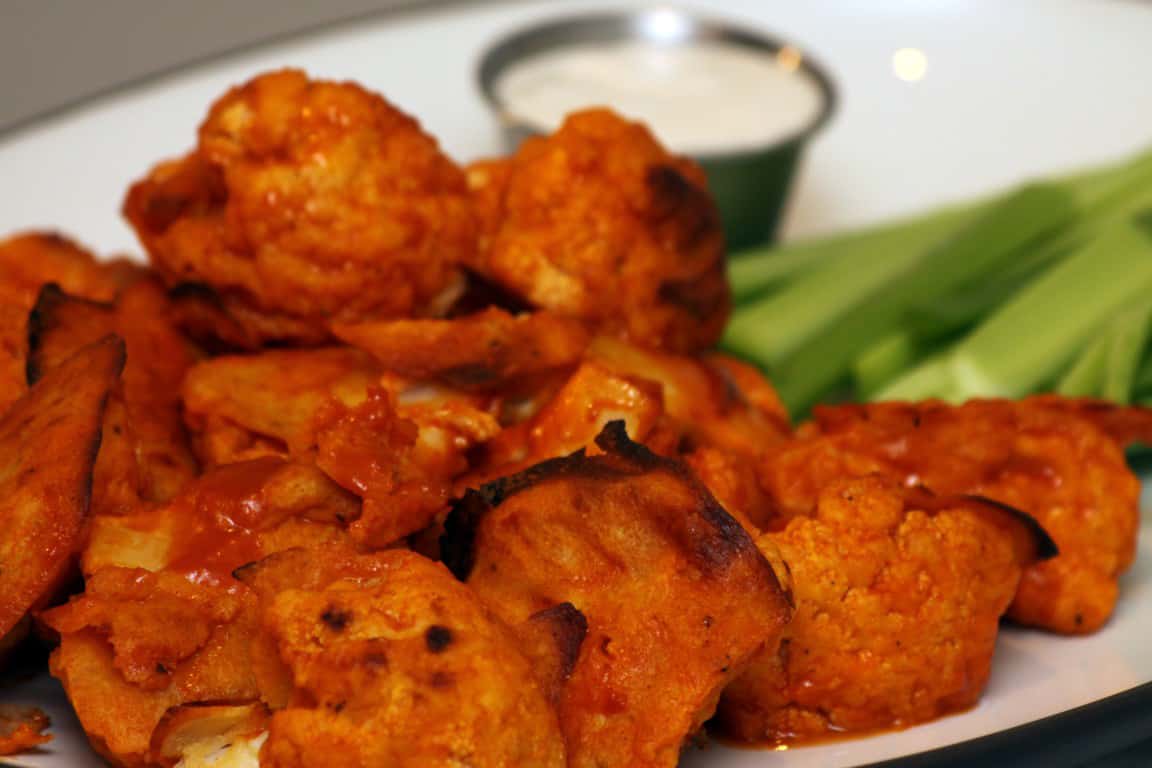 Ingredients
cauliflower - 1 large head
nonfat milk - 1 c
flour - 1/2 c
panko bread crumbs - 1/4 c
garlic powder - 1 tbs
black pepper - 1 tsp, fresh ground
light butter - 1 tbs
Frank's RedHot Buffalo Wing Sauce - 2/3 c
Instructions
Preheat oven to 425F.
Cut cauliflower into large florets or similar size. Small florets will become too soft.
Combine milk, flour, bread crumbs, garlic powder and pepper in a bowl.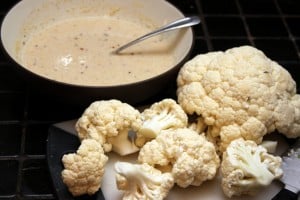 Dredge the cauliflower pieces in the batter and place them on a foil-lined cookie sheet.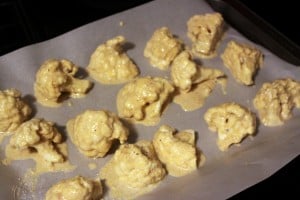 Bake, turning once for 18 minutes.
Meanwhile, combine butter and buffalo wing sauce in a large sauce pan over low heat.
When the cauliflower is done, coat it with buffalo sauce and return to the oven for 5 minutes.
Serve immediately.
Nutritional Information
Calories: 204; Fat: 3.7 g; Saturated Fat: 2.0 g; Trans Fat: 0.0 g; Cholesterol: 9 mg; Sodium: 1425 mg; Total Carbohydrate: 32.7 g; Dietary Fiber: 6.2 g; Sugars: 9.1 g; Protein: 9.1 g; Points: 2; Points Plus: 2;
https://www.homesweetjones.com/2014/01/buffalo-cauliflower-wings/
Adapted from PETA.