I know kale chips are a bit of a love 'em or hate 'em proposition but if anyone is on the fence, the rich umami flavors in this recipe will win them over. Liquid aminos are the perfect gluten-free alternative to soy sauce but, if you can't find them, soy sauce would be an acceptable substitute. Furikake is a Japanese seasoning with dried fish, nori and sesame seeds found in the Asian section of most markets.  You can also substitute sesame seeds for a less complexly flavored but just as delicious snack.
I used the Cook's Illustrated microwave method for these chips but, because I had to do so many batches, I didn't find much time savings over the traditional oven method so I'm sticking with that in the future.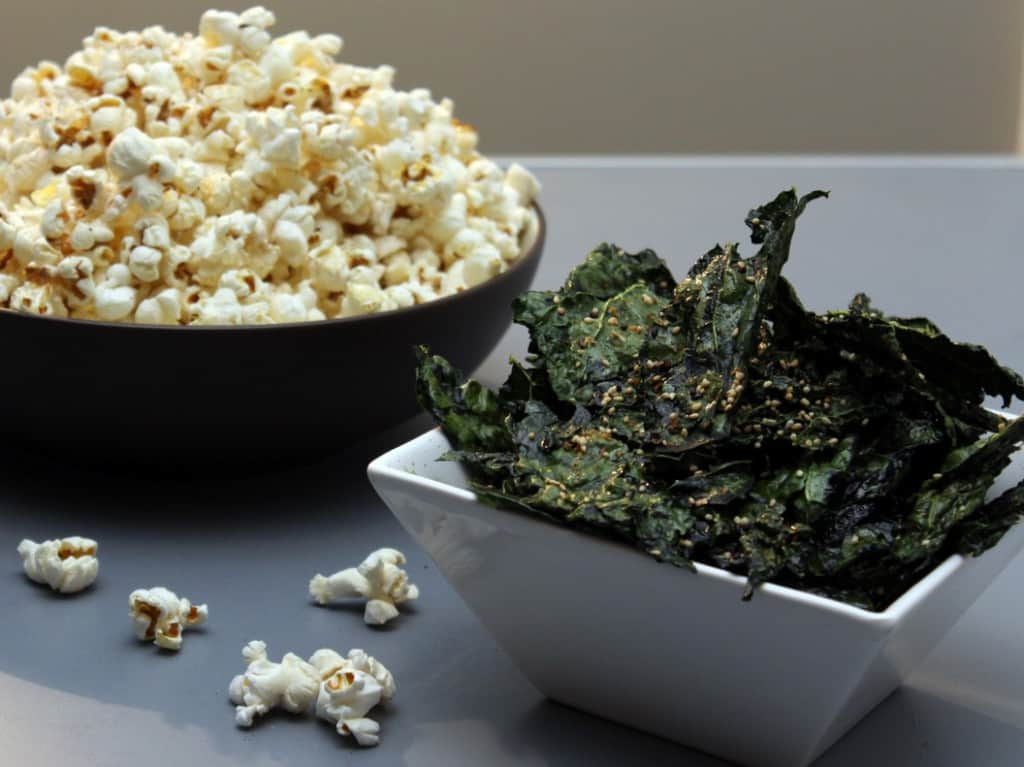 Ingredients
flat-leaf kale - 1 head
olive oil - 1 tbs
Bragg's liquid aminos - 6 sprays
Furikake - 2 tsp
Instructions
Preheat the oven to 325 F.
Wash kale leaves and dry thoroughly with paper towns. Remove the tough stems and tear the leaves into chip-size pieces. Ensure leaves are dry (or your chips will be limp) and combine with oil in a large bowl. Toss the kale to evenly distribute the oil, rubbing it into each leave with your hands.
Spread the leaves in a single layer on two large baking sheets and cook, turning every 5 minutes or so, until the leaves are crispy and beginning to brown, about 18-25 minutes.
Remove from the oven and spray with liquid aminos. Sprinkle with furikake and serve immediately.
Nutritional Information
Calories: 78 ; Fat: 4.4 g; Saturated Fat: 0.6 g; Trans Fat: 0.0 g; Cholesterol: 3 mg; Sodium: 260 mg; Total Carbohydrate: 108.4 g; Dietary Fiber: 2.9 g; Sugars: 2.0 g; Protein: 3.7 g;
https://www.homesweetjones.com/2014/01/crispy-umami-kale-chips/