We spent the holidays with family in Seattle. Sadly, I failed to pack the camera battery so I can't share pictures of all the yummy things we cooked. The culinary highlight for me, though, was discovering the greatest spice store I've ever been in. I wanted to make my Moroccan Chicken with Chickpeas and Apricots but didn't have the necessary spices on hand. I was in mid-sentence asking my brother where we could find ras el-hanout and harissa when we drove past the World Spice Market.
Their ras el-hanout and harissa blends were fantastic and, while I was huffing all their spice samples, I also fell in love with the Tikka Masala mix.  I bought several ounces and started researching recipes. The final result is a lightened up version of the traditional that substitutes Greek-style yogurt and half and half for the heavy cream. All the flavors are there, though, and for 350 calories a (very generous) serving (honestly, it should be 6 servings but I have no self control around Indian), I didn't miss the extra fat at all.
If you don't have a Tikka Masala or Garam Masala mix, you can make your own by combining a tablespoon each of coriander, cumin, black pepper, cayenne pepper, fennel seeds, ginger, cardamom, nutmeg, and cinnamon with a teaspoon of clove.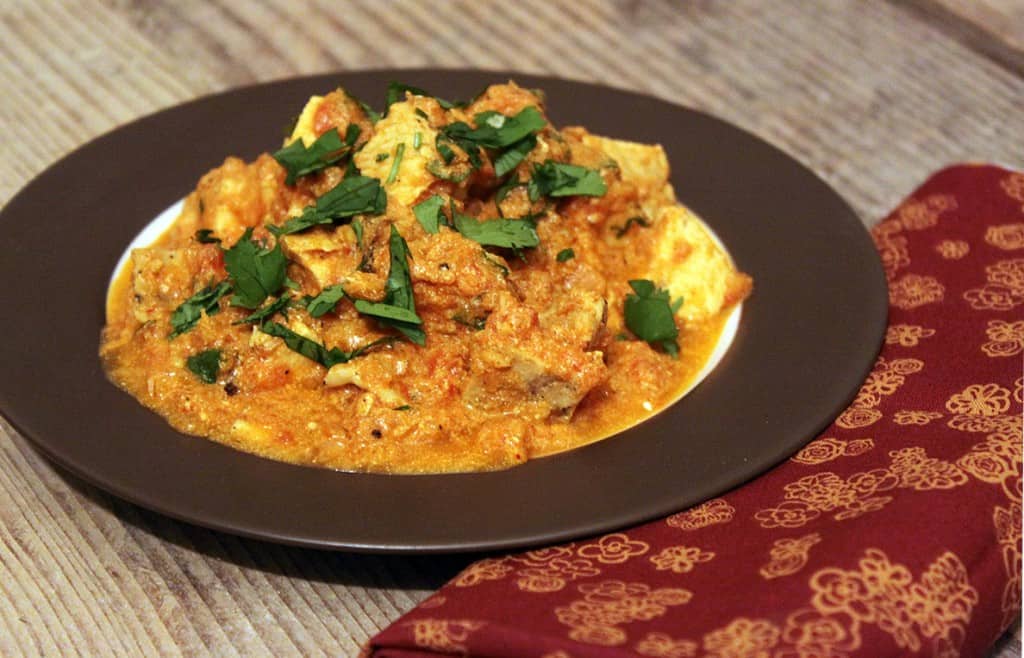 Ingredients
boneless skinless chicken breasts - 16 oz
salt and pepper - to taste
cumin - 1/2 tsp
coriander - 1/2 tsp
plain strained yogurt - 1 c, divided
olive oil - 1 tbs
garlic - 4 cloves, minced
ginger - 2 tbs, minced
serrano chile - 1, minced
Masala Tikka spice mix - 3 tbs (can substitute Garam Masala)
no salt added diced tomatoes - 2 14.5-oz cans
half and half - 1 c
cilantro - 1/2 c
Instructions
Season the chicken breasts with salt, pepper, cumin and coriander. Coat them with 1/2 c yogurt and place on a metal rack under the broiler until the edges begin to blacken slightly, about 10 minutes per side.
Cut the cooked breasts into a 1" chunks and set aside.
Meanwhile, heat olive oil in a large skillet over medium-high heat. Add the diced onions and saute until translucent and beginning to brown, about 6-8 minutes. Add garlic, ginger, jalapeno and saute until fragrant, about 1 minute. Add 3 tbs Masala Tikka spice and cook another minute until even more fragrant.
Add diced tomatoes with their juice and adjust seasoning to taste. Bring to a boil and reduce heat. Simmer about 10 minutes. Blend with a hand blender if you prefer a smoother texture sauce.
Stir in chicken chunks, 1/2 cup yogurt, 1 cup half and half, and cilantro. Simmer a few more minutes until the sauce is warmed through.
Nutritional Information
Calories: 347 ; Fat: 13.7 g; Saturated Fat: 5.4 g; Trans Fat: 0.0 g; Cholesterol: 93 mg; Sodium: 221 mg; Total Carbohydrate: 21.8 g; Dietary Fiber: 4.7 g; Sugars: 11.1 g; Protein: 34.9 g; Points: 7 ; Points Plus: 9 ;
https://www.homesweetjones.com/2014/01/lightened-chicken-tikka-masala/