Hearty, spicy chili for under 350 calories – this recipe is perfect for a cold-weather dinner at home or for sharing with friends during the game.
I was raised vegetarian and didn't grow up eating chili so I was nervous when I first started experimenting with recipes last year. People are so passionate about their preferences that I was intimidated at first. However, by my second batch I was completely set at ease.  While chili snobs may love the debate, there's no one "right way" to make chili and the potential for endless variations is what makes it so much fun.
This particular recipe is a lightened-up version of the most classic recipes I've found and is sure to please just about everyone. Play around with the seasonings and ingredients to make it your own.  Use gluten-free beer or substitute broth or water to make this gluten-free. Serve topped with extra hot sauce and your favorite toppings: non-fat sour cream, shredded light cheddar and green onions for me.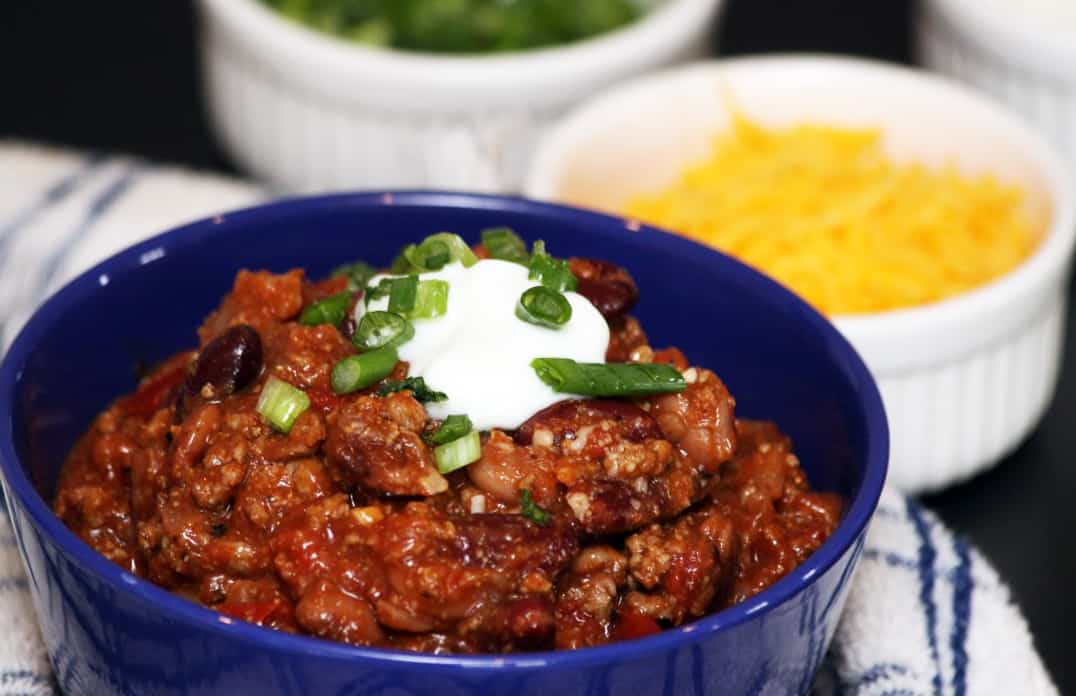 Ingredients
corn meal - 2 tbs
beer - 1/4 c light lager plus additional as needed
olive oil spray - (I use my misto)
onion - 1 large, diced
ground turkey - 1.25 lbs, 93% lean
garlic - 3 cloves, minced
dried oregano - 2 tsp
ground cumin - 2 tsp
white pepper - 1/2 tsp
dried garlic - 1 tsp
black pepper - 1 tsp, freshly ground
cayenne pepper - 1 tbs, or to taste
ground chipotle chile - 1 tbs, or to taste
salt - to taste
tomato paste - 2 tbs
no salt added tomato sauce - 1 8-oz can
roasted tomatoes with chiles - 1 14.5-oz can including liquid (I use Muir Glen Organic)
no salt added pinto beans - 1 14.5-oz can, well drained
no salt added kidney beans - 1 14.5-oz can, well drained
Instructions
Combine corn meal and beer and set aside.
Heat a dutch oven or large, heavy pot over medium-high heat and spray with oil. Add onions and saute, stirring regularly, about 4 minutes or until beginning to become translucent. Add turkey and saute, stirring, until browned, about 8 minutes.
Once browned, add garlic, oregano, and spices to the turkey mixture and continue cooking another minute. Stir in tomato paste, tomato sauce, and corn meal slurry. Reduce heat to low and simmer about 20 minutes, adding additional beer if the meat threatens to become dry.
Add tomatoes and beans. Increase heat to medium and return to a simmer. Adjust seasoning to taste and serve hot.
Can be stored, covered, in the refrigerator up to 3 days.
Nutritional Information
Calories: 325; Fat: 7.2 g; Saturated Fat: 2.2 g; Trans Fat: 0.0 g; Cholesterol: 68 mg; Sodium: 365 mg; Total Carbohydrate: 34.4 g; Dietary Fiber: 8.0 g; Sugars: 5.2 g; Protein: 27.6 g; Points: 6; Points Plus: 7;
https://www.homesweetjones.com/2014/01/lightened-classic-turkey-chili/