This salad is so easy to make and the combination of hearty beans and sweet mango, crunchy pepper, and tangy dressing is a winner.  Serve as a refreshing side dish or as light but filling lunch.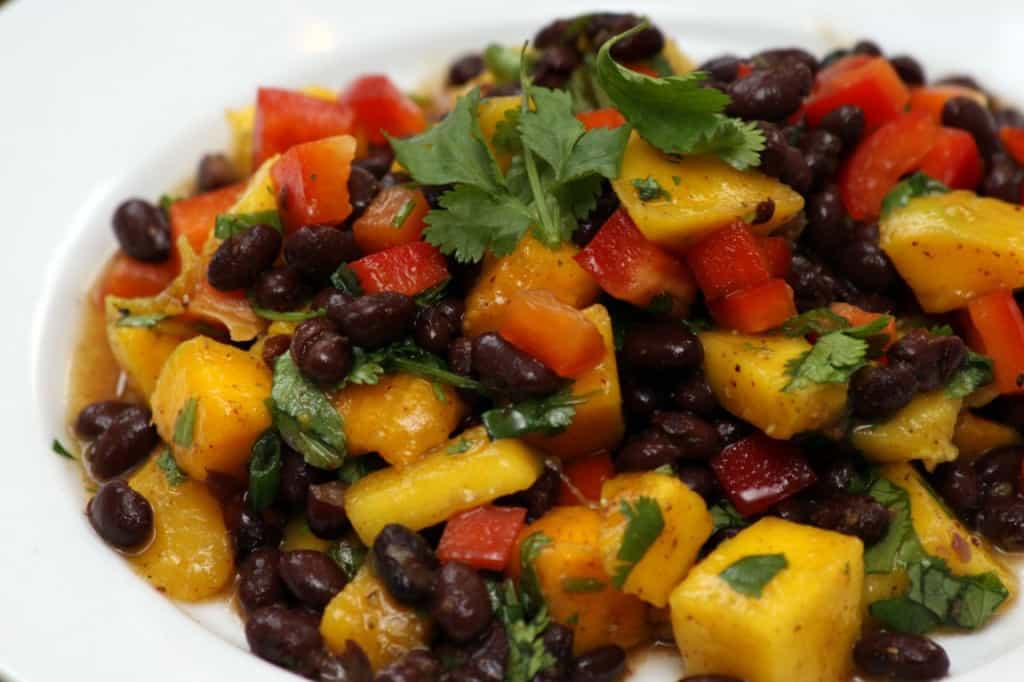 Ingredients
olive oil - 1 tbs
honey - 1 tbs (substitute agave syrup for vegan)
lime juice - 2 tbs
cayenne pepper - 1 tsp
ground cumin - 1 tsp
salt and black pepper - to taste
fresh cilantro - 1/4 c
mango - 1 large, peeled and diced
red bell pepper - 1, diced
black beans - 1 15-oz can, well rinsed
Instructions
In a small bowl, whisk together olive oil, honey, lime juice, cumin, salt, pepper and cilantro.Mango
In a large bowl, combine mango, drained black beans, red pepper and cilantro. Toss with dressing and let sit in the refrigerator at least 30 minutes and up to 8 hours before serving.
Nutritional Information
Calories: 192 ; Fat: 3.9 g; Saturated Fat: 0.0 g; Trans Fat: 0.0 g; Sodium: 13 mg; Total Carbohydrate: 34 g; Dietary Fiber: 7.9 g; Sugars: 14 g; Protein: 6.9 g; Points: 3 ; Points Plus: 5 ;
https://www.homesweetjones.com/2014/01/mango-black-bean-salad/