A fun twist on a game-day favorite, this recipe is spicy, tasty, and just happens to be pretty darn healthy.
I've mentioned before that one of my favorite things about chili is the potential for endless variations.  This version came to me while making a simple, traditional turkey chili last week.  I have an awesome stash of North African spices on hand because of my addiction to Moroccan chicken with chickpeas and apricots and thought it would be fun to use them to spice up a Moroccan-flavored chili.  Honestly, it was probably just an attempt to capture the flavors of that dish while convincing Brad he's getting something new but heck, it worked out and was delicious.
I didn't set out to make this vegan but was pleasantly surprised when I happened to end up there.  It's also gluten-free and just plain tasty.
If you don't have ras el-hanout you can make your own by combining 2 tsp ginger, 2 tsp cardamom, 2 tsp mace, 1 tsp cinnamon, 1 tsp allspice, 1 tsp coriander, 1 tsp nutmeg, 1 tsp turmeric, 1 tsp black pepper, 1/2 tsp white pepper, 1/2 tsp cayenne pepper, and 1/4 tsp cloves (or as much of that as you have on hand).  Harissa is a spicy North African chile blend – find it at your specialty market or on Amazon.
Experiment with different variations – I used diced dried figs instead of raisins for the version pictured and it was awesome.  It would also rock with dried apricots or whatever dried fruit you have on hand.  Play around and make it your own!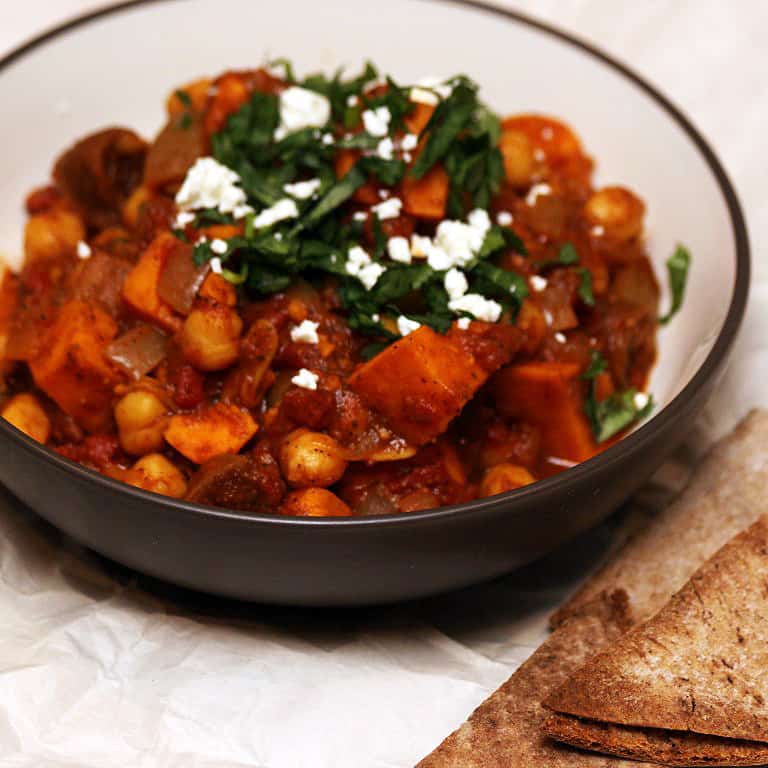 Ingredients
olive oil - 1 tsp
yellow onion - 1 medium, diced
garlic - 6 whole cloves, thinly sliced
ras el-hanout - 2 tbs
harissa - 1 tbs
sweet potato - 1 large, 1
chickpeas - 2 15-oz cans, drained and rinsed
tomato paste - 1/4 c
no salt-added diced tomatoes - 2 15-oz cans, with liquid
golden raisins - 1/4 c
cilantro - 1/4 c, chopped
Instructions
Heat oil in a heavy pot over medium heat. Add onion and sliced garlic cloves and sauté until softened, about 5 minutes. Add ras el-hanout and harissa; simmer another minute, until fragrant.
Stir in the tomatoes with juice, sweet potato and tomato paste. Cover and simmer, stirring occasionally, until the sweet potato is tender, about 30 minutes.
Stir in the drained chickpeas and raisins. Simmer an additional 5 minutes until warmed through. Season to taste, adding more harissa for more heat.
Top with cilantro and feta, if desired. Serve hot.
Nutritional Information
Calories: 282 ; Fat: 4.2 g; Saturated Fat: 0.0 g; Trans Fat: 0.0 g; Sodium: 346 mg; Total Carbohydrate: 51.7 g; Dietary Fiber: 13.5 g; Sugars: 17.6 g; Protein: 10.5 g; Points: 5 ; Points Plus: 7 ;
https://www.homesweetjones.com/2014/01/moroccan-vegan-chili/