When I started dating Brad, he was known neighborhood-wide for his famous "cheese dip."  The secret recipe, I learned a few months in, was a brick of velveeta, a can of Rotel, and a whole lot of love.
These days Brad only makes his famous cheese dip upon request for special occasions -maybe once a year; it's not exactly diet friendly and doesn't lend itself to portion control. Still, a bowl of melted, spicy cheese is a magical thing and I order way to much of it when we travel to Texas.  This is why I was so excited to find Slender Kitchen's recipe for Skinny Queso. It's absolutely perfect.
Normally, I'll find a recipe I like and mess around with it to suit our tastes and make it our own.  After a few iterations, I have to admit that I really can't improve on Kristen's version.  I do make some super minor adjustments to the spices but the core recipe is a thing of beauty.
These pictures really don't do this dip justice (I waited until day 2 and had a mishap while reheating) but luckily I suspect I'll be making this again soon and will have a chance to re-shoot.
This dip is best served the day it is made. It can be reheated in a saucepan the next day but won't be quite as creamy.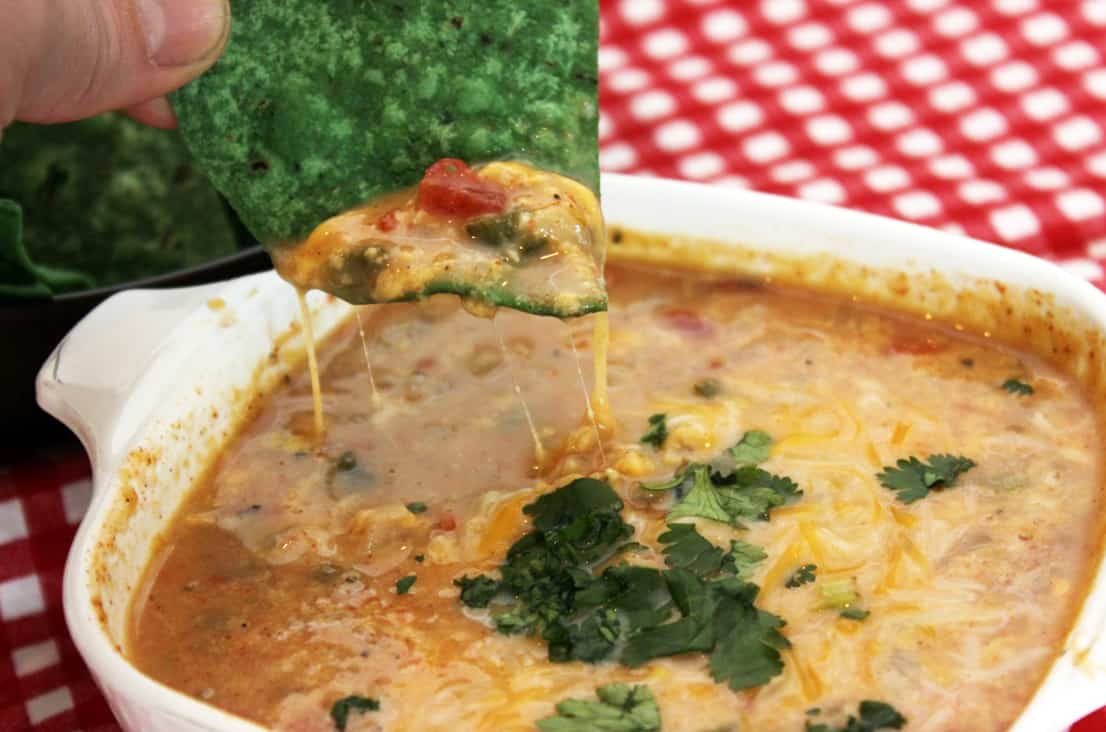 Ingredients
olive oil spray - (I use my misto)
onion - 1 large, diced
garlic cloves - 3, minced
poblano pepper - 1 large, diced
chicken or vegetable broth - 1/2 c
non-fat milk - 1 1/4 c
cornstarch - 3 tbs
reduced fat sharp cheddar - 7 oz, shredded (about 1 3/4 c)
no salt added diced roasted tomatoes with chiles - 1 15-oz can, well drained (I use Muir Glen Organic)
black pepepr - 1 tsp
cumin - 1 tsp
ground chipotle pepper - 1 tsp
salt - to taste
cilantro - 1 tbs
Instructions
Whisk together 1/4 c milk and cornstarch in a small bowl or mug. Set aside.
Spray a large saucepan with oil and heat over medium heat. Add the onion and poblano and saute, stirring frequently, until the onion begins to become translucent, about 6-7 minutes.
Add the broth and remaining milk to the saucepan and simmer about 5 minutes, stirring occasionally.
Add the cornstarch mixture and reduce heat to low. Stir quickly until the mixture has thickened, about 1 minute.
Stir in cheese and cook until melted, another 1-2 minutes.
Add well-drained tomatoes, spices, and cilantro. Adjust seasoning to taste and serve immediately.
Nutritional Information
Calories: 62 ; Fat: 2.7 g; Saturated Fat: 1.6 g; Trans Fat: 0.0 g; Cholesterol: 9 mg; Sodium: 226 mg; Total Carbohydrate: 5..8 g; Dietary Fiber: .7 g; Sugars: 2.2 g; Protein: 4.3 g; Points: 1 ; Points Plus: 1 ;
https://www.homesweetjones.com/2014/01/skinny-queso/
Adapted/ adopted wholesale from Slender Kitchen.