You can make this up to three days in advance. Don't judge the dip the day it's made – it definitely needs to sit overnight while the flavors fall in love and get married.
Once everything's all settled down and combined, though, you wonder why anyone would go for the grocery-store-powder-sour-cream stuff. This is real dip the way it should be: oniony, herby, tangy and sweet. So good!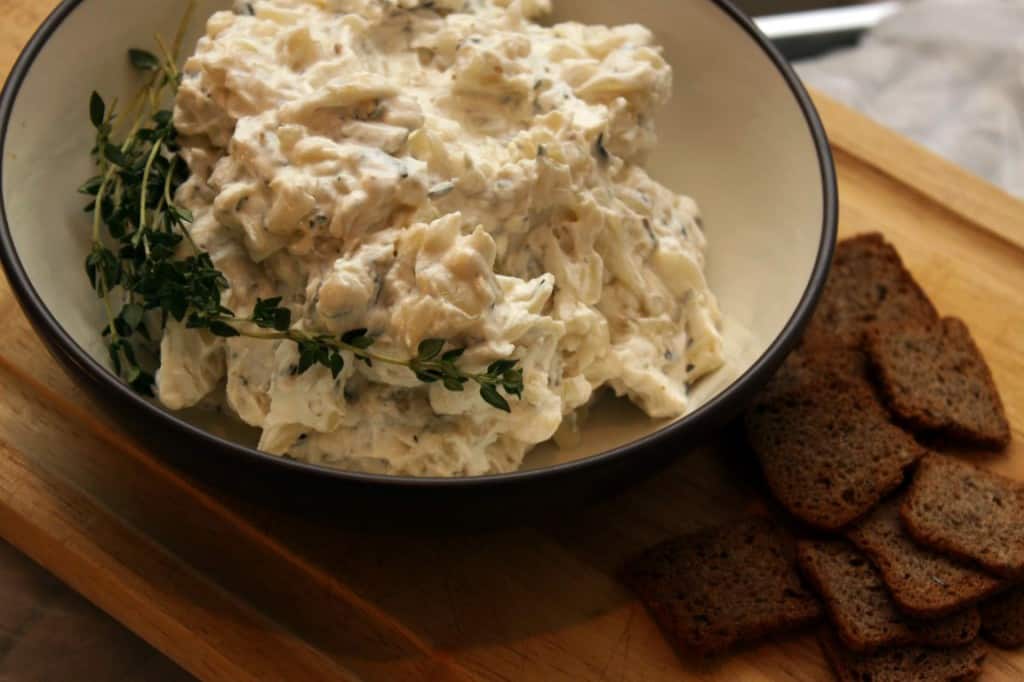 Ingredients
sweet onion - 1 large, about 2 cups, diced
olive oil - 2 tbs
garlic powder - 2 tsp
fresh thyme - 2 tbs, chopped
pepper - 1/4 tsp, or to taste
kosher salt - to taste
plain Greek yogurt - 1 c
Instructions
Heat oil in a large skillet over medium heat. Add the onion and saute, stirring frequently, until golden, beginning to caramalize, and reduced by half, about 15 minutes. Add the garlic, thyme, salt, and pepper, and cook another minute.
Transfer to a bowl and stir in yogurt. Refrigerate overnight and serve with crackers or crudites.
Make ahead and store for up to 4 days in the refrigerator.
Nutritional Information
Calories: 42 ; Fat: 1.8 g; Saturated Fat: 0.0 g; Trans Fat: 0.0 g; Sodium: 11 mg; Total Carbohydrate: 3.6 g; Dietary Fiber: 0.6 g; Sugars: 2.0 g; Protein: 3.4 g; Points: 1; Points Plus: 1;
https://www.homesweetjones.com/2014/01/sweet-onion-thyme-dip/
Adapted from Sunset magazine.