Lightly seared ahi is served rare with a subtly spicy, faintly chocolaty crust and perfectly complemented by a fresh, fruity salsa.
I developed this recipe a decade ago when Brad and I had first started dating and I was trying to impress him with my kitchen skills.  I guess it worked 🙂
My searing technique wasn't great back then but neither was the quality of fish I bought so it worked out just great.  On that note, this recipe is still tasty if you prefer your fish well-cooked or can't find sashimi-grade ahi.  You can use albacore steaks and cook through – just be careful not to overcook.
I always serve this with coconut almond rice but for those following a Paleo diet, a cucumber jicama salad or grilled vegetables would be a great accompaniment.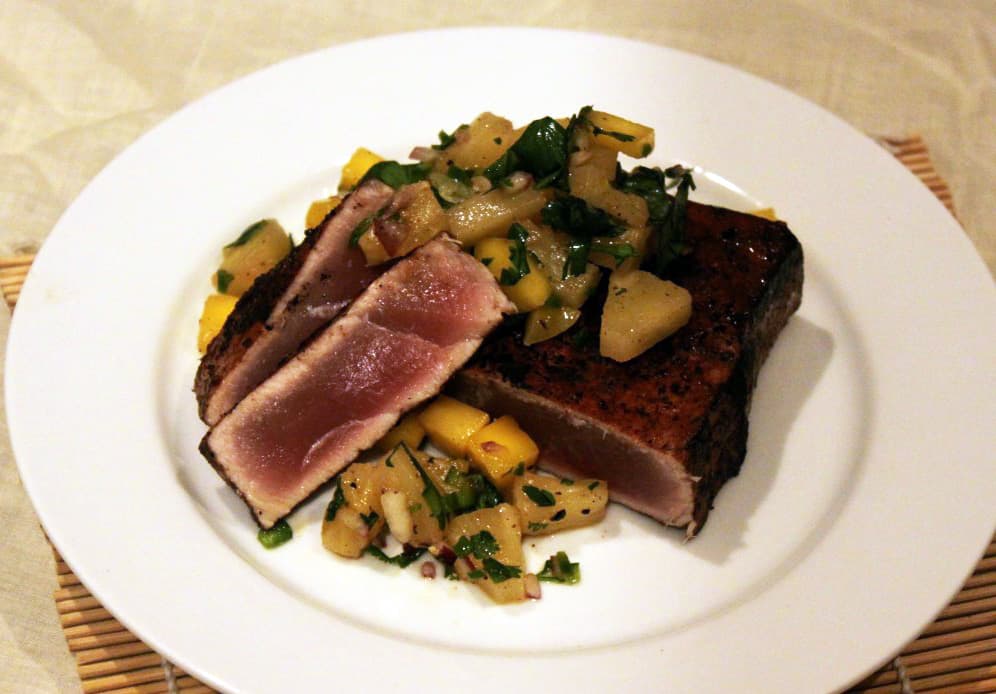 Ingredients
Salsa

pineapple - 1-1/2 c, diced
mango - 1 c, diced
jalapeno chile - 1/2, or to taste, seeded and minced
red onion - 2 tbs
cilantro - 1/4 c

Ahi

sashimi-grade ahi - 4 1/2 lb steaks
cocoa powder - 3 tbs
cayenne pepper - 1 tbs, plus more to taste
thyme - 1 tsp
salt - 1/4 tsp
black pepper - 1 tbs
garlic powder - 1 tsp
Instructions
Let the tuna sit at room temperature for at least 45 minutes before cooking.
Combine the salsa ingredients in a medium bowl and set aside.
In a small bowl, combine cocoa powder, cayenne, thyme, salt, pepper, and garlic powder. Coat each ahi steak with the cocoa mixture.
Sear the tuna: Add oil to a cast iron skillet and heat over the highest available heat. Do not use non-stick as Teflon can break down under such high heat. When the skillet is hot and the oil is shimmering on the verge of smoking, cook the ahi steaks for 45 seconds to 1-1/2 minutes per side, depending on the thickness and desired level of doneness .
Immediately remove from heat and let sit 5 minutes before slicing. Top with salsa and serve immediately.
Nutritional Information
Calories: 335; Fat: 2.2 g; Saturated Fat: 0.0 g; Trans Fat: 0.0 g; Cholesterol: 88 mg; Sodium: 152 mg; Total Carbohydrate: 21.7 g; Dietary Fiber: 4.0 g; Sugars: 14.1 g; Protein: 57.2 g; Points: 6; Points Plus: 8;
https://www.homesweetjones.com/2014/02/cocoa-crusted-ahi-pineapple-mango-salsa/