Not long ago Brad requested "Soup Week." Seven consecutive days of soup seemed like a lot so we ended up with a sort of modified "Soup Month" that we kicked off with one of my all-time favorites: Chicken Tortilla Soup.
Of course, with so many soups ahead of me,  I didn't want to burn out early and simplified my recipe a bit to make it easy enough to prepare after a long day's work.  It turns out that  the extra steps of roasting the chicken separately or dissolving tortillas weren't really necessary to create a zesty, super-flavorful and satisfying soup.
For a festive, crunchy topping I sliced three corn tortillas into strips, tossed them with cajun seasoning, and sprayed them with oil before broiling in the toaster oven for 4 minutes, tossing midway through.  Crumbed tortilla chips also work in a pinch.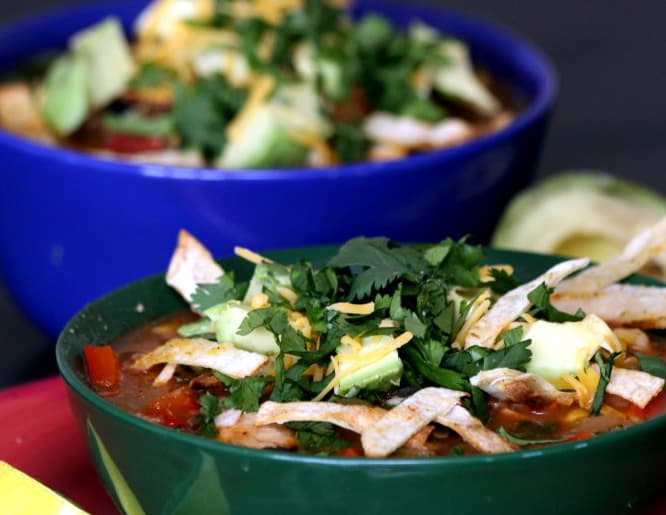 Ingredients
1/2 tbs olive oil
1 large onion, diced
1 green bell pepper, diced
1 red bell pepper, diced
4 cloves garlic, minced
1 1/2 tsp cumin
1 tsp cayenne pepper
1 tsp black pepper, freshly ground
1/4 f tomato paste
1 15-oz can no salt added roasted tomatoes with chiles (I use Muir Glen Organic)
6 c low sodium fat free chicken broth
1 lb (about 2 breasts) boneless, skinless chicken breast
3 tbs corn meal
1/4 c water
1 15-oz can no salt added black beans, drained and rinsed
1.5 c frozen corn
salt, to taste
1/4 c cilantro, chopped
1 lime
Instructions
Heat oil in a dutch oven or large pot over medium heat. Add onions and peppers and saute, stirring occasionally, until soft, about 5-8 minutes. Add garlic, cumin, chile, and pepper. Cook 1 minute, until fragrant.
Add tomato paste, tomatoes, and chicken broth and bring to a boil. Add whole chicken breasts to the pot and reduce heat. Simmer, covered, about 30 minutes until chicken is cooked. Remove chicken and set aside on a plate to cool.
Meanwhile, mix corn meal with a few tablespoons of water and add to the pot. Stir for about 2 minutes to prevent cornmeal from settling on the bottom and burning.
Cover and simmer 30 more minutes. When chicken is cool enough to handle, shred with two forks or your fingers. Add chicken, corn, and rinsed beans. Return soup to simmer until chicken is heated through, about 5 minutes. Adjust seasoning to taste.
Stir in cilantro and lime juice. Serve topped with additional garnishes if desired.
Nutritional Information
Calories: 258; Fat: 2.5 g; Saturated Fat: .8 g; Trans Fat: 0.0 g; Cholesterol: 44 mg; Sodium: 356 mg; Total Carbohydrate: 33.8 g; Dietary Fiber: 6.6 g; Sugars: 7.7 g; Protein: 26.2 g; Points: 5; Points Plus: 6;
https://www.homesweetjones.com/2014/02/easy-chicken-tortilla-soup/