This warm, fragrant dish is perfect for a winter weeknight when you want something comforting and flavorful but don't have the time or energy for anything elaborate.
Pollo in Potacchio is a traditional chicken dish from the Marche region of Italy characterized by rosemary, garlic, tomato and white wine. I lightened it up by using boneless, skinless thighs – bone in might be even better.
Serve over a side or roasted vegetables, potatoes, or polenta.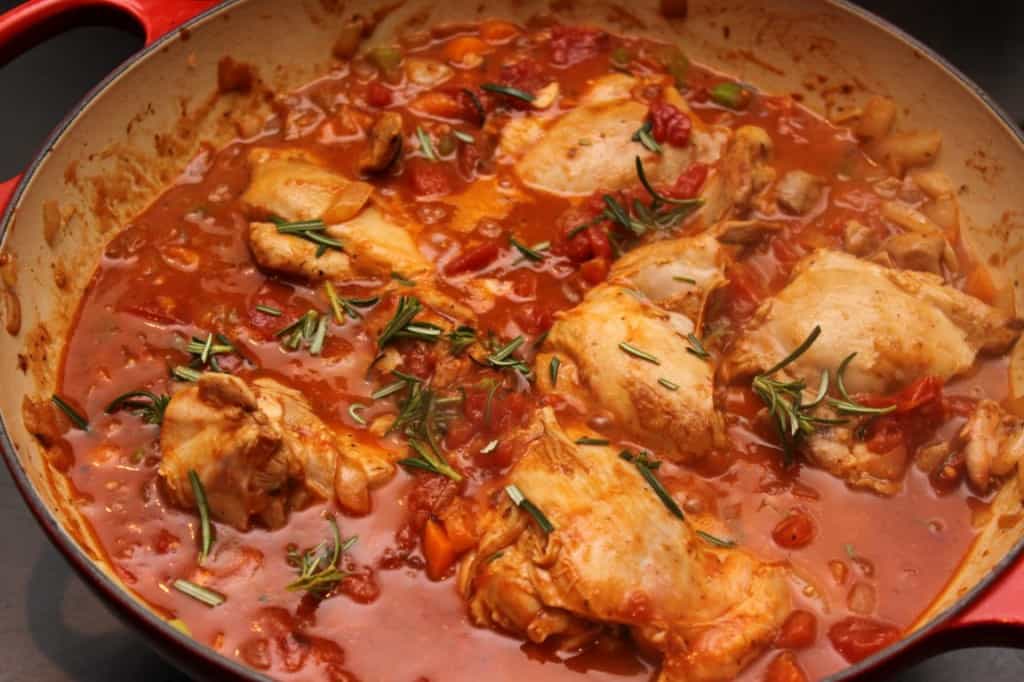 Ingredients
olive oil - 1 tbs
onion - 1/2 c, diced
celery - 1/4 c, diced
carrot - 1/4 c, diced
garlic - 6 cloves, crushed and coarsely chopped
crushed red pepper - 1/4 tsp or more to taste
boneless, skinless chicken thighs - 8 (1 lb)
fresh rosemary - 4 sprigs, divided
white wine - 1/2 c
tomato paste - 1/4 c
tomato - 1, finely diced
Instructions
Heat oil in a dutch oven, braiser, or deep skillet over medium heat.
Add onion, celery, and carrots and saute until softened, about 5 minutes. Stir in garlic and red pepper. Cook another minute.
Season chicken thighs with salt and pepper and add to the pan along with 2 sprigs of rosemary. Cook until browned, about 6 minutes per side.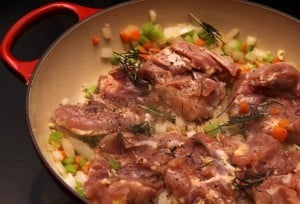 Deglaze with wine and stir in tomato paste.
Add remaining rosemary and chopped tomato. Reduce heat to low, cover, and cook 20 minutes until cooked through. Add additional wine or water if the sauce gets too dry and the chicken threatens to stick.
Season to taste and serve.
Nutritional Information
Calories: 206 ; Fat: 5.6 g; Saturated Fat: 4.5 g; Trans Fat: 0.0 g; Cholesterol: 70 mg; Sodium: 64 mg; Total Carbohydrate: 7.9 g; Dietary Fiber: 1.5 g; Sugars: 3.4 g; Protein: 26.3 g; Points: 4 ; Points Plus: 5 ;
https://www.homesweetjones.com/2014/02/pollo-potachio/
Adapted from Il Cucchiaio D'Argento and Buonissimo.