This is our all-time favorite corn bread recipe and our go-to for entertaining. Aromatic, fluffy and with a sweet crispy crust, this is just about perfect.
I started dating Brad just two months before his birthday and still remember how anxious I was about getting him a gift. I ended up getting him tickets to a Seal concert at the House of Blues on Sunset since we'd spent a lot of romantic evenings listening to his music. (Six years later, Brad chose Love's Divine as our wedding song, overriding my suggestion of Sir Mix-a-lot's Baby Got Back.)
We had dinner at the adjoining House of Blues restaurant before the concert and it was there that I had the best cornbread of my life. I still remember picking through it with Brad, trying to identify each little flake of deliciousness: red pepper, onion, corn, rosemary. While I haven't quite achieved full HOB perfection, this cornbread is pretty darn close and crazy tasty.
With the heavy cream and packaged mix, it's definitely a splurge item. We only make it two to three times a year but it never fails to impress. The nutritional information is for 1/8 of a batch. It's a large serving but pretty realistic considering the level of deliciousness we're dealing with.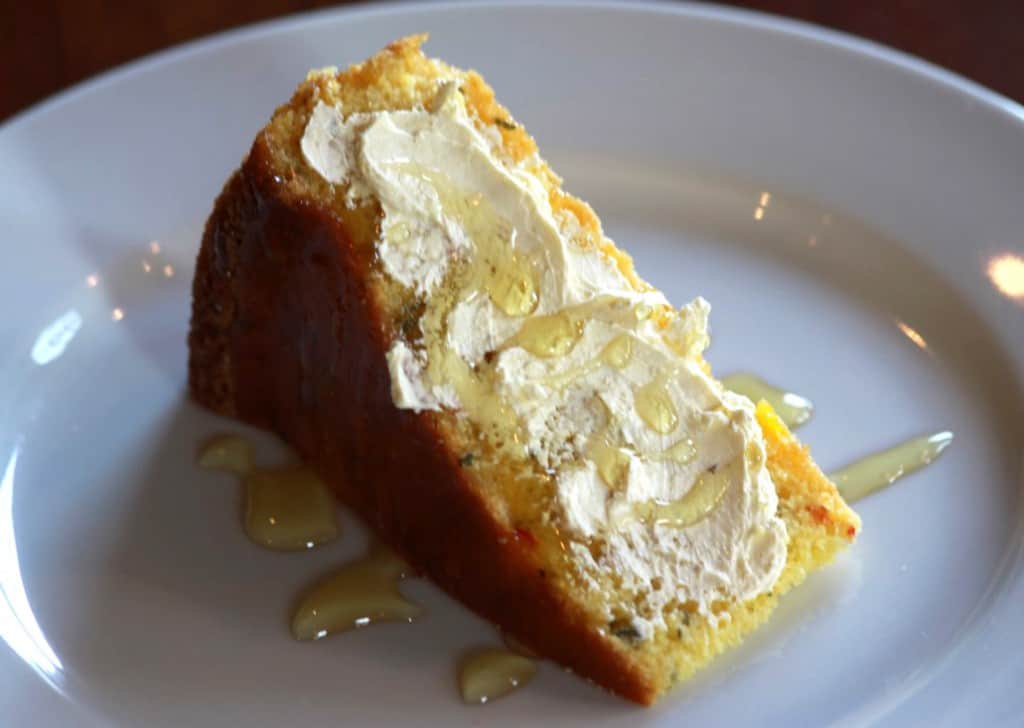 Ingredients
cornbread mix - 1 package (I use Marie Callendar's)
eggs - 2
heavy cream - 1 c
red bell pepper - 1/4 c, finely diced
fresh rosemary - 1-1/2 tbs, minced
shallot - 1 tbs, minced
frozen corn - 2/3 c
fresh ground black pepper - to taste
butter - 1 tsp
sugar - 2 tbs
Instructions
Preheat oven to 300F.
Blend cornbread mix, eggs and heavy cream in a large bowl. Set aside.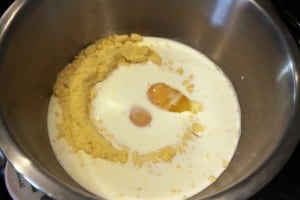 Finely mince fresh rosemary, red bell pepper, and shallots.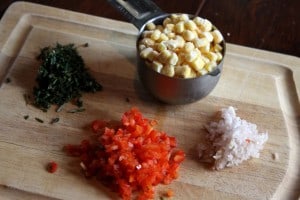 Combine minced vegetables and corn with batter. Add a few twists of ground pepper.
Coat the bottom and sides of a 8x8" baking pan or 9" cake pan with butter. Add sugar and rotate the pan to evenly distribute sugar along the bottom and sides. Discard excess.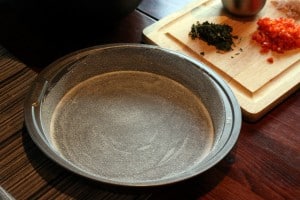 Pour batter into pan and bake 30 minutes. Increase heat to 325F and bake an additional 15-20 minutes, until a toothpick inserted into the center comes out clean.
Serve and enjoy.
Nutritional Information
Calories: 322; Fat: 12.6 g; Saturated Fat: 4.2 g; Trans Fat: 0.0 g; Cholesterol: 85 mg; Sodium: 595 mg; Total Carbohydrate: 47.2 g; Dietary Fiber: 1.8 g; Sugars: 17.1 g; Protein: 6.6 g; Points: 7; Points Plus: 9;
https://www.homesweetjones.com/2014/02/rosemary-cornbread/