This salad is simple as can be but so darn good! It's one of those combos that I'm embarrassed to call a "recipe" but which I had to share.
We'll have this for dinner with a hunk of crusty bread but it would be great topped with some grilled salmon or sliced chicken for something a bit more substantial.
I've used Trader Joe's spiced, slightly sweetened pecans in the past for extra incredible-ness but regular pecans aren't too shabby.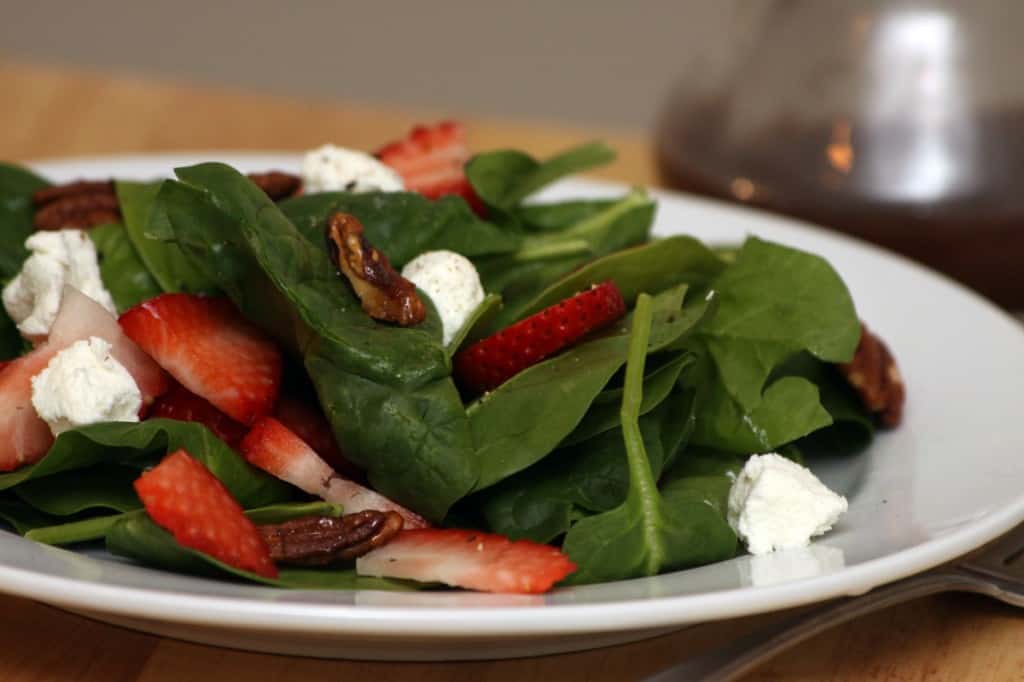 Ingredients
raw baby spinach - 12 oz
strawberries - 1 c, sliced
pecans - 1/4 c, crumbled
goat cheese - 4 oz

Balsamic Vinaigrette

olive oil - 2 tbs
balsamic vinaigrette - 1.5 tbs
Dijon mustard - 1/2 tsp
honey - 1/2 tsp
salt and pepper - to taste
Instructions
Combine vinaigrette ingredients and whisk until combined.
Combine spinach, strawberries, pecans and goat cheese in a large bowl and toss with a small amount of dressing. Serve with remaining dressing on the side.
Nutritional Information
Calories: 272; Fat: 22.4 g; Saturated Fat: 8.5 g; Trans Fat: 0.0 g; Cholesterol: 30 mg; Sodium: 173 mg; Total Carbohydrate: 8.7 g; Dietary Fiber: 5.3 g; Sugars: 3.8 g; Protein: 12 g; Points: 7; Points Plus: 7;
https://www.homesweetjones.com/2014/02/spinach-strawberry-salad/