This soup is so rich and creamy, it's hard to believe that it's dairy free and low fat.  It also happens to be paleo, gluten-free and vegan.
This is a go-to perfect weeknight dinner at our house. I come home, throw everything in a pot, and make some quick biscuits or a salad while it's simmering. A quick pass with the hand-blender and dinner is ready. You can also puree this in batches using a standing blender – just be careful with the hot liquids.
I always make a full batch for the two of us because the leftovers make a delicious lunch the next day.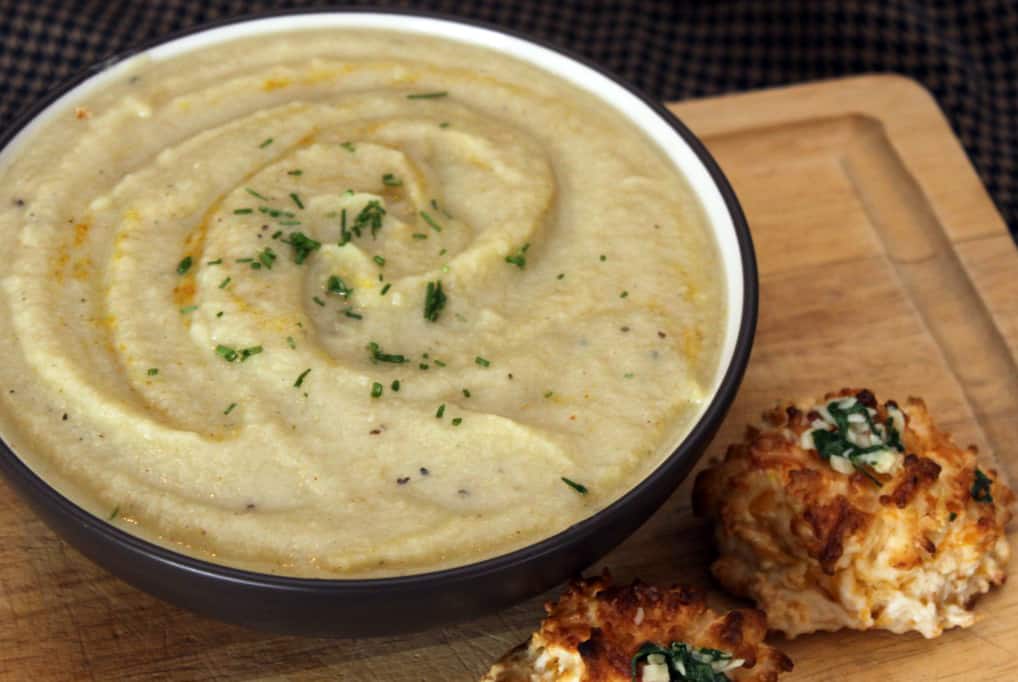 Ingredients
1 tsp olive oil
1/2 c onion, diced
4 c vegetable broth
1 large cauliflower
2 cubes vegetarian vegetable bouillion
2 tbs curry
1 tps black pepper, freshly ground
Instructions
In a large saucepan, heat oil over medium heat. Add onion and saute until soft, about 5 minutes.
Add vegetable broth and bring to a boil. Break cauliflower into small florets and add to the broth. Add bouillon, curry, and pepper.
Reduce heat and simmer, covered, until califlower is tender, about 20 minutes.
Use an immersion blender to blend the soup until creamy. Adjust seasoning to taste and serve.
Nutritional Information
Calories: 110 ; Fat: 2.8 g; Saturated Fat: 0.8 g; Trans Fat: 0.0 g; Cholesterol: 0.0 mg; Sodium: 1425 mg; Total Carbohydrate: 18.6 g; Dietary Fiber: 7.8 g; Sugars: 7.7 g; Protein: 4.7 g; Points: 2 ; Points Plus: 3 ;
https://www.homesweetjones.com/2014/03/creamy-cauliflower-soup/