One of the many things I was looking forward to as part of the kitchen remodel – in addition to a brand new dream kitchen – was diving into the whole new (to me) world of crock pot cooking while we're under construction. I had a fantasy of throwing some pre-prepped ingredients into the pot before work and coming home eleven hours later to a perfectly prepared dinner.
My first few experiments were terribly disappointing. Every recipe I tried seemed to take as much time to prep as a traditional meal.  The only difference is that it took 8 times longer to cook wasn't quite as delicious. More often than not I would resort to just leaving the ingredients on the stove to cook rather than transferring them to the slow cooker and having another dish to wash.
I was mildly pleased with a recipe that ended up as "enchilada mush" but it certainly wasn't something I'd want to share.  My hope for slow cookery was restored, however, with this awesome recipe from Gina over at SkinnyTaste.  No pre-cooking is required and the final result is neither mushy nor bland.  It's gluten-free and makes a for a hearty dinner served over rice.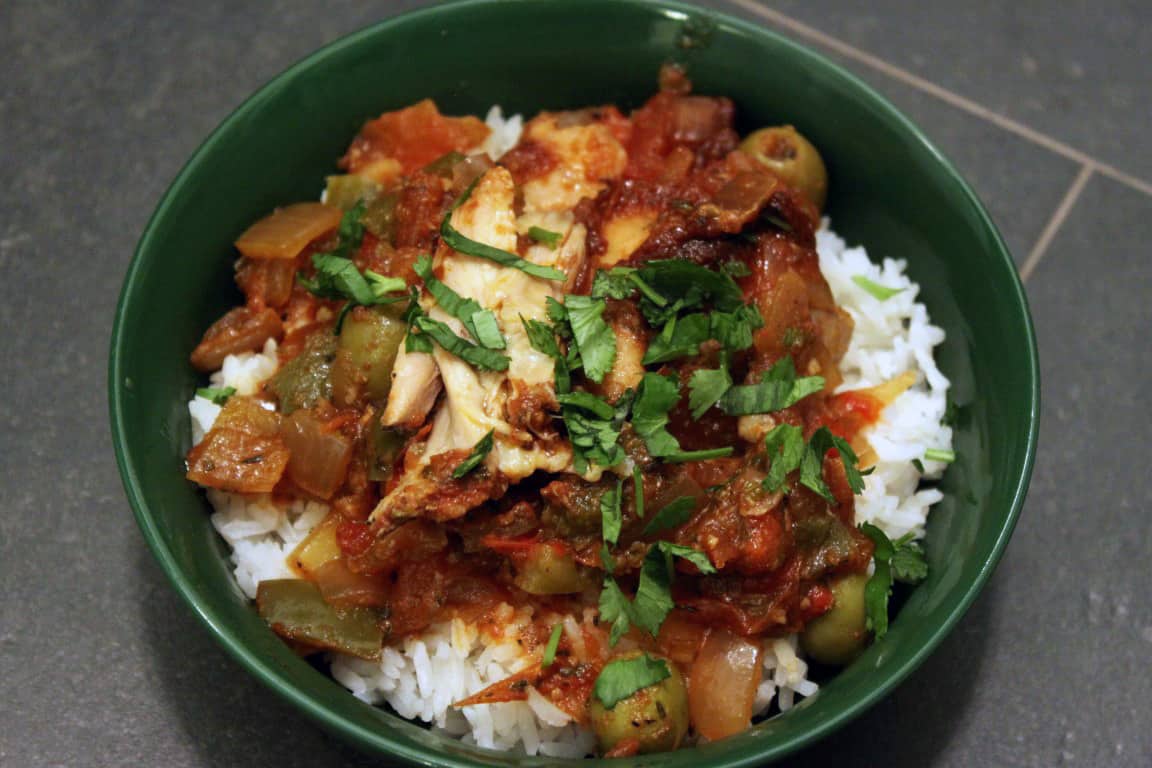 Ingredients
6 boneless, skinless chicken thighs (about 1.5 lbs), fat trimmed
1 large onion, diced
1 garlic clove, minced
1 green bell pepper, diced
1 red bell pepper, diced
4 roma tomatoes
2 tbsp pitted spanish olives
8 oz can tomato sauce
1 tsp oregano
1 tsp cumin
1/2 tsp cayenne pepper, or to taste
salt and pepper, to taste
1/4 cup chopped cilantro
Instructions
Add chicken, onion, garlic, pepper and tomatoes in the crock pot. Season with salt, pepper, cumin and oregano and mix.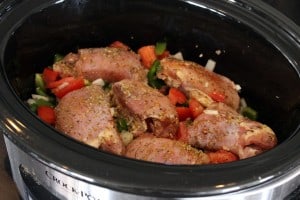 Add tomato sauce and olives. Mix well and set crock pot to HIGH for 4 hours or LOW for 6 hours.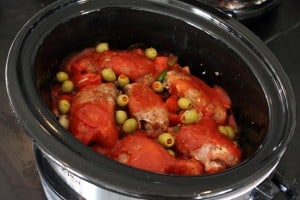 Stir in cilantro, adjust seasoning and serve over rice.
Nutritional Information
Calories: 263 / Total Fat: 15.8g / Cholesterol: 0mg / Sodium: 1305mg / Potassium: 457mg / Total Carbohydrates: 10.5g / Dietary Fiber: 3.1g / Sugars: 6.5g / Protein: 20.9g
Points: 6 / PointsPlus: 6
https://www.homesweetjones.com/2014/03/crockpot-creole-chicken/