It's been in the 80s here in Los Angeles and, especially after today's time change, it's starting to feel like summer. This super refreshing cocktail with a kick is the perfect way to enjoy the extra hour of sunshine in the evening.
The very first time I met Brad, over a decade ago, I was visiting a close friend who had just moved into Brad's apartment. I was with my boyfriend at the time, who was a close friend's previous roommate.
We'd brought pie and whisky as a housewarming gift. I was slicing the pie in the kitchen when Brad walked in to empty some half-drunk margaritas from the previous night into the sink. "What a tragedy," I said as I watched them swirl down the drain. He looked me deeply in the eye and replied, "I know."
Later that night I joked with my then-boyfriend that that Brad guy had been pretty charming. "If I were single and he were four inches taller, you'd be in trouble…" Not much later I was single and bought my first pair of flats.
Back then we were young, poor, and didn't know any better than to use the bottled high-fructose corn syrup and artificial color. As soon as we discovered pure lime juice margs we never went back.
This particular recipe has been our go-to Margarita since we found the inspiration in Susan Feniger and Mary Sue Milliken's Mesa Mexicana cookbook several years ago.  Adjust the spice level to your taste:  Brad uses two thick jalapeno slices with seeds but I like just one slice with a few seeds. Also, don't hesitate to swap out the sugar with your favorite alternative sweetener.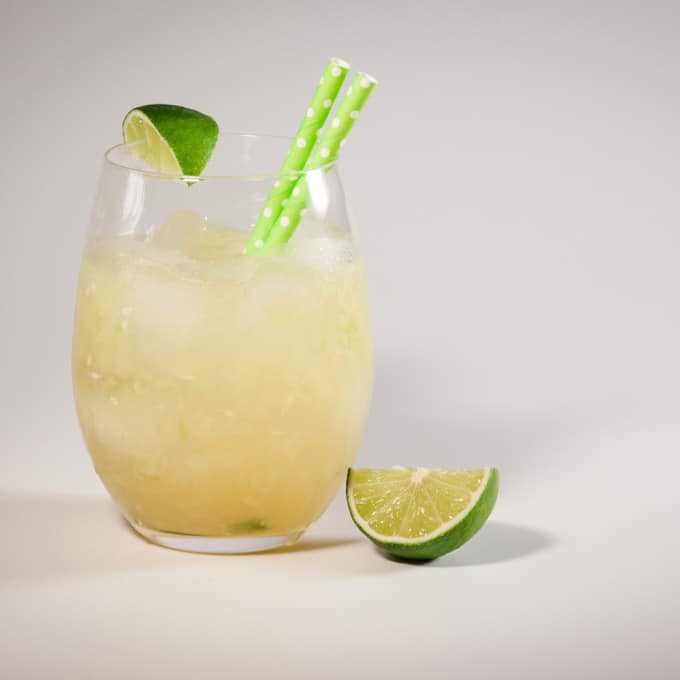 Ingredients
cucumber - 6 quarter-inch slices
jalapeno - 1-2 slices, to taste
sugar or preferred sweetener - 1/2 tbs
fresh-squeezed lime juice - 1 oz (2 tbs)
tequila - 1.5 oz (3 tbs)
Grand Marnier - 1 oz (2 tbs)
Instructions
Combine cucumber, jalapeno, and sugar in a rocks glass. Muddle using a muddler or the back of a wooden spoon until cucumbers are crushed and have released their juices.
Stir in lime juice and tequila. Add several ice cubes and top with Grand Marnier.
Nutritional Information
Calories: 190 ; Fat: 0.1 g; Saturated Fat: 0.0 g; Trans Fat: 0.0 g; Sodium: 1172 mg; Total Carbohydrate: 11.4 g; Dietary Fiber: 0.0 g; Sugars: 20.5 g; Protein: 0.3 g;
https://www.homesweetjones.com/2014/03/cucumber-jalapeno-margarita/