We were having a really hard time finding a BBQ sauce made without corn syrup and, when I started thinking about making my own, I had just as hard a time finding a recipe that didn't start with ketchup.
After a little trial, error and inspiration from Nate Elston, I was finally able to make a delicious sauce with real ingredients that's gluten-free and paleo friendly. Substitute 2 tbs of brown sugar for the honey to make a vegan sauce.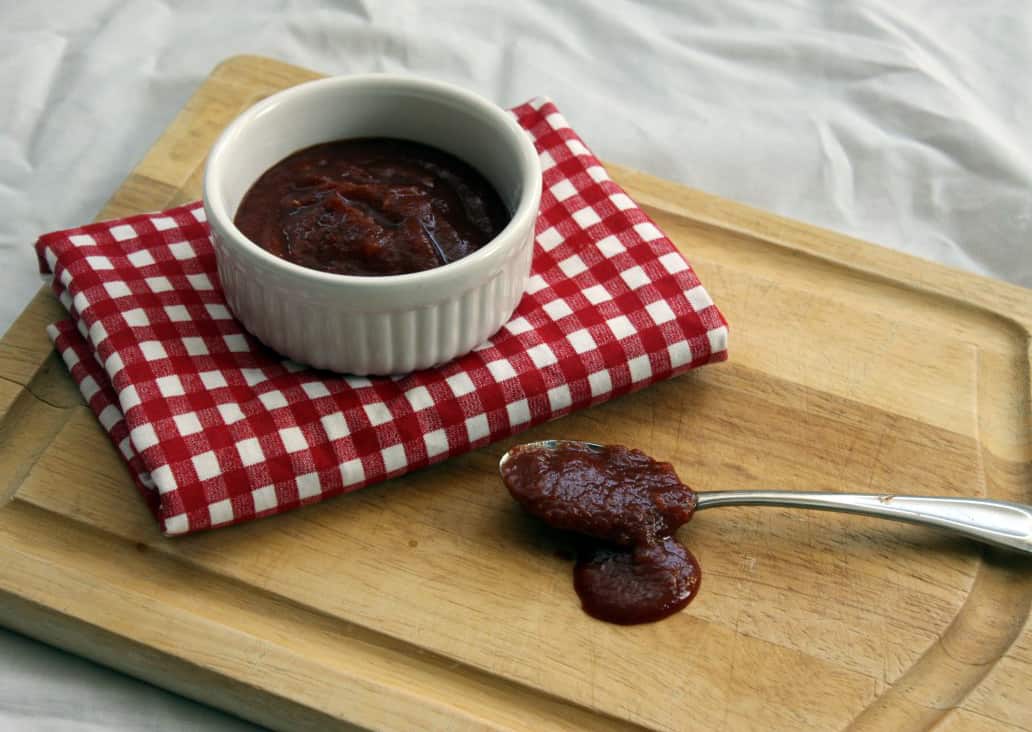 Ingredients
1 15oz can of tomato paste
2 c unsweetened apple cider
4 cloves of garlic, finely minced
2 tbsp red wine vinegar
2 tbsp apple cider vinegar
1 tbs honey
1 tsp ground black pepper
1 tsp chile powder, or to taste
1 tsp chipotle powder, or to taste
Instructions
Combine ingredients in a grill-proof sauce pan and cook, stirring, until mixture comes to a boil. Reduce heat and simmer 10 minutes. Add additional sweetener or seasoning to taste.
You can simmer and reduce it an additional 20 minutes for a serviceable sauce. However, to make it really great, transfer it to a grill and smoke it over indirect heat for 20-40 minutes. That is, prep a smoking wood such as hickory on one side of the grill and leave the pan, uncovered, on the opposite side. Close the grill hood but return to stir the sauce every 10 minutes.
The pan will be discolored when you're done so don't use the fancy stuff.
Nutritional Information
Calories: 15 / Total Fat: 0.1 / Trans Fat: 0.0g / Cholesterol: 0mg / Sodium: 51mg / Potassium: 105mg / Total Carbohydrates: 3.6g / Sugars: 2.6g / Protein: 0.4g Points: 0 / PointsPlus: 0
https://www.homesweetjones.com/2014/03/homemade-barbecue-sauce/