Brad and I joke that we could have named this blog 800 ways to cook a chicken. As a semi-recovered vegetarian from birth, I'm only comfortable with small amounts of seafood and lean poultry. Brad is a classic omnivore who likes at least half his meals to have some kind of meat. We're both frugal and would rather not shell out for lobster and halibut every night. And so it is that, as you may have noticed from this blog, we make a lot of chicken. A lot.
But I don't mind a bit because there are so many different ways to prepare it (curries, stir fries, tagines, salads, tacos, burgers, skewered, roasted, stewed…). Even so, I'm always on the lookout for a new twist.
Last week I had the "too much pepper in my Paprikash" scene from When Harry Met Sally in my head and realized I'd never had Chicken Paprikash. A little internet research revealed that I probably don't need to try traditional Paprikash with all it's buttery creaminess.  I took the basics from those recipes, dialed down the fat, bulked it up with extra veggies and was blown away by the result.  This was really surprisingly good and I can't wait to make it again soon!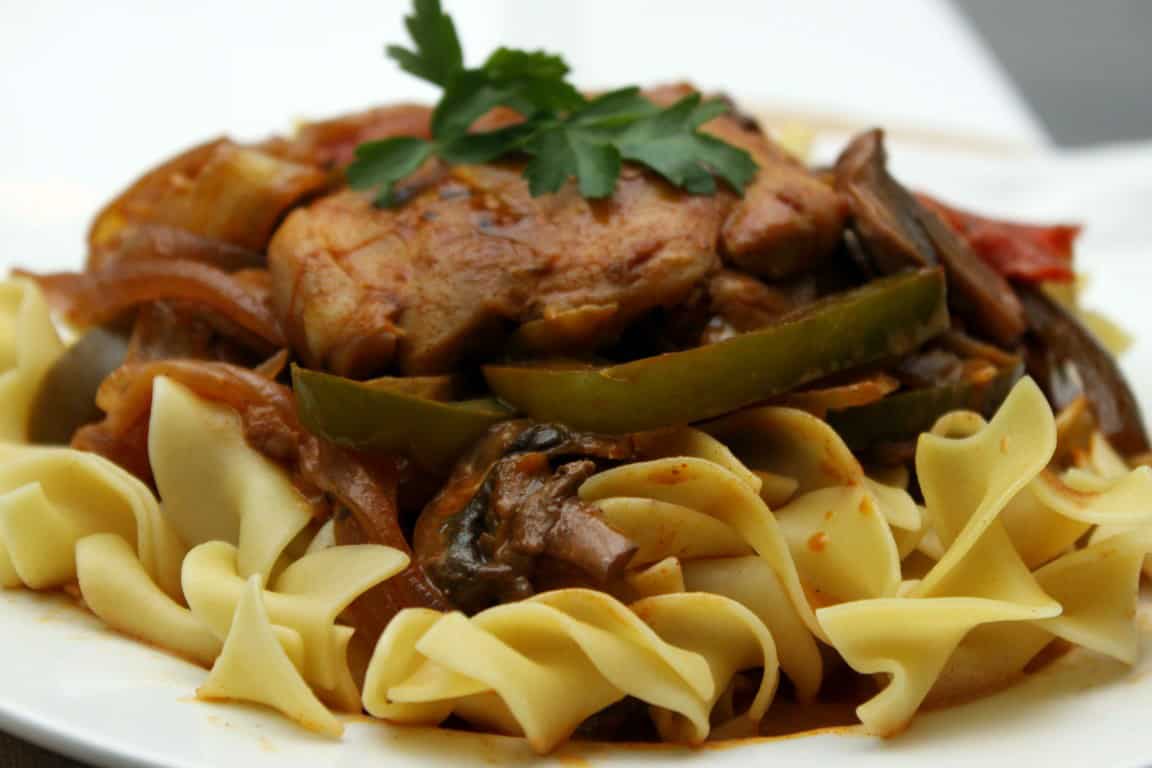 Ingredients
1 lb boneless skinless chicken thighs (4 thighs) [105573]
Salt and pepper, to taste
3 tbsp unsalted butter
3 c onion, diced
1 green bell pepper, diced
2 tbsp sweet Hungarian paprika
1 tsp hot paprika or cayenne pepper
1 cup chicken broth
1/2 cup sour cream
Instructions
Season the chicken thighs with salt and pepper. Melt 1 tbsp butter in a large pan over medium-high heat. Add chicken and brown, about 4 minutes a side.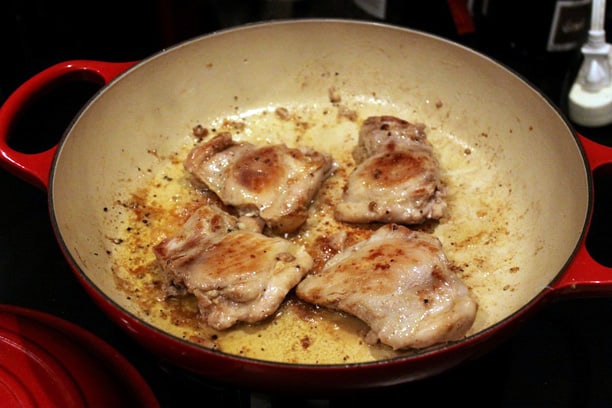 Remove chicken to a plate and set aside.
Reduce heat to medium and melt another tablespoon of butter in the pan. Add onions, peppers, and mushrooms. Saute until onions are translucent and peppers are softening, about 5 minutes. Add paprika and cook another minute.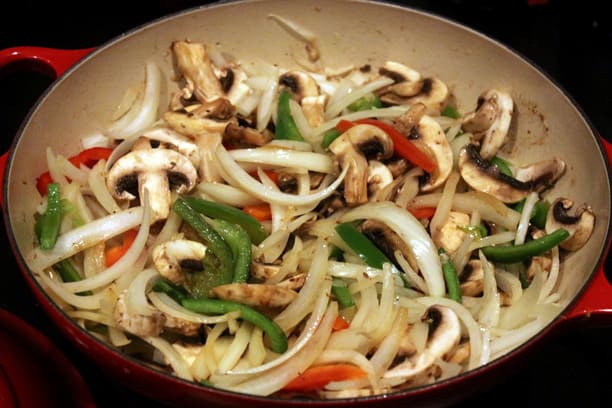 Deglaze the pan with chicken broth, bring to a boil, and use a wooden spoon to scrape up any browned bits. Nestle chicken in the pan, cover, reduce heat to medium low, and cook until chicken is cooked through, about 20 minutes.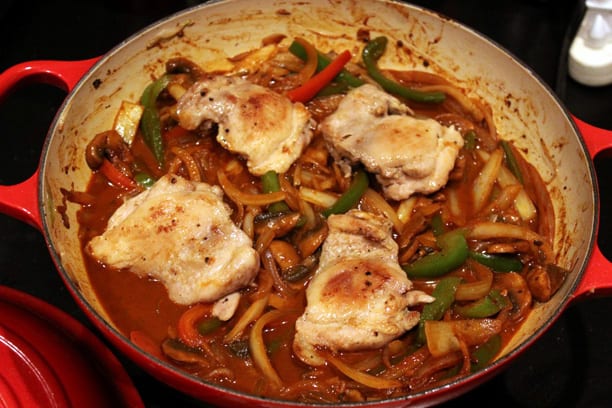 Remove from heat and mix a few spoonfuls of sauce into the sour cream to temper it. Then add the sour cream mixture and remaining tablespoon of butter to the pan. Mix thoroughly to combine.
Serve with spaetzle, egg noodles, potatoes, or on its own.
Nutritional Information
Calories: 323 / Total Fat: 21.7g / Saturated Fat: 9.4g / Cholesterol: 117mg / Sodium: 624mg / Potassium: 364mg / Total Carbohydrates: 13.0g / Dietary Fiber: 3.8g / Sugars: 5.0g / Protein: 22.9g Points: 8 / PointsPlus: 9
https://www.homesweetjones.com/2014/03/lightened-chicken-paprikash/