Colcannon is a St. Patrick's Day tradition for us and this version is just as delicious and creamy as the fatty, butter traditional.  This is our second year making the lighter version and I'll never go back.
While you can use frozen cauliflower in a pinch, it tends to be more fibrous.  The final dish has a much better texture with fresh cauliflower.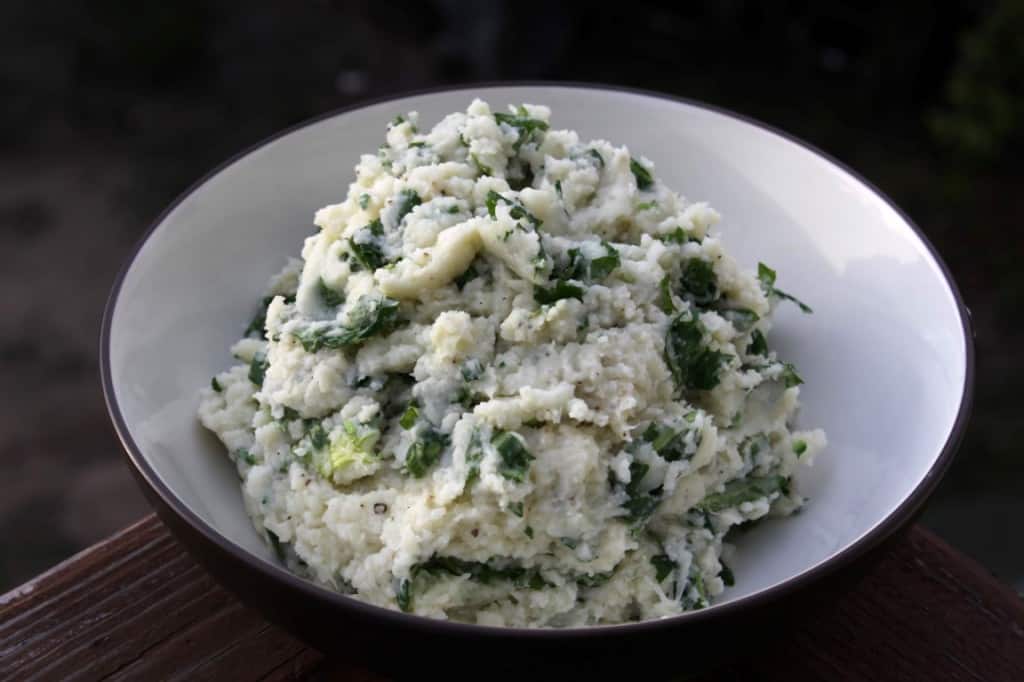 Ingredients
russet potatoes - 1 1/2 lbs, peeled
cauliflower - 1 head, about 1 lb
smart balance light or other light butter - 2 tbs
baby kale - 3 c, stems removed, finely chopped
fat free sour cream - 1/4 c
skim milk - 1/4 c
low sodium, fat free chicken broth - 1/4 c
salt and pepper - to taste
Instructions
Boil peeled potatoes in a large pot of salted water until easily pierced with a fork, about 20 minutes.
Trim cauliflower and separate into large florets. In a separate pot, boil cauliflower in salted water until fork-tender, about 15 minutes.
Meanwhile, heat 1 tbs light butter over medium high heat until foaming. Add kale and saute 1-2 minutes, until bright green and just tender. Remove from heat.
Run both potatoes and cauliflower through a ricer or food mill. Alternatively, you can mash them together with a masher or fork. Combine with remaining butter, sour cream, milk, broth and wilted kale. Season to taste with salt and pepper.
Nutritional Information
Calories: 135; Fat: 1.8 g; Saturated Fat: 0.5 g; Trans Fat: 0.0 g; Cholesterol: 1 mg; Sodium: 102 mg; Total Carbohydrate: 25.9 g; Dietary Fiber: 4.3 g; Sugars: 3.6 g; Protein: 4.5 g; Points: 2; Points Plus: 3;
https://www.homesweetjones.com/2014/03/skinny-colcannon/