This dish was completely unplanned but I couldn't be happier with how it turned out.  Earlier this week I was trapped late at the office so Brad offered to make dinner and picked up some fish.  I worked much later than expected and we ended up skipping dinner that night.  Friday of that week I realized the fish was still sitting in the fridge and probably needed to be cooked immediately.  After a long work week I wasn't in the mood for cooking or clean-up and toyed with the idea of just throwing it away.  However, I also had a container of adorable mozzarella pearls I'd bought on a whim because they were marked down as  "Manager's Special" (read: about to go bad) at our market.  Inspiration struck and I fished out a jar of pesto and two tomatoes from the back of the fridge.
The results were delicious. Brad loved dinner and I loved that it only dirtied one bowl.  This happy accident will definitely go into our regular dinner rotation.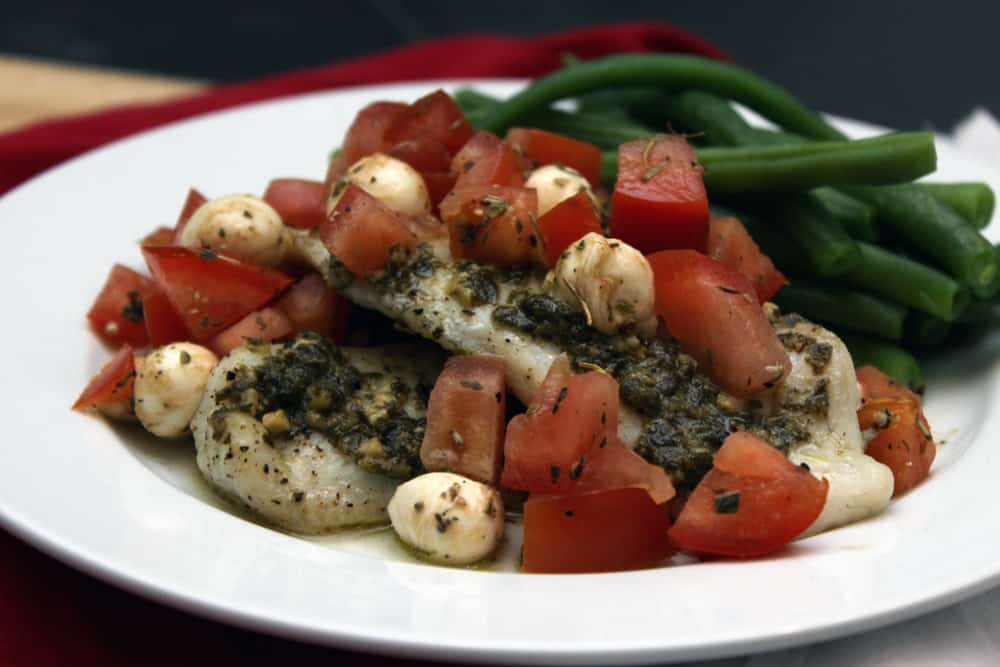 Ingredients
4 4-oz fillets of tilapia or other fish
salt and pepper, to taste
2 tbs basil pesto
2 tomatoes, diced
2 oz mozzarella, pearls, shreds, or small cubes
1/2 tsp olive oil
1/2 tsp balsamic vinegar
1/2 tsp Italian seasoning or fresh chopped basil
Instructions
Preheat oven to 350F.
Season the fish with salt and pepper. Place on a foil-lined baking sheet and spread each fillet with 1/2 tbs pesto.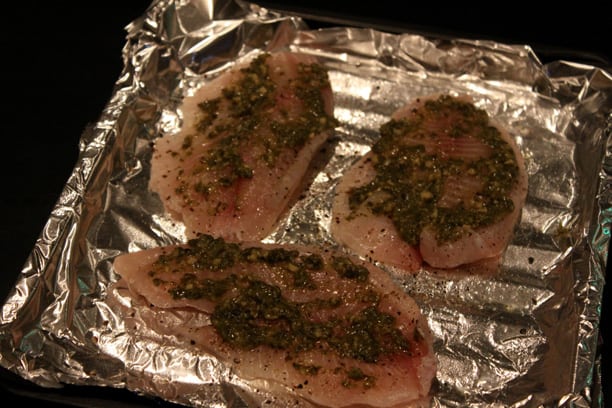 Bake until the fish flakes with a fork, about 10 minutes.
Meanwhile, combine tomatoes, mozzarella, olive oil, balsamic vinegar, and herbs in a small bowl.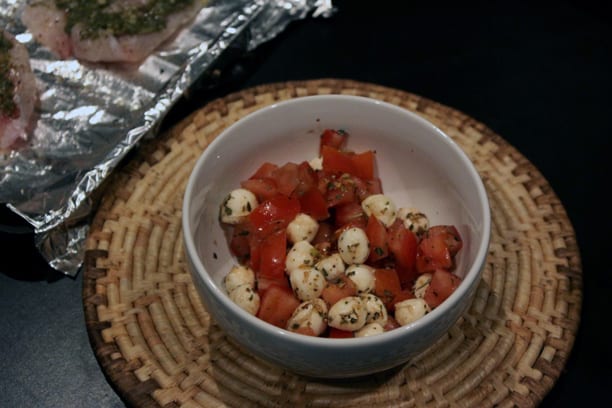 Serve the fish topped with the salsa.
Nutritional Information
Calories: 218 / Total Fat: 7.4g / Saturated Fat: 1.2g / Trans Fat: 0.0g / Cholesterol: 87mg / Sodium: 191mg / Potassium: 182mg / Total Carbohydrates: 3.2g / Dietary Fiber: 0.9g / Sugars: 1.9g / Protein: 33.8 WW Points: 5 / Points Plus: 8
https://www.homesweetjones.com/2014/03/tilapia-caprese/