Over the last four years we've been remodeling our house one room at a time ripping each down to the studs.  We recently started our final room: the kitchen.  Not only am I giddy excited for a brand new, beautiful kitchen but I've been looking forward to the challenge of preparing meals in the temporary workspace we set up in the dining room.  Unlike the first six months after we moved in, I have access to the refrigerator so I already have a leg up.  I also have a fantastic toaster oven, hot plate, microwave, rice maker and crock-pot.  With all those tools I'm confident we can keep cranking out awesome meals!
I love this recipe because it requires just one pan and I can cook up the mushroom caps in our little toaster oven. Of course, it doesn't hurt that they're delicious, low calorie, and make a perfect light dinner when paired with a green salad.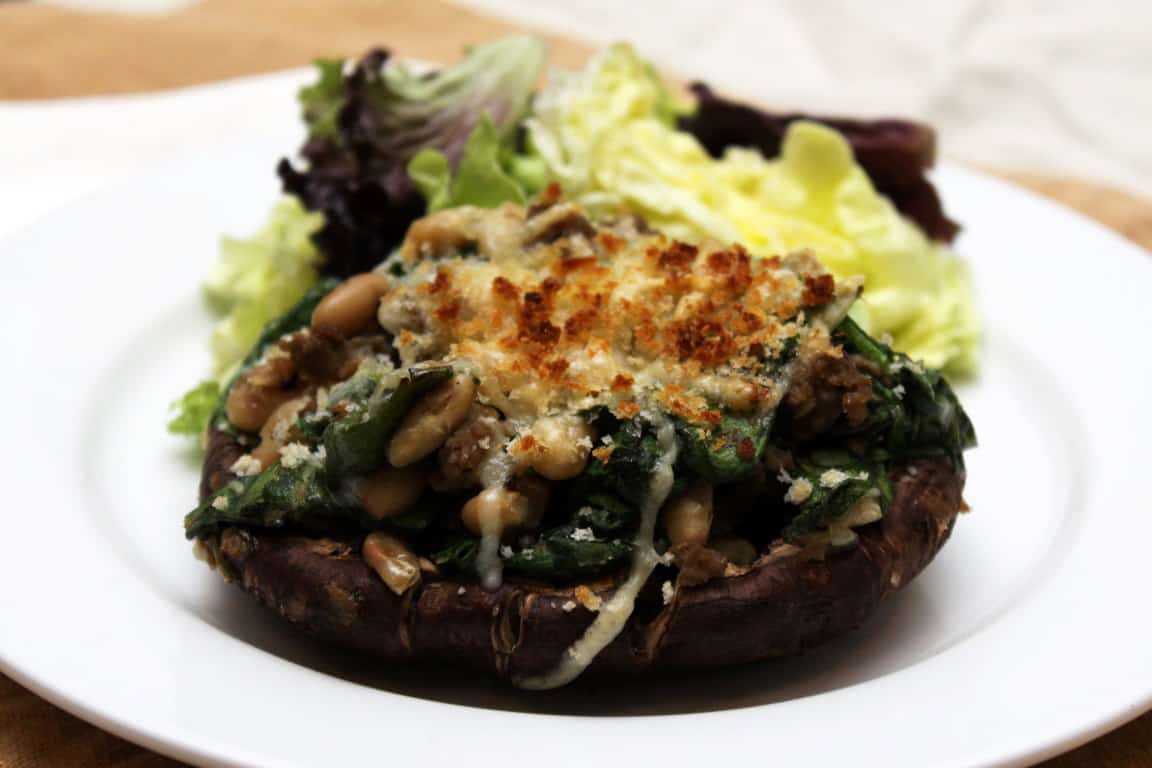 Ingredients
portabello mushroom caps - 4 large, gills and stems removed
olive oil - 3 tsp, divided
balsamic vinegar - 2 tsp
onion - 1/4 c, finely diced
turkey or chicken sausage - 1/2 lb, diced
garlic - 2 tsp, finely chopped
fresh rosemary - 1 tsp, chopped
Great Northern beans - 1 can (19 oz), rinsed and drained
fat free, low sodium chicken broth - 1/4 c
flat-leaf parsley - 2 tbs, finely chopped
baby spinach - 2 c
panko breadcrumbs - 2 tbs
grated Parmesan cheese - 2 tbs
olive oil cooking spray - (I use my misto)
Instructions
Preheat over to 450F.
Combine 2 tsp olive oil and 2 tsps balsamic vinegar in a small bowl.
Place mushroom caps on a baking sheet lined with parchment paper and season with salt and pepper. Brush with olive oil and vinegar. Bake until tender, about 8 minutes.
Meanwhile, heat 1 tsp olive oil in a skillet over medium heat. Add onion and saute until beginning to soften, 2-3 minutes. Add sausage and cook, stirring, until brown, about 10 minutes. Add garlic and rosemary and cook another minute, until fragrant.
Stir in drained beans and broth and bring to a simmer.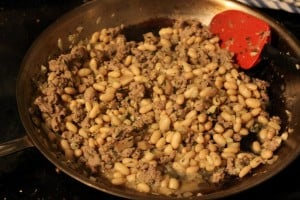 Remove from heat and stir in parsley and spinach.
Drain juice from mushroom caps and return too the baking sheet, cap side down. Stuff with the sausage spinach mixture. Sprinkle with panko and Parmesan cheese. Spray caps with olive oil and bake until golden, about 10 more minutes.
Nutritional Information
Calories: 275 ; Fat: 7.9 g; Saturated Fat: 2.3 g; Trans Fat: 0.0 g; Cholesterol: 45 mg; Sodium: 262 mg; Total Carbohydrate: 24.7 g; Dietary Fiber: 7.0 g; Sugars: 4.0 g; Protein: 27.4 g; Points: 5; Points Plus: 7;
https://www.homesweetjones.com/2014/03/white-bean-sausage-spinach-stuffed-portabella-mushroom-caps/
Adapted from Self.