Brad and I used to live around the corner from a little Cuban restaurant with great sangria. We probably went there twice a month and, the first several times, Brad suggested we try their avocado and onion salad. It sounded pretty lame to me (Just a bunch or raw onions and avocados? How is that even a salad?) but when I finally let him order it I was properly chastised for being so close-minded.  From then on, we ordered it as a starter every time we visited.  It was amazing – and, thanks to its simplicity, easy to make at home once we moved.
The trick is to use perfectly ripe, high quality avocados – no easy trick, I know. Buy them under ripe and check them daily until they feel perfect: just tender when pressed but not yet mushy.
The restaurant used white onion and, while we've experimented with sweet onion, red, and Spanish brown, we agree that we prefer the extra bite of white onion and how it compliments the creamy avocado. For the full experience, try to make sure that every bite you take has a little bit of avocado and onion.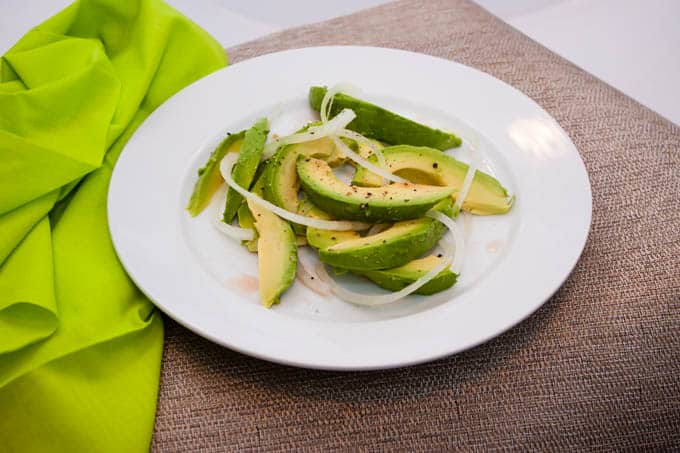 Ingredients
2 ripe avocados, sliced
1/4 c thinly sliced white onion
a sprinkle of olive oil (about 1/2 tsp)
a sprinkle of red wine vinegar (about 1/2 tsp)
salt and pepper, to taste
Instructions
Compile the avocado and onion. Sprinkle with olive oil and vinegar. Season with salt and pepper.
Enjoy!
Nutritional Information
Calories 213 / Total Fat 20.2g / Saturated Fat 4.2g / Trans Fat 0.0g / Cholesterol 0mg / Sodium 6mg / Potassium 498mg / Total Carbohydrates 9.3g / Dietary Fiber 6.9g / Sugars 0.8g / Protein 2.0g | Weight Watchers Points: 5 / Points Plus: 6
https://www.homesweetjones.com/2014/04/avocado-onion-salad/