Chia seed pudding is my absolute favorite snack right now. The flavor is so addictive I would probably be wearing a mumu if it weren't so light and healthy.  I love all the variations all over the food blogs right now but this version is what I'm keeping in the fridge these days.
Blueberry, almonds and chia seeds are so good for you it's easy to justify half a cup of this every day after work.
Be warned – this pudding has a texture similar to passion fruit or lychee. If you're like Brad and gag at the thought of tapioca, you won't like this. All the more for me.
I also love this with mango, pineapple and coconut almond milk. Let me know your favorite fruit!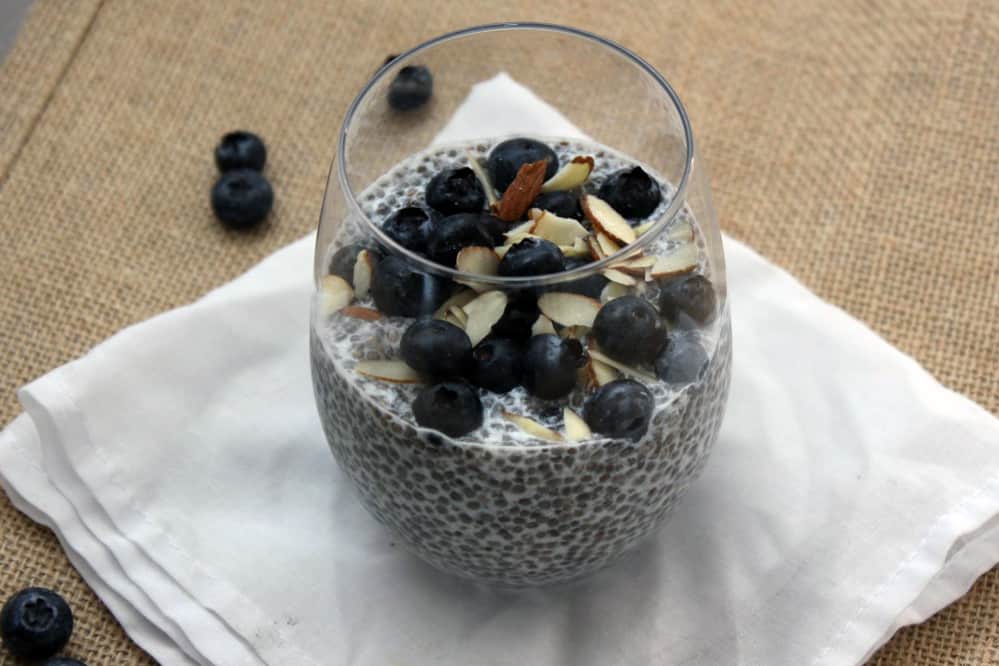 Ingredients
2 c unsweetend almond milk
2 tbs chia seeds
3/4 c blueberries
2 tbs sliced almonds
Your preferred sweetener, to taste
Instructions
Combine the almond coconut milk and chia seeds. Let sit overnight so the chia seeds can get all jelly. Stir in fruit and enjoy!
Nutritional Information
Nutritional information is calculated without sweetener. Calories 77 / Total Fat 5.3g / Trans Fat 0.0g / Cholesterol 0mg / Sodium 90mg / Potassium 177mg / Total Carbohydrates 8.1g / Dietary Fiber 4.0g / Sugars 2.8g / Protein 2.8g Weight Watchers Points 1 / Points Plus 2
https://www.homesweetjones.com/2014/04/blueberry-almond-chia-seed-pudding/