Holy moly. I have a new favorite pasta dish. I can't believe I've gone 35 years without this creamy lemony goodness. Now I don't ever want to go a week without it. I'm so sad that we finished all the leftovers already – I'll need to make a double batch next time/ tomorrow.
I owe the discovery to Brad. He sent me a link to this PBS recipe for Roasted Cauliflower Feta Lemon Pasta he thought I might like.  While I want to try Adrianna's version someday, I ended up departing drastically from that inspiration to lighten it up and give it a Spring twist.
And this dish really does taste like Spring. The brightness of the lemon perfectly compliments the asparagus. The sauce is luxuriously creamy without being too rich.
The shaved asparagus can be a little bit of a chore. I started trying to use a vegetable peeler but quickly gave that up for simply slicing the spears with a knife. While the texture of the long ribbons definitely adds to the dish, if it's too much work for you, just chop the asparagus into 2″ batons and cook it a little longer. Otherwise, the dish comes together in a snap making it perfect for weeknights and or Meatless Monday.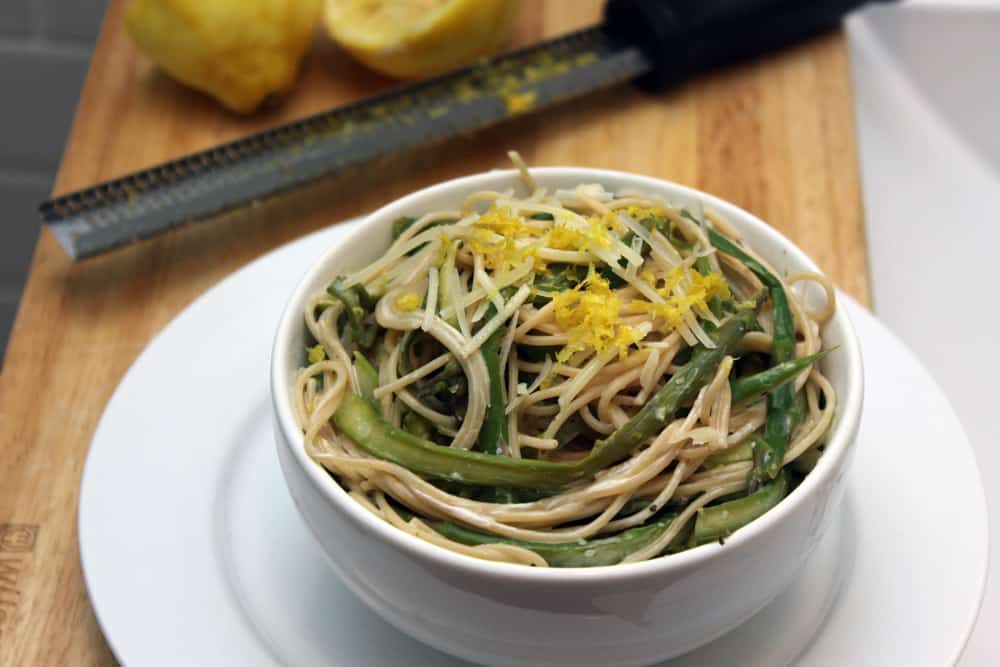 Ingredients
8 oz thin spaghetti
1 lb fresh asparagus spears, trimmed
4 oz Neufchatel cream cheese
3 cloves garlic
2 tbs lemon juice
zest of 1 lemon
1/2 c vegetable or chicken stock
1 vegetable bouillon cube
2 tbs Parmesan cheese, shredded
Instructions
Slice the asparagus lengthwise into thin strips using a sharp knife, set aside.
Cook spaghetti according to package directions. Add the shaved asparagus during the last 2 minutes of boiling.
Meanwhile, in a blender or food processor, blend the cream cheese, garlic, lemon juice, stock, bouillon and one half of the lemon zest until smooth.
Drain the pasta and return it to the pot. Add the sauce and stir to combine. Cook on medium for 3 minutes until the asparagus is tender and the sauce is heated through.
Top with Parmesan and remaining lemon zest.
Nutritional Information
Calories: 269 / Total Fat: 7.8g / Saturated Fat: 4.0g / Trans Fat: 0.0g / Cholesterol: 62mg / Sodium: 438mg / Potassium: 359mg / Total Carbohydrates: 38.7g / Dietary Fiber: 2.5g / Sugars: 4.4g / Protein: 12.1g Weight Watchers Points: 6 / Points Plus: 7
https://www.homesweetjones.com/2014/04/creamy-lemon-asparagus-pasta/