This creamy pasta somehow manages to capture all the comforting decadence of Fettuccine Alfredo while still being light and fresh for Spring.   This feat could only be accomplished thanks to Pinch of Yum's Creamy Cauliflower Sauce, tweaked ever so slightly for our tastes and refrigerator contents. The moment I saw Lindsay's magical sauce I knew I wanted to make this dish.  The peas add a little dash of color, sweetness and Spring freshness.
The sauce can be made in advance to make this an extra super fast weeknight meal.  Plus, leftovers make an awesome lunch the next day.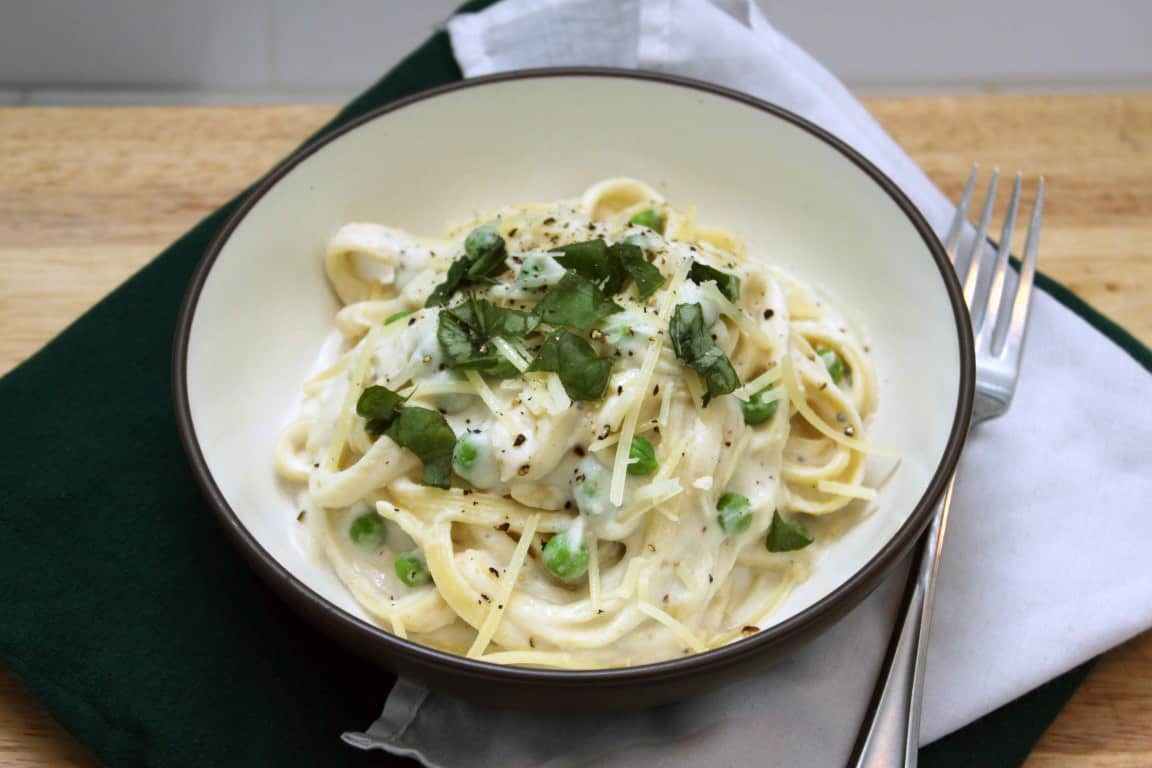 Ingredients
8 oz fettuccine
1 head cauliflower, broken into florets
6 cloves garlic, peeled
6 c vegetable broth
1/2 c cream
1 tbs butter
nutmeg
salt and pepper, to taste
1 c fresh frozen peas, thawed
1/4 c fresh basil
Instructions
Prepare fettuccine according to package instructions.
Meanwhile, bring vegetable broth to a boil in a large pot over high heat. Add cauliflower and garlic, reduce heat to medium and simmer 30 minutes until tender. Remove cauliflower and garlic cloves to a large bowl using tongs or a slotted spoon. Add 2 c vegetable broth and blend with a hand blender until smooth, add more broth if necessary. Add cream, butter, and nutmeg. Season to taste and blend until combined.
Stir in prepared fettuccine and peas. Garnish with basil and serve.
Nutritional Information
Calories: 291 / Total Fat: 6.8g / Saturated Fat: 3.3g / Cholesterol: 55mg / Sodium: 486mg / Potassium: 586mg / Total Carbohydrates: 45.0g / Dietary Fiber: 4.8g / Sugars: 5.3g / Protein: 13.5g Weight Watchers Points: 6 / Points Plus: 8
https://www.homesweetjones.com/2014/04/fettucini-creamy-cauliflower-sauce/