This fresh, lemony risotto takes full advantage of the season's asparagus and peas. Since making the creamy lemon and asparagus pasta last week, I've been all about creamy lemony-ness and this dish did not disappoint.  Creamy but light, it makes a hearty meal served with a salad or side of crusty bread.  It would also be great as a side for grilled chicken or fish.
Ingredients
1 quart vegetable or chicken broth plus additional water if needed.
1 tbs butter, divided
1 tbs olive oil
1 medium onion, diced
1 stalk celery, diced
1 c arborio rice
1/2 c dry white wine
1 lb asparagus, tips intact and remaining stalk sliced into 1-4" rounds
1 c fresh frozen peas
2 tbs fresh mint, chopped
1/4 c Parmesan
juice and zest of 1 lemon
salt and pepper, to taste
Instructions
Heat broth in a small saucepan over high heat until simmering. Reduce heat and continue to simmer, uncovered.
Heat butter and olive oil in a large pan over medium heat. Add onion and celery and saute, stirring, until onion is translucent but not brown, about 5 minutes.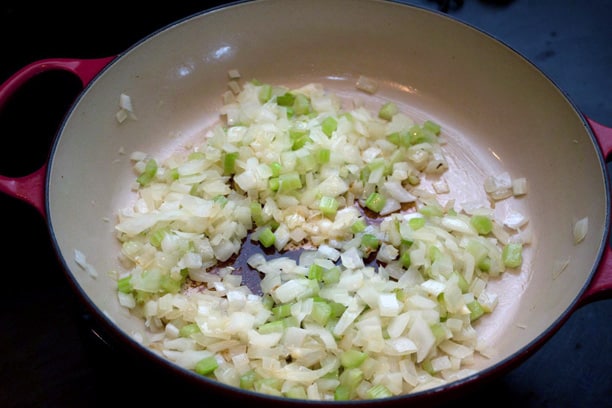 Add rice and cook, stirring, another 2-3 minutes until rice is opaque.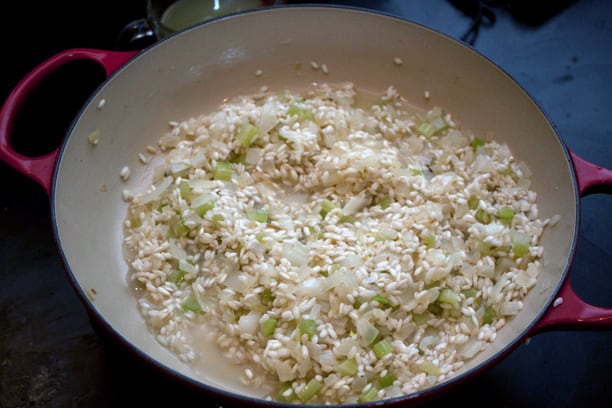 Add wine and simmer, stirring, until liquid is fully absorbed.
Add broth by the ladle-full waiting until the liquid is fully absorbed before adding the next ladle-full. Stir continually to help release the starches from the rice, about 20 minutes.
Test the rice periodically. When it is almost done, add the asparagus, peas and lemon juice with the final ladle-full of liquid.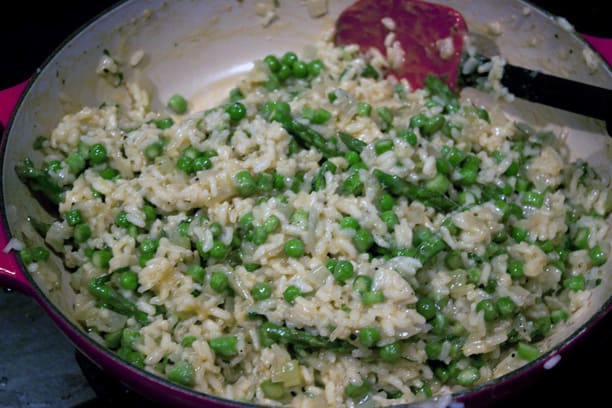 When rice has reached desired consistency and asparagus is crisp-tender, add the mint, half the lemon zest, lemon juice, Parmesan cheese and season to taste with salt and pepper.
Garnish with the remaining lemon zest and additional mint, if desired.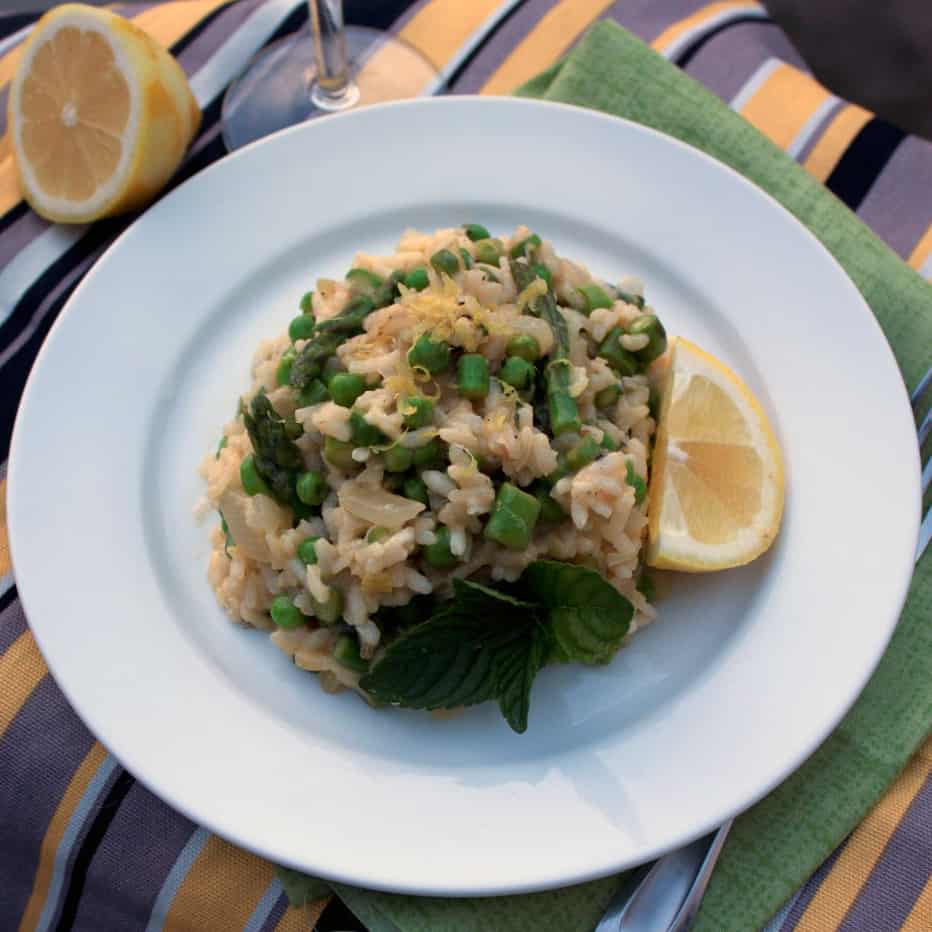 Nutritional Information
Calories 382 / Total Fat 9.9g / Saturated Fat 3.9g / Trans Fat 0.0g / Cholesterol 13mg / Sodium 891mg / Potassium 619mg / Total Carbohydrates 52.9g / Dietary Fiber 6.8g / Sugars 6.3g / Protein 15.3g Weight Watchers Points: 8 / Points Plus: 9
https://www.homesweetjones.com/2014/04/lemony-risotto-primavera/